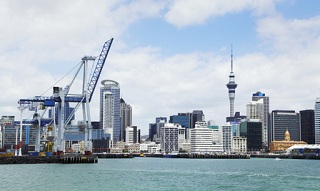 1st Move International have been shipping private clients, individuals, families and commercial exporting companies to New Zealand for the last 20 years. As one of the UK's most successful privately owned international removals companies we have learned a few lessons along the way.
Your personal belongings and private possessions are vitally important to you as an individual. Our business model is based on this one simple fact.
So from the moment you ask us for a shipping quote to the point where you open up your possessions in New Zealand, we are with you every step of the way.
Our years of experience in shipping goods to New Zealand, in fact anywhere in world, has taught us that the process must begin with protecting your household goods for the rigours of the international moving process.
Over 15 years ago we pioneered a rather unique way of ensuring we minimise, at all costs, the chances of damage to your personal effects. Simply wrapping with paper and sharing it with other goods inside a shipping container is simply not an option. New Zealand is a long way and your household goods deserve better.
A picture paints a thousand words, check out our international removals to New Zealand video below. Safe, secure and fast weekly shipping UK to New Zealand. We don't hang around, and once we have packed your goods we can then measure them exactly, so you know exactly what you are paying for!
For a quick free quote and details of our New Zealand shipping services simply complete our quote form or just call us free on 0800 3890784. See our New Zealand container shipping schedule page for our current weekly shipping schedules to Auckland, Wellington and Lyttleton connecting with all major towns and cities in New Zealand.
Just Packed...
Shrink-wrapped, security sealed, and ready to go! Now posted LIVE on Facebook & Twitter
1st Move on Facebook
1st Move International Removals: For a Faster, Safer, Smarter Move to New Zealand.
How Much Does it Cost to Move to New Zealand?
Are you moving to New Zealand and want to find out just how much it might cost to ship your stuff? We've put together a very simple price guide for personal effects shipping via container from the UK to New Zealand.
Our costs table should be used as a simple guide only. Because we do not know where you live, where you are going, or how much stuff you have the costs guide does not include the following charges: UK collection charges from your residence. Onward delivery from the port in New Zealand to your new home. Or packing and loading costs.
The moving costs below are for a 3 bed house in a 20ft container or a 4 / 5 bed house in a 40ft container. They are the shipping costs from the UK port of Southampton and London to the New Zealand port only. We have not included UK collection or packing costs, customs fees, insurance, or the costs for onward delivery to your New Zealand address. For a more accurate bespoke international removals quote please fill in our quote form at the top of this page.
Shipping and Moving Costs from the UK to New Zealand

| Destination Port | 20ft Container Cost (GBP) | 40ft Container Cost (GBP) |
| --- | --- | --- |
| Auckland, New Zealand | £1,253 | £1,934 |
| Wellington, New Zealand | £1,253 | £1,934 |
Once cleared through New Zealand customs our NZ shipping agents can deliver countrywide including: Auckland, Bay of Plenty, Canterbury, Gisborne-Hawke's Bay, Manawatu-Wanganui, Nelson-Marlborough, Northland, Otago, Southland, Taranaki, Waikato, Wellington, West Coast, New Plymouth, Napier, Christchurch, Greymouth, Stewart Island, Dunedin, Invercargill, Hamillton, Tauranga. Fast, safe and secure international removals from the UK to New Zealand.