Insurance cover for international shipping is provided by insurance giants Royal & Sun Alliance through our brokers Basil Fry & Co, the UK's leading insurance provider to the moving industry.
By ensuring safe and secure packing we enjoy the lowest claims record of any removals company in our sector. No compromises. By minimising the risks we maximise the safety and security of your move, and drastically reduce any instances of loss or damage, and, of course, insurance claims.
1st Move take the utmost care of your goods whilst in our care, however, due to the distances travelled and the need for other parties to handle your goods, including overseas customs officers, we recommend that you take out our marine shipping insurance to cover those occasional mishaps.
The perils of international transport are varied. Good insurance is therefore essential and, with the Flexi-Cover Scheme held by 1st Move International and underwritten by the insurance giant Royal and Sun Alliance PLC, you are assured of first class cover.
You can insure all of your goods or simply those you feel are important to you, however we always recommend at least our Standard cover policy which is more than adequate to cover your goods in the event of loss and theft and includes damage cover for all goods packed by 1st Move.
Important Note: We are happy for you to save time and money by packing non fragile items, books, plastic toys, clothes, bedding etc. However in the event of any claim for damaged goods your policy will only cover any items which have been checked, itemised and packed by 1st Move. If you have valuable or fragile items please allow us to pack them for you in order to obtain adequate insurance cover for any possible damage whilst in transit.
Our Insurers Love Us!
"Having conducted risk assessments for many companies involved in the transportation of personal effects around the world, as insurers, we have been impressed by the very low ratio of 1st Move insurance claims."

Basil Fry and Co

Insurance Brokers for Royal Sun Alliance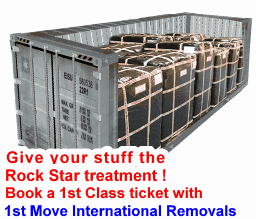 Our unique packing systems are, without a doubt, the safest way to ship household goods overseas.
Tried and tested over the last 20 years they are proven to greatly reduce the risks of breakage or damage to your personal effects.