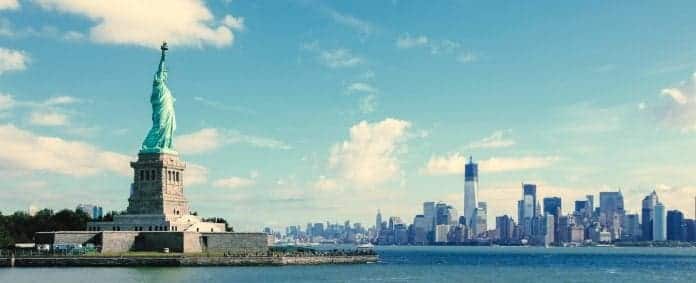 Moving to the USA? Thinking of becoming a permanent fixture in the land of the free? Let us take you through the steps on how to become a US citizen.
Visas and Green Cards
Before you travel to the USA for the first time and are staying for more than 3 months, you will need to have a Visa. If your visit is temporary this can be a Non-Immigrant Visa, which is specific to the terms of your visit and is temporary, or an Immigrant Visa which allows the holder the authority to live in the USA on a permanent basis, being part of the process of getting a Green Card.
A Green Card, or Permanent Resident Card, gives the holder the right to live and work in the USA permanently, and can only be obtained once you have arrived in the country. Once you have had a Green Card for at least five years (3 years if you are filing as the spouse of a US Citizen) then you may be able to apply to become a US Citizen through a process called naturalization.
For more information on Visas and Green Cards take a look at our previous article on the subject.
The Benefits of Having US Citizenship
So why should you apply to be a US citizen?
If you are planning on living and working in the USA permanently there are benefits to becoming a US citizen through naturalization rather than remaining a legal long-term resident.
Firstly, once you are a US citizen you no longer need to continue with any immigration paperwork, as even a Green Card needs to be renewed. Also, and this is potentially the most important factor for some, once you are a US citizen your children automatically become US citizens as well, even if they are born abroad.
Along with this, you can also become a sponsor for relatives to apply for a Green Card, which as we know is the first step to US citizenship.
Having US citizenship gives you the freedom to travel and there are more than 180 destinations in which short-term visits are allowed without a Visa. When you are abroad, and you can take as many trips outside of the USA as you like without fear of not being allowed back in, you can seek the assistance of the local U.S. embassy at times of trouble (which hopefully you won't need!)
Other benefits are the right to vote, protection from deportation, being able to apply for federal jobs, and the potential to have access to certain government benefits, such as federal college assistance, which are only available to U.S. citizens.
You won't be able to be the U.S. President though, I'm afraid.
Where Do I Sign Up!?
How to Become a Us Citizen
Firstly, you will need to make sure that your Green Card hasn't expired, or will expire within 6 months of your application. If this is the case it isn't a disaster, you will just need to renew it before you apply. You do not need to have received your new Green Card, but you'll need to submit a photocopy of the receipt from your application.
To be eligible to apply for US citizenship through the naturalization process you will need to meet certain requirements;
Be at least 18 years old when you apply
Prove you have been a legal resident and demonstrate continuous residence in the US for at least 5 years prior to applying
Show that you have been physically present in the US for at least 30 months out of the last 5 years
Show that you are a person of "good moral character" and have been for at least 5 years before applying
Demonstrate an attachment to the principles and ideals of the U.S. Constitution as well as having a knowledge and understanding of U.S. history and form of government (phew that sounds heavy stuff!)
Be able to read, write and speak basic English
You will also need to take an Oath of Allegiance to the United States once your application has been accepted.
If you are happy with all of the above, you can go ahead and complete Form N-400 and, of course, pay the fees, which currently are $725.
As with the process for a Green Card, you may need to go to a "biometrics appointment" where you have your fingerprints and photograph taken. Then it is interview time.
The Naturalization Interview
When you have sent in your application, paid your way, and have had the biometrics appointment, you will then have an interview scheduled with The U.S. Citizenship and Immigration Services (USCIS)
During your interview, you will be asked questions concerning your application and your background. You will then need to take a "naturalization test" which is made up of two parts.
Firstly, there is an English test, where you need to be able to demonstrate an understanding of the English Language and the ability to read, write and speak basic English (I'm wondering if Bristolian counts as basic English….)
Then you will be given what is known as a "civics test". This is where you will need to answer questions about American government and history. You will need to correctly answer 12 questions out of 20, taken from a list of 128 test questions.
Sounds horrendous, doesn't it? Bear in mind that as of June 2021 there is a national pass rate of 91%, so it can't be that difficult, can it?
The Oath of Allegiance
After all of the form filling and test taking (and fee paying) you will receive a decision from USCIS as to whether you have successfully applied to become a U.S. citizen.
It is then that the Oath of Allegiance is taken. You aren't a U.S. citizen until you have taken the Oath and it has been this way for more than 220 years. When taking the Oath of Allegiance, you are declaring that you support the Constitution and laws of the U.S. and will defend it against all enemies, and renounce all allegiance to any other foreign sovereignty (although it is possible to have dual citizenship with the U.S. and UK)
You also declare that you will bear arms and perform work of national importance when required to do so by law.
Once you have taken the Oath of Allegiance you are affectively a U.S. citizen, congratulations!
Let's Go!
Moving to the USA
So, you now know the process of becoming a U.S. citizen, but part of the process is that you need to be living there for at least 5 years with your Green Card, so let's make sure you don't miss home too badly by moving your belongings over with you.
At 1st Move International removals, we have been helping our customers with international removals to the USA for over 20 years. We are experts at the paperwork as well as the shipping, so will be able to help you every step of the way.
We palletise your belongings rather than loose load into a shared container which has many benefits for our customers. Take a look at our recent blog on the benefits of palletising your personal belongings for more information.
For more tips on moving to the USA covering areas such as cost of living, culture, education and more, check out Moving to the USA – Immigration Tips and Advice (2021) or you could contact us on 0800 289 0784 / +44 117 982 8123 or via this website and we will be happy to help.
If you're ready to start your move, simply ask for a free quote on our website to get started.