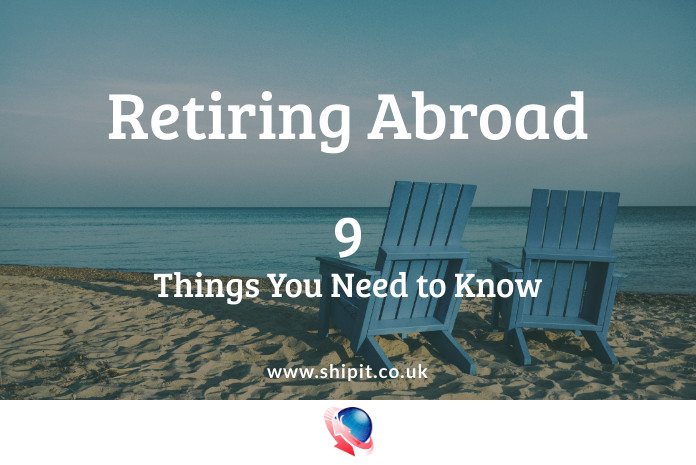 We all dream of relaxed days in the sunshine, perhaps enjoying the great outdoors or immersing ourselves in a new culture. As the years progress, many people begin to think about where to retire to enjoy real quality of life in their latter years.
This could be one of the most important moves in your life, so it's best to make sure you go armed with every possible piece of information – from perfect destinations to visas and healthcare, you want to be prepared before you set in motion the process of international removals to your chosen country..
Here are nine things everyone who wants to retire abroad should think about, before taking the plunge…
1. Cost of Living and Prices
This will absolutely be a vital question to keep in mind, and no matter how much you've saved up over your working life, the cost of living in your chosen destination will have an impact. If you choose to move to a cheaper area in South-East Asia where rent can often be as little as £200 a month, then you probably won't have much to worry about.
Often the best places for an international move for your retirement can be the cheaper ones as you can enjoy a very comfortable quality of life. Destinations such as South Africa, Vietnam and Ecuador are among some of the more exotic and affordable destinations, while Spain and Portugal are cheaper destinations closer to home.
On the other hand, if Singapore is on your list and you are thinking about rental prices that regularly top £2,000 a month, you might start seeing your savings being whittled down faster than you intended.
Can I get my pension if I live abroad? It's another question you'll need to answer before you make any decisions on moving. Luckily, most retirees can claim their pension abroad if they've paid in enough and the government has a website outlining the specifics with useful links.
2. Politics and safety
After finding out if you can afford to live there, you'll also need to check your chosen destination is generally safe too. Crime rates, danger areas and things to keep an eye on are all necessary information. Some of the less developed (but beautiful and friendly) countries can have higher crime rates than Western Europe, and although places like Jamaica or Cape Town look beautiful, there are some hidden dangers too.
This could be a long-term move for you, so anywhere with constant political unrest could be a poor retirement location and force a change just when you are settling. Check with the official government position on your chosen location here, and remember to register your arrival with the local embassy so they can contact you in the event of a national emergency.
3. Medical care
Another core concern to arrange before leaving will be the quality and ease of access to medical care. The closer to retirement age you are, the more likely it is you'll need to keep track of your health carefully as you enjoy your time abroad.
Many great destinations like Canada, the USA, European countries and more developed Asian destinations have very high-quality healthcare but often require expensive private health insurance that can put quite a dent in your savings over time.
You may be personally liable for your medical costs in some countries, so take care to understand the situation where you are headed, and be prepared. Entering Australia for example, requires tourists to hold private health insurance unless you are from a country with a reciprocal health care agreement.
4. Visas and legal residency
Before choosing a retirement destination, you will need to be sure that you can legally reside there.
Some countries will allow you retire there but will ask for a substantial chunk of money to secure your visa, while others will make it much more complicated. For example, in the US it can be tough to get full residency without investing in a company that employs local and adhering to strict rules on profits, so many Britons use our ability to apply for a B2 visa, allowing multiple entries for six months a year, splitting their time between the UK and US.
Australia has an investor retirement visa, but it is an expensive, temporary visa that has to be renewed every four years and doesn't convert into citizenship.
Other, less popular countries, will often be easier to move to, but will most likely still ask you to show you have the funds to support yourself and prove that you have private health insurance so you are not a drain on the state. For example, Thailand offers a 20-year residency permit for £60,000, but it comes with a host of VIP extras, such as annual health checks, concierge and airport services.
5. Access
The next consideration for where to retire will be how easy it is to arrive and leave your destination. During your retirement, you will probably have lots of visitors from home and want to head back to the motherland several times a year too.
If the nearest airport is small, expensive and far away, it could be an issue. Malta and Cyprus are just a few hours away by plane and use English as the official language, and many great retirement destinations in Spain, Italy or France all give easy access for you and your family. Moving to the US will mean longer and more expensive flights, and probably less visits home too. Living in Australia can be wonderful, but you should consider the distance and time difference, both of which will affect communication and your feeling of connection with your loved ones.
6. Climate
One of the most important things people list for retirement is somewhere warm and sunny. Weather plays a huge part in the choice to retire abroad, and certainly can make life much more delightful. Many expats consider the best places to retire in the world are the ones where you can sit out under a golden sun for most of the year.
If you love gentle summers and mild winters, then southern Europe might be ideal for you (Spain or Italy), and if you're up for something a little more exotic then perhaps Thailand or Costa Rica where you'll rarely experience weather below 16C and will enjoy crazy monsoon rains followed by hours of beautiful sunshine.
7. Lifestyle and Friends
Retired life is not all about ticking off lists and being prepared; it's about living, making the most of your time and enjoying the next part of your life. You should research what the lifestyles of expats and other retirees are like in your chosen country.
In plenty of destinations, you'll be able to find communities of like-minded people who will support your move and integration into the local community. Check out online meet-up sites like Internations or Meetup, which are ideal for beginning to get to know people in your chosen area. You can also find language groups and exchanges on these sites, and meet people happy to help you learn the local language which will cement your move from new visitor to experienced local in no time.
8. Local culture
It's not just about what the retiree experience is like, but also about what the local culture can add to your life. Where to retire for a lively and energetic local culture that will relight your fire?
Places like Jamaica and Mexico can bring colour-filled evenings into your life, and you might find your retirement years the most socially active you've ever been. If you're searching for a more conservative and calm culture, then consider northern Europe or New Zealand.
9. Food
If you and your family are foodies and love to try new things, then retirement can be a major opportunity to explore new cuisine. On the other hand, if your taste buds don't like to adventure too much, then think about how much you're likely to enjoy local food and make decisions based on that.
There are also countries known for excellent cuisine like Spain, and these are well worth considering as amazing food can strongly elevate any experience. There are also countries like China that have truly unique and local gastronomy that not many expats know about.
---
When it comes to retiring abroad you should also consider practical issues such as how to ship your belongings once you make a destination decision. 1st Move International offer an unbeatable international removals process with expert packing and weekly worldwide shipping, so get in touch here now.