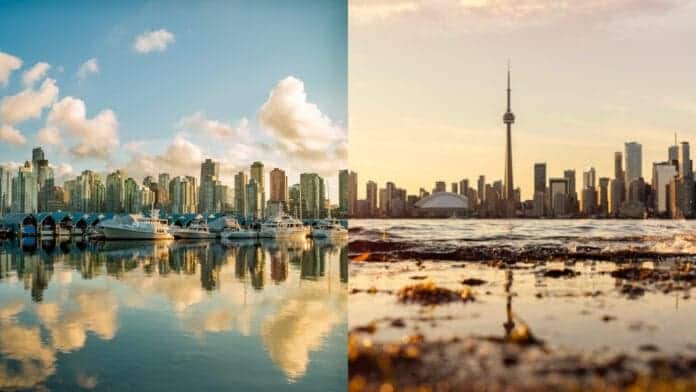 Canada, home of the maple leaf, is praised by many as a beautiful country. With a super-friendly reputation and low crime rates, it's known as a warm and welcoming place to make a home. The only difficulty is deciding which part of Canada to live in!
Toronto and Vancouver are two of the country's major cities, and both offer compelling reasons to make an international move to Canada. We've put together this guide for people stuck wondering 'which is better Toronto or Vancouver?' to help you find the home of your dreams.
Differences In Size
Toronto is Canada's capital and the largest city at a whipping 636 square kilometres. Consisting of several different districts and hundreds of neighbourhoods, each separate area has its own personality. Old Toronto boasts a wealth of residential space, with a large community of artists and professionals with a range of different ethnicities. Heading over to the suburbs of York and East York, it's booming with life day and night. You're surrounded by large parks anywhere you go, opportunities for sport, and breathtaking waterfronts. Named Canada's third most walkable city, you'll find your commute to work seamless with the connected underground.
For a quieter but still vibrant experience, Vancouver is named as one of the top five worldwide cities for livability and quality of life. At 115 square kilometres, you'll find a large number of neighbourhoods each with its own character and ethnic mix. If you're a lover of nature and a coastal breeze, this area in British Columbia is only a short distance from the sea and lakes. The vast array of bars, restaurants and clubs is also perfect if you are a fan of bustling nightlife. As the most walkable city, you can use the strong paths and routes to get anywhere without a car too.
Cultural Diversity
Toronto is a multicultural melting pot with a population of around 2.95 million residents, 250 different ethnicities and 170 languages. The largest city in the country and often referred to as 'The World Within a City' due to the variation of inhabitants. So people looking for a big city experience will find enticing cuisines from countries such as China, Greek, and India on your doorstep. If you've always dreamed of travelling the world, you'll get the satisfaction of doing it when living in Toronto.
Although Toronto is more diverse than Vancouver due to its smaller population of about 631,000 people, there's still a fantastic mix of different religions, ethnicities, and cultural groups from all over the world. A mixture of European, Chinese, South Asian and many other people with different ethnic origins will surround you. In fact, 52 per cent of the population are not native English speakers. You can immerse yourself in multiculturalism and possibly even pick up a new language along the way.
Comparing The Weather
If the weather is your main deciding factor in finding somewhere new to live, you'll definitely want to examine the Toronto vs Vancouver lifestyle. Toronto is perfect for those who like warm summers and cold winters. With a semi-continental climate, you'll find yourself basking in the sun during the hotter months and enjoying snowy walks over Christmas. You'll get a good amount of warm temperatures starting at 18 degrees in May and staying at 21 degrees through September. But don't get too comfortable, as the climate drops to minus degrees in January.
If you'd prefer to pass on Toronto's average 65 days of snowfall, Vancouver has milder winters, and it snows for around ten days each year. The colder months aren't as frosty due to the rocky mountains blocking the cold air from the Arctic sweeping over the city. This also leads to a less windy environment compared to Toronto. You'll still get a warm summer, but they aren't as long or hot as Toronto with an average of 16 degrees in May and then 19 in September. But don't worry, because it never hits minus degrees with the lowest average temperature being 6 degrees in January.
Variations in Cost of Living: Toronto vs Vancouver
Canada may be regarded as one of the most expensive countries to live in, but when you find the right city, it can end up cheaper than some cities in the UK. If you look at pricing for housing, you'll find a one-bedroom apartment in the city centre of Toronto for around £1,069 a month. Vancouver comes in a bit cheaper at an average of £932 for the same sized apartment.
For other costs, Vancouver tends to come in at lower prices. For example, utilities are roughly £45 a month, but in Toronto, they're almost double at £73. You can get a monthly transport pass for £70 in Toronto and £50 in Vancouver. If you fancy treating yourself and a partner to a three-course meal, it'll set you back £38 in Toronto and only a pound less in Vancouver. Although there are some significant differences in most of the pricing, you should consider that it could be affected due to the sizing of the cities.
Choosing Where To Live
Toronto and Vancouver each have fantastic qualities, and you'd be lucky to live in either city. If you prefer the big city vibes and like getting lost in a maze of different cities, you may prefer Toronto. But if you like a milder climate with direct access to picturesque views of British Columbia, try Vancouver. Either way, you'll be living your best life and regret not having moved to Canada sooner.
Move Your Things With Ease
Taking your entire life abroad can be difficult, but 1st Move International can make it easy for you. Canada is far away, so you can't just put your belongings in your car and head down the road. We can help you transport all the things you need and love to your new home safely and efficiently. You can get your free quote today or contact us if you have any questions about international removals to Canada.
If you have any more questions on moving to Canada, check out our newly updated guide on moving to Canada in 2021.