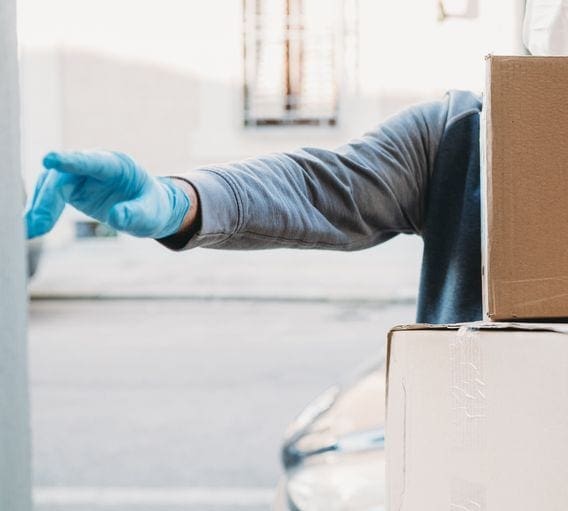 Moving house is a major event at any time in life. During a pandemic, it's an even greater challenge, especially if you're planning to move abroad. With international lockdowns, safety procedures and different re-opening stages, it's definitely a difficult time to move, but it's certainly not impossible.
For a smooth moving transition, it's all down to the planning and preparation, so we've made a 'Triple P' checklist—Pandemic Preparation Plan—to help make sure your move goes as smoothly as possible. This checklist has everything you need to know about moving during the pandemic, so your big day is safe and stress-free.
Plan Ahead
Firstly, it's important to consider those involved in the move, and how you can avoid physical contact where possible. Fortunately, as most services are carried out online, you can use this to your advantage by organising virtual meetings instead of meeting in-person. Get estimates, finalise contracts, book removals all online to stay safe during your move. Also, instead of going to stores to buy packing materials and boxes for your move, you can order everything you need online. This not only keeps you safe, but it also saves on the time you may spend making the trip to purchase the materials.
There can be difficulties if you need to travel during the pandemic, so if you're moving overseas, check the latest travel restrictions and the current regulations in your new home country. The rules change daily, therefore make sure that you don't miss any vital information that could affect your moving process. Once you're over there, you want to make sure the transition goes smoothly, so speak to your shipping company to ensure that they have all the correct procedures in place. Finding a company like 1st Move International to not only transport your belongings but also handle the necessary paperwork will get you through customs and into your new home quickly and efficiently, limiting exposure to potential Covid carriers.
Minimise
Thanks to these online alternatives to in-person meetings, you can use this extra time productively by getting rid of what you don't need before the big move. Take your time and work strategically room by room to declutter and set aside the important things worth bringing. Use three boxes to make this easier; one for 'keep', one for 'throw' and one for 'donate', that way your belongings—and your mind—aren't too cluttered.
Reduce stress by starting a necessities box with all the things you need on the day of your move (toilet paper, a box cutter, a hammer and nails) so can save time fishing through all the boxes and get started straight away. This level of organisation is a safer way to ensure the cleanliness of your items during Covid and makes for less to ship, helping you save on the overall cost of your move.
While you might feel the urge to bring all your belongings when you move, it just isn't practical or cost-effective when moving abroad. So try to keep it to the essentials and your most sentimental items.
Clean as You Pack
Cleanliness and sanitation is something we have to be extra vigilant of during the current health pandemic. Everyone's probably washed their hands more in the last year than ever before, but it's important to bear in mind that sanitising goes beyond just our hands. You should clean items as you pack to minimise the risk of transmission, protecting others who may be involved in the transferring of your goods i.e. removal companies and shipping companies.
It's also wise to arrange a deep clean of your new home and old home. This ensures the disinfection and cleanliness of both places for not only you and your family's health but also for the next residents. The Centers for Disease Control and Prevention (CDC) provides general recommendations for routine cleaning and disinfection of households, to help you plan your clean. It's also easy to hire a cleaning company that knows how to follow the latest sanitation protocols.
On the Day
Finally, on the day of your move, check in to make sure everyone involved is feeling well. Ensuring no one is presenting any Covid symptoms limits the spread of possible infection and keeps everyone safe. Moving day can be hectic, but it's important to remember to take the necessary precautions like wearing masks, avoiding physical contact, ensuring ventilation with open windows and sanitising both your hands and surfaces regularly. Opening windows in your old house for a while before you leave can help prevent the spread of the virus to whoever enters it next.
Whether you are moving within the country, or overseas, it is crucial to bear these things in mind when moving during the pandemic. Practice social distancing with those involved in unloading your items into your new home. Try to resist the temptation to assist and let them take care of it. This helps reduce the risk of spreading the virus and keeps them and your family safe.
Stay Safe and Ship Safely
Despite the current setbacks, like reduced physical contact and limited travel during the pandemic, it's still possible to make your big move. Keeping in mind the key factors from the 'Triple P' checklist, you can still make your move happen safely whilst adhering to guidelines and protocols. We at 1st Move International are here to help make this transition stress-free, offering affordable rates and excellent storage options. We aim to keep you, your family and your belongings safe, so you can start your new life in your new home without extra hassle.