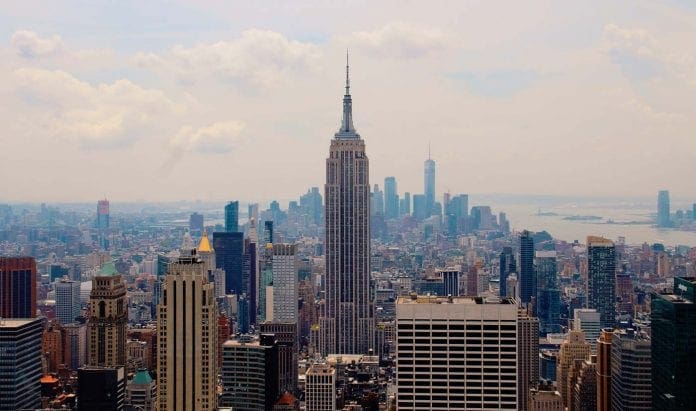 The land of the free and home of the brave, the US offers variety, colour, energy and multicultural living. There's nowhere this is truer than in New York City, voted the 'Greatest city in the world' in a 2019 Time Out study (compiling 30,000 opinions on 48 cities), but how much will you spend on your daily life there?
Situated in the north-east of the US, New York sits between Boston and Washington D.C. Most of the city rests on the three islands of Manhattan and Staten Island, with Long Island stretching east and all are connected by bridges, trains and buses. The city itself is divided into five boroughs: The Bronx, Manhattan, Brooklyn, Queens and Staten Island. More than eight million people call this busy financial centre home, and with an average age of 38.5 years (almost two years younger on average than London), the diverse population have created a remarkably exciting and energetic place to live.
If you're thinking of an international move to the US, then you'll need to know about the cost of living in New York and what living in New York City is really like. Read on to see what life is like and how expensive it is.
Renting in New York
If you want to live, work and play in the most active city in the world, you'll have to pay a premium. The monthly costs of living in New York City can be high, but salaries in the city are also above average and with recent reductions in broker fees, renting is mostly affordable, depending on your salary.
For a one-bedroom apartment in the city centre, you should expect to pay a minimum of around $2,000 per month (£1,530), and around $1,400 for a similar space outside of the centre (£1,070). Depending on when you are looking to rent, your cost of living in New York may be quite a bit higher. Trends seem to show that the cheapest rental months are during September-November, but there's more choice during the summer months.
For family options, three-bedroom apartments in the city centre start at around $4,000 (£3,100) and upwards, and the same space outside of the city should start at about $2,170 (£1,665) a month.
In general, unless you sit within the highest salary brackets in the country, buying a property in the city will be out of reach, and the majority of residents living in New York City rent monthly or yearly. If you're looking to save costs, then sharing an apartment with friends will help, as will living further outside of the city. New York is made up of five boroughs; Manhattan, The Bronx, Staten Island, Queens and Brooklyn. Manhattan is the entertainment and social centre and the most expensive. The Bronx is up and coming and incredibly multi-cultural, as well as being the cheapest of the rental districts.
Getting Around
With the largest underground train system in the world, running 24 hours a day, getting around New York is easy. The New York Subway is the most common transport used (as buses often experience heavy traffic delays), and a single ticket costs $2.75 (£2.11), a day-ticket costs $5.50 (£4.22) and an unlimited monthly pass is $116.50 (£89.40).
Many people working in offices love to get some fresh air and experience the city at ground-level, cycling around. Although there is a fairly well-established system of bike paths, you'll still have to compete for the road with the cars at times. However it's quicker and cheaper than some of the public transport methods, and you can stay fit as you get around. Finding an apartment close to a subway station would be a good plan.
How Much to Spend on Food in New York
One of the most significant advantages of living in such a huge and varied city is the sheer quantity of options. With more than 27,000 restaurants to pick from, you'd never have to eat at the same place twice – so you may want to turn to some foodie experts for tips on where to go. A meal at an inexpensive restaurant should cost between $12-25 (£9-19) and a medium-price restaurant should cost between $25-50 (£20-38).
From simple pizza slices and street falafel to the highest-quality dining in the world, eating out in New York can be great value and fun – you'll find that the city is as expensive as you want it to be.
Groceries follow a similar trend, with something for every budget, and never-ending multicultural opportunities to explore. The average New Yorker spends around $300 (£230) a month on groceries, including fresh fruit and vegetables. Although it's a little more expensive than other US cities or food shopping in Europe, it's not going to be the thing that breaks your budget.
Extra Costs to Be Aware Of
Something not everyone knows is that New York apartments often come without a washing machine or clothes dryer (remember the laundry rooms and launderettes in all those US sitcoms?). Most of those living in the city use laundry businesses, visiting every few weeks to wash all their clothes. An average monthly expenditure for laundry should be around $15-20 per month (£12-16).
If you're planning on making the most of the city and what it offers, then it's also worth including some entertainment in your budget. Seeing a world-class theatre show on Broadway costs around $20-175 (£15-130) and it's typical to pay $7 (£5.30) or more for a beer in a typical bar.
…………………..
If you're ready to move to the USA and love the idea of being in a city which never sleeps, then New York will be a dream come true for you. Don't spoil you first few days in your new life in New York with a stressful experience moving all your belongings over. Get in touch with 1st Move International, the professional moving company, and let us take care of everything. Call now!