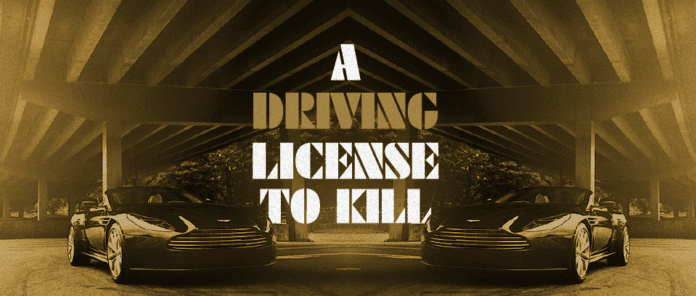 With No Time to Die on the horizon, we've decided to have a look back at Britain's favourite spy. We've found the value of every car in every Bond movie and worked out which has increased the most in value over time. In a battle of the Bonds, which 007's garage will come out on top? And if you were looking to buy one, how much would it cost you – it might be less than you'd think!
And because we know the price of shipping classic cars here at 1st Move International, we've gone one step further. Using countries visited by each 007, as well as distances travelled by each Bond in miles, we've calculated just how much Britain's favourite spy would be spending to ship his iconic cars between movie locations in each film.
Sean Connery (1962-1971)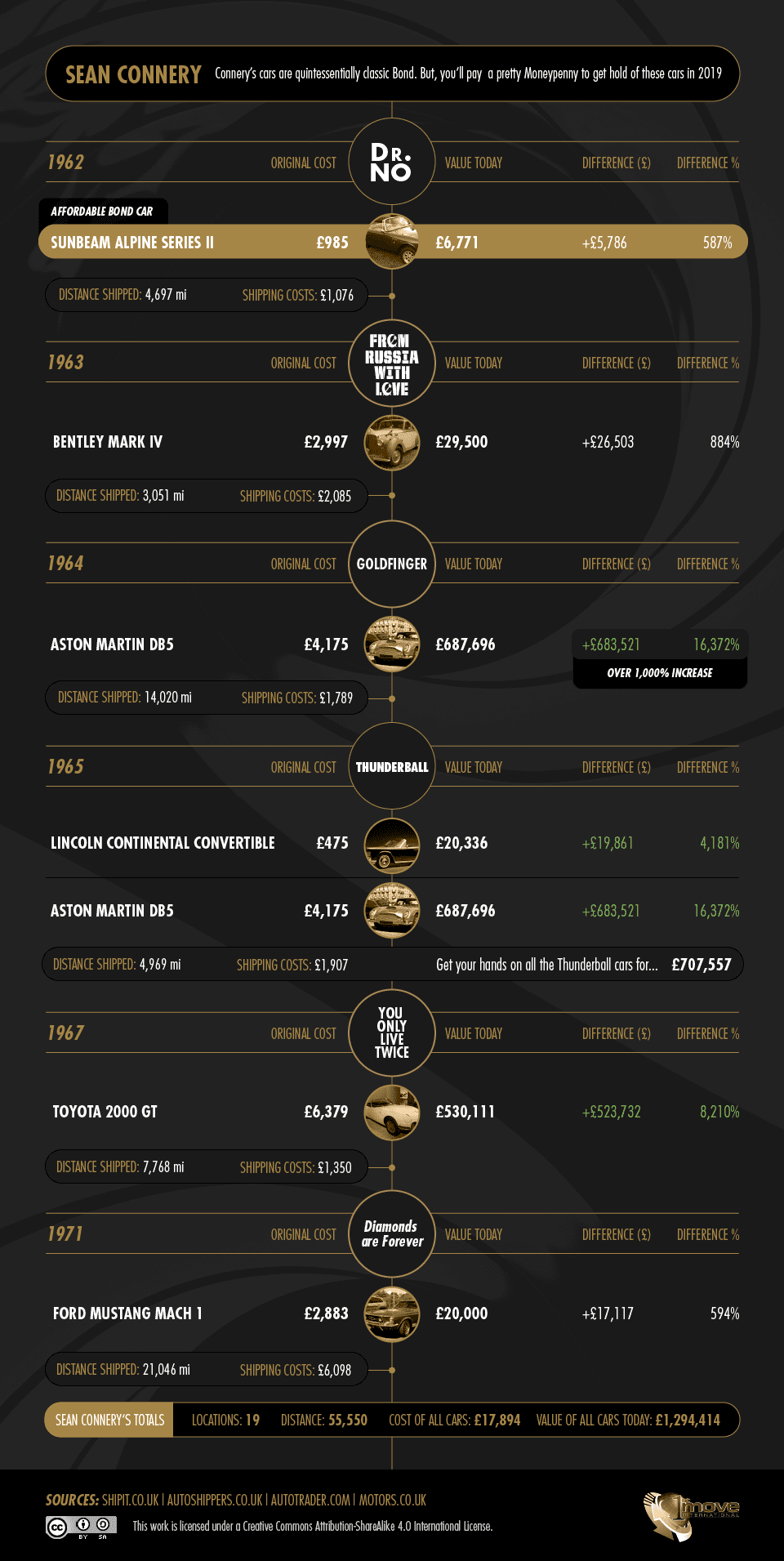 Widely regarded as the definitive Bond, Connery is the one who started it all, and the first to drive the iconic Aston Martin DB5.
Appearing first in the 1964 movie Goldfinger, the DB5, has seen an enormous increase in value – jumping from £4,175 in the 60s to an incredible £687,696 today – that's +16,372%! Connery's garage, which features other classic automobiles like the Toyota 2000 GT, has collectively increased from £17,894 to £129,414.31 today – so of course he's one of the hardest Bond's too imitate.
Your best bet is getting yourself the Sunbeam Alpine from Dr No, which you can get a hold of for £6,771 today. Connery's shipping expenses would come in at £14,306, and his Bond travels 55,550 miles across his six movies, visiting locations such as Istanbul, Tokyo and Nassau.
George Lazenby (1969)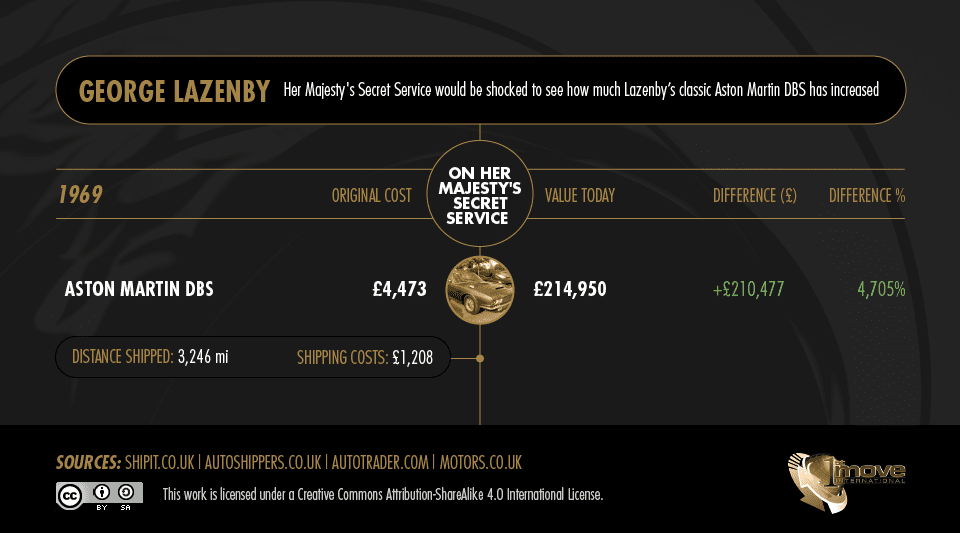 Lazenby is infamous for doing just one movie – 1969's On Her Majesty's Secret Service, alongside Diana Rigg – as such, you'd expect his garage value to come dead-last compared to the other collective Bonds. Surprisingly however, this isn't the case, as those 60s Aston Martin's age like a fine wine.
Lazenby's Aston Martin DBS sees a huge jump in value from £4,473 in the late 60s to an incredible £214,950 now. This gives him an overall 4,705% increase based on one car alone! Sadly, this means that owning Lazenby's Aston Martin might not be possible today, unless you have a handy £215k lying around.
Lazenby's travel plans are more limited however, travelling just 3,246 miles between Portugal, London and then onto Switzerland – and his car shipping costs would be just £1,209.
Roger Moore (1973 – 1985)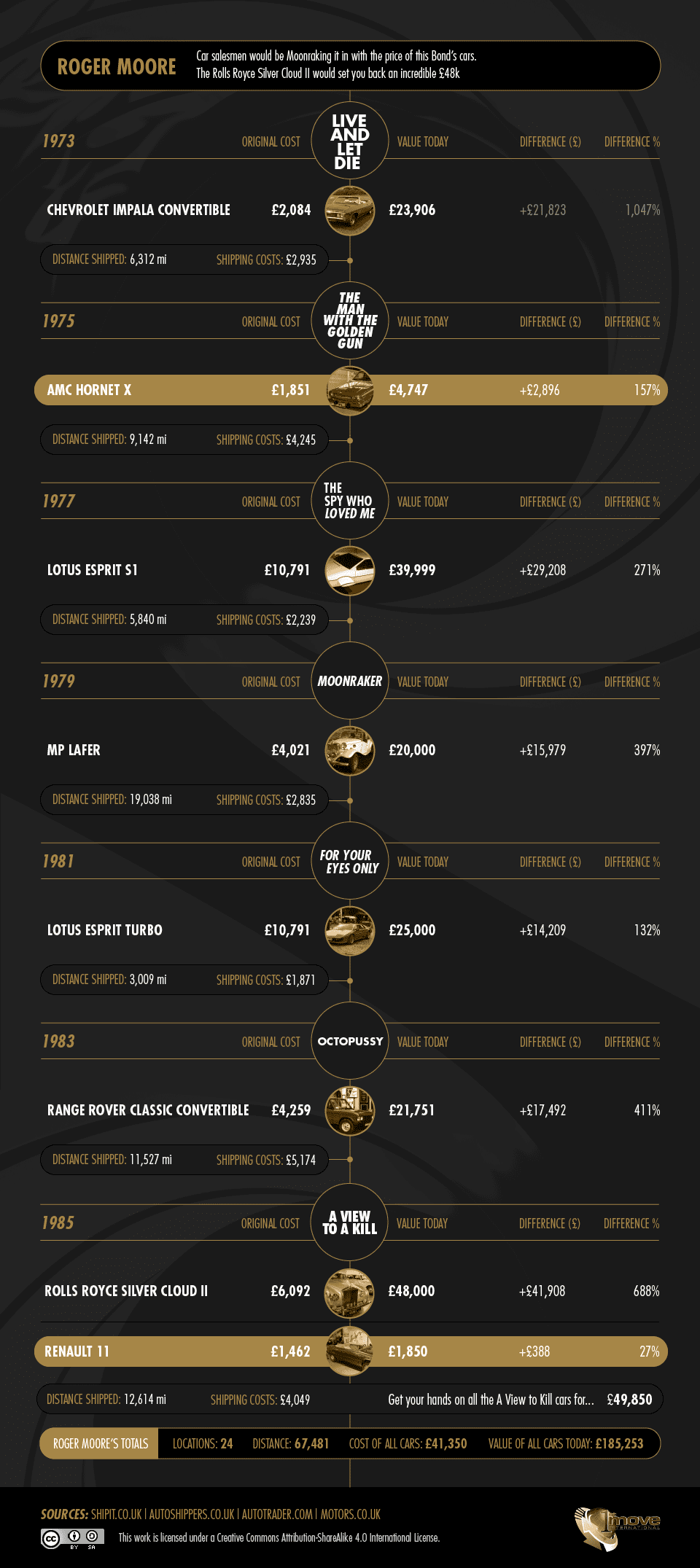 Moore did the most movies of any Bond, and his garage jumps in value from £41,350 in the 70s/80s to £185,252.81 today. Moore's car of choice, the Lotus Esprit, was fairly expensive at the time, and hasn't increased in value as much as Connery's Aston Martin – which means that in comparison, the car is more affordable – if you have a spare £39k that is!
If you're looking to live the Roger Moore lifestyle, your best bet is to get yourself an AMC Hornet X from the movie The Man with the Golden Gun, which you can pick up for the relatively low cost of £4747 today. Moore's shipping costs however would be a whopping £23,348 – mainly from the sheer amount of locations visited across his movies, with a distance of 67481.4 miles. This puts Moore as the most travelled Bond.
Timothy Dalton (1987 – 1989)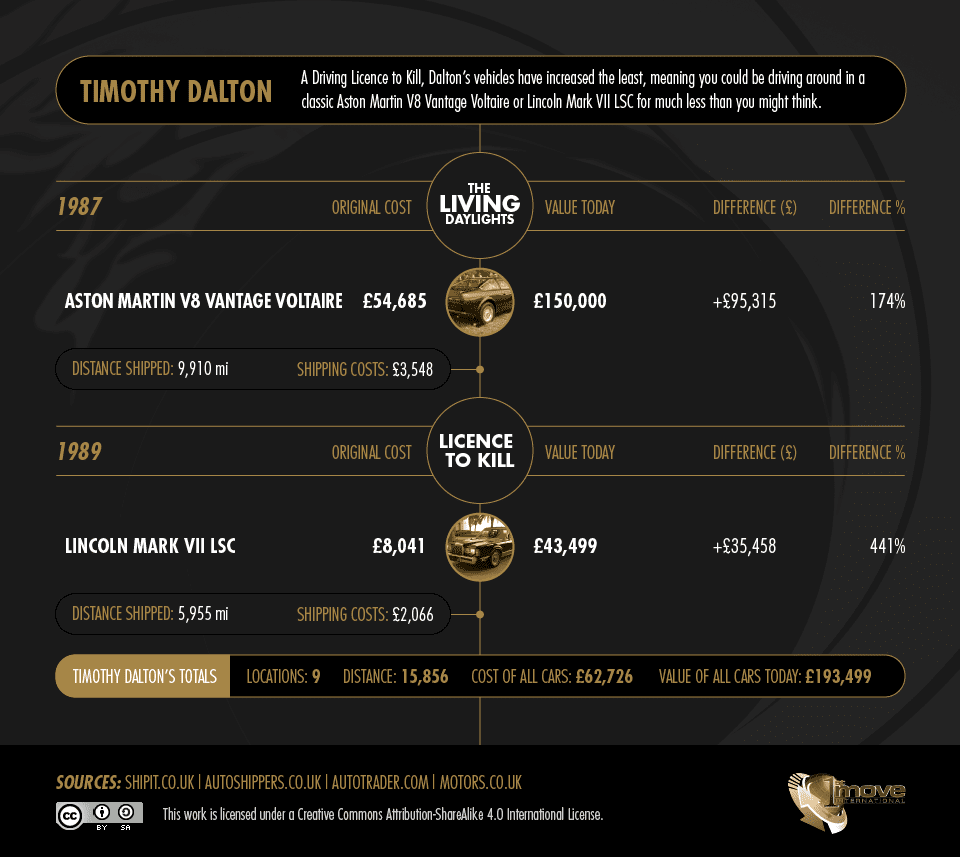 Dalton only did two movies, and so didn't travel too far – just 15856 miles. His garage however sees an increase of 208%, jumping from £62,726 to £193,499. Look out for Dalton's Aston Martin V8 Vantage Voltaire in the upcoming Bond movie, No Time to Die.
Pierce Brosnan (1995 – 2002)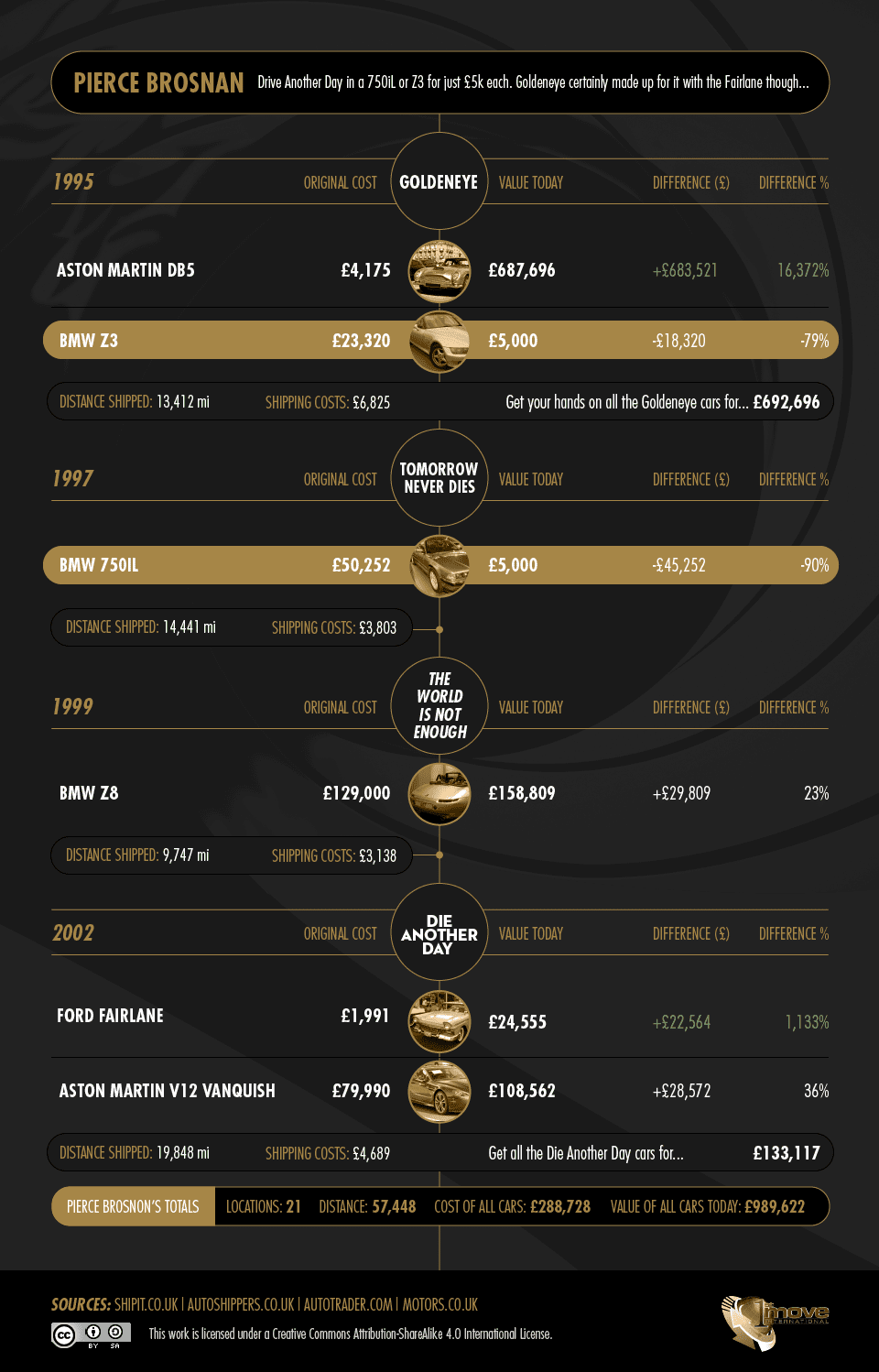 The 90s Bond, Brosnan benefits from being a real globe trotter, clocking in 57,448 miles. But his garage is a bit of a mixed bag when it comes to price.
Whilst the staple classic Aston Martin DB5 makes a reappearance, complete with its dramatic price jump, Brosnan's BMWs – a sponsorship deal at the time – haven't aged too well, with some actually making a loss on their original price. The benefit then, is that this makes Brosnan's garage one of the most affordable – you can get his BMW Z3 for the shockingly low price of £5000 now!
Daniel Craig (2006 – Now)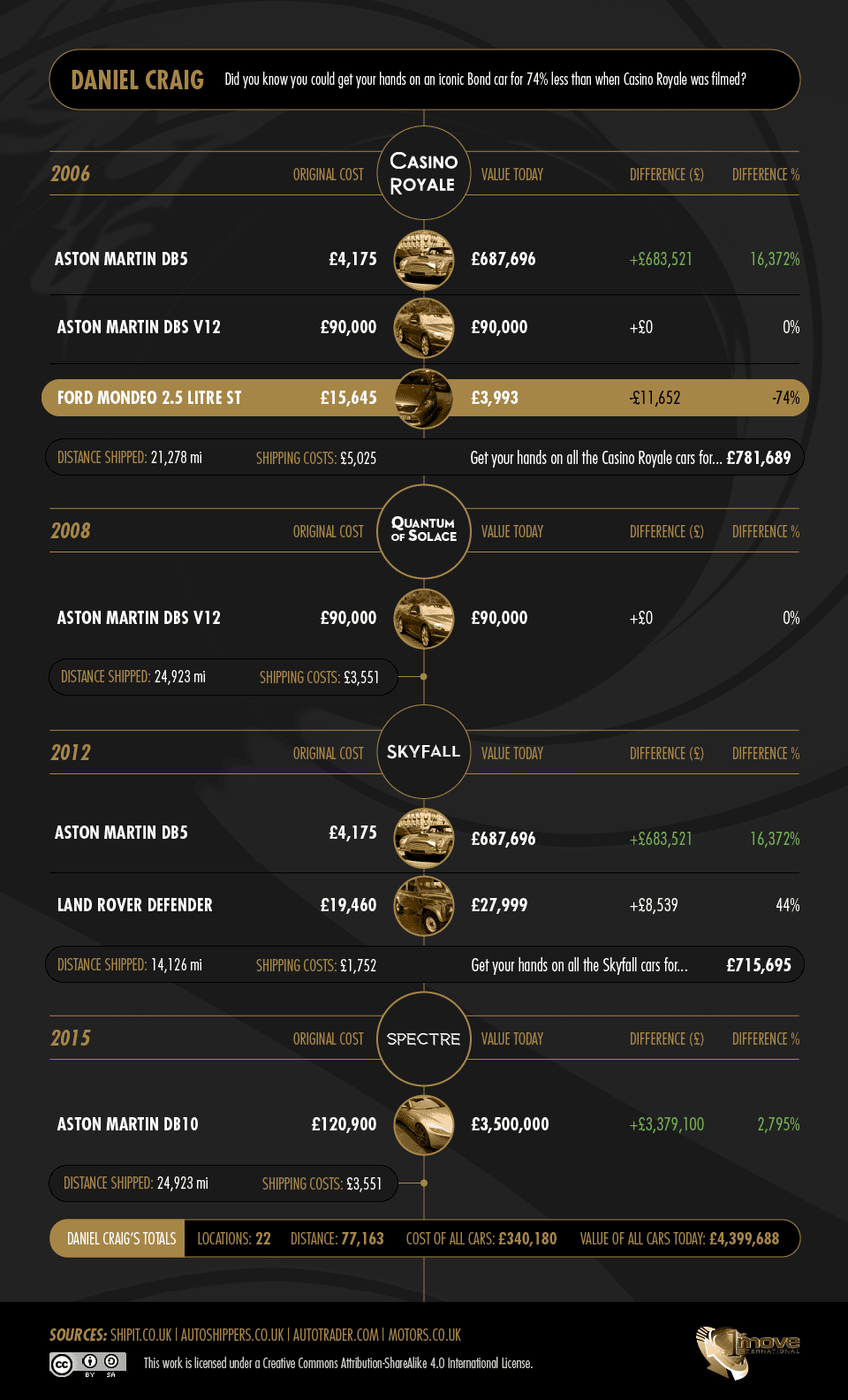 Craig actually comes first when it comes to overall numbers, and most of that comes from Spectre. Craig's Aston Martin DB10 was one of just ten in the world, meaning its value has gone up a crazy 2795% since the film's recent release!
The most affordable car is the Ford Mondeo from Casino Royale, which you can now get for as low as £3,993 – this is the most affordable classic Bond car you could drive away with today. Craig is also the most travelled Bond of the lot, at 77,163 miles, but due to the nature of the locations visited, would only be paying £13,468 in shipping.
Totals
Collectively, James Bond has visited 98 locations, and travelled 27,6745.2 miles. His car garage has increased from £755,352 to £7,277,426 and his total shipping costs would come to £76,400.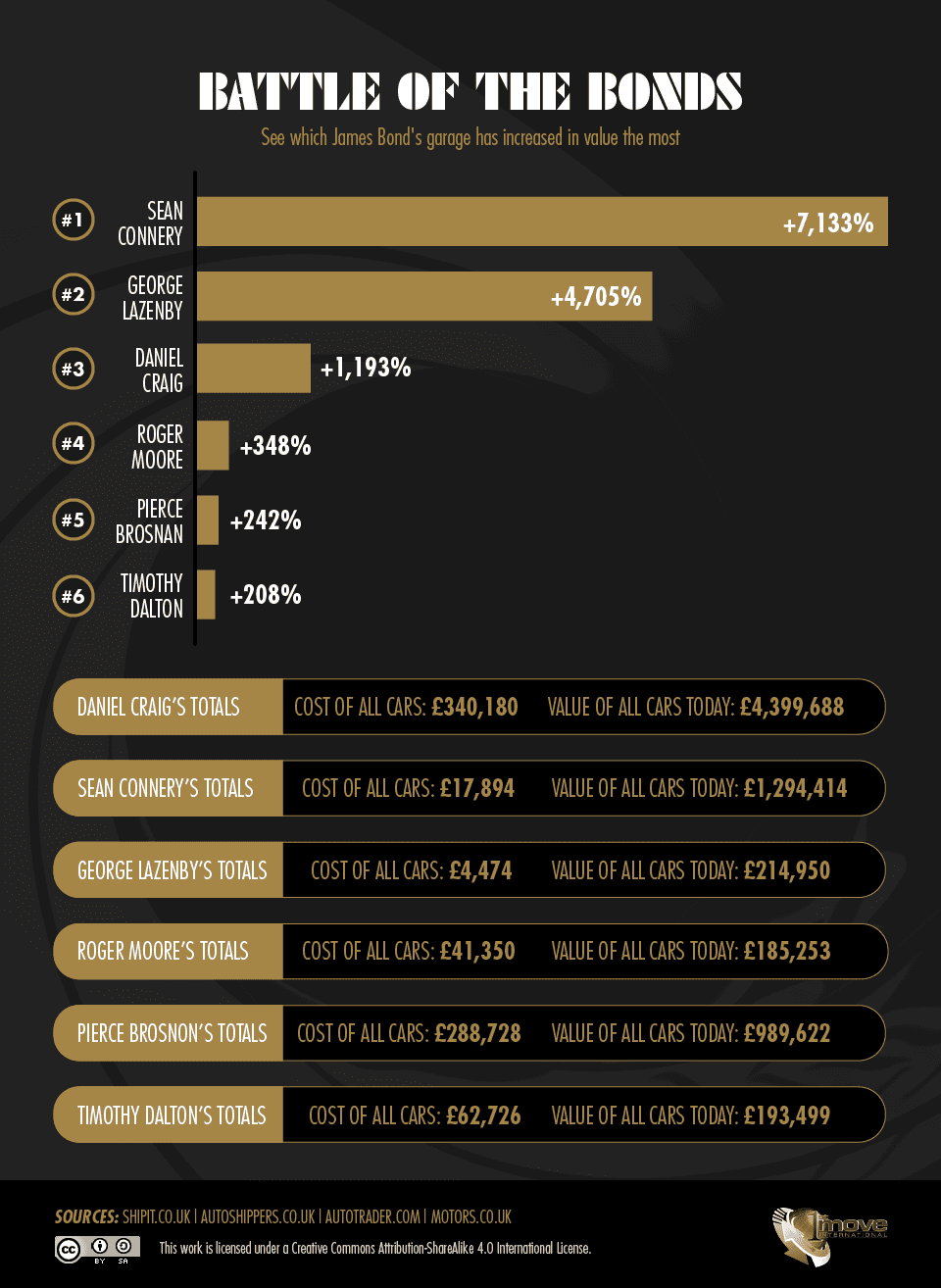 Methodology
Data correct as of September 20th 2019.
For locations, unnamed locations (such as the South American country at the start of Goldfinger) were not included. Distances were calculated from London. London was only included as a location if Bond spends a significant amount of time there, or if Bond engages in an action sequence. For fictional locations, filming locations were used instead.
Original car costs were taken from a variety of sources, including Wikipedia, AutoTrader, Hagerty Car Valuations, Car and Classic and original car manuals and brochures. New costs came from ebay, Classic Trader, Autotrader and other sources.
Shipping costs were calculated based on costs to the nearest port to each movie's location. An extra 1% was included for insurance fees.