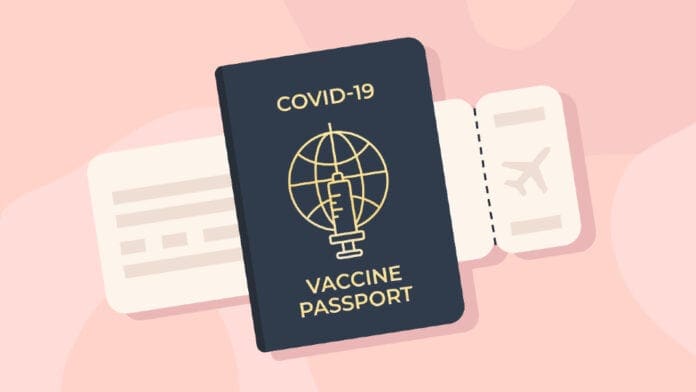 Since Coronavirus first triggered a lockdown in January 2020, it's now been over a year since the world started to experience travel restrictions. Flights cancelled and plans thwarted – everyone buckled up to stay at home.
Luckily, scientists have worked hard to bring us closer to some form of normality—the Covid-19 vaccine. As more vaccines are being rolled out, many are wondering what this means in terms of travel. Do you need proof of vaccination?
Talk of vaccine passports is bringing a mixture of hope and confusion as people shrug in a state of unknown.
So, what is a vaccine passport and is it the ticket to freedom?
What is a vaccine passport?
Simply put, a vaccine passport is proof of any vaccination which is necessary to enter a country. Where there is disease, protection and prevention are key.
There are already diseases which require vaccination and official documentation before entering a high-risk country. The yellow fever vaccine is required for entering certain countries in Africa and South America, and those wanting to cross borders to China, Indonesia and other countries nearby must be vaccinated for Polio. Both of these vaccinations require a vaccination record or certificate at border checks.
Fortunately, many of these vaccines are widely routinely administered in the UK, or conveniently available to those travelling.
For those planning on travelling in the near future—will the Covid-19 vaccination be another 'must' on the list of things to do before you can start your adventures?
Covid vaccine passports
When the first Covid-19 vaccination campaign was announced in December 2020, a global sigh of relief was shared. With more than 50 million UK citizens safely vaccinated since January 2021, things are definitely looking up in the ongoing fight against Coronavirus. From firm facts to unanswered questions, people are still wondering whether proof of the Covid-19 vaccine will be required to travel.
Some government leaders have touched on the fact that they are considering mandatory vaccinations for international travel, and others are focusing on enabling movement within their country. Australian Prime Minister Scott Morrison announced that all international travellers entering Australia without proof of Covid-19 vaccination will have to quarantine at their own expense under a strict "no jab, no fly" policy.
Meanwhile, Israel are boasting the highest vaccine rates in the world, and have started issuing 'green passes' to the recipients, for access to places like theatres and gyms. Denmark are trialling a similar system, with a 'Coronapas' linked to their ID system, permitting access to hairdressers and restaurants.
Meanwhile, in March 2021, the EU announced their plans for 'Digital Green Certificates'. The intention is for certificates to be stored on mobile devices, and to detail that the holder has either received their vaccination, tested negative, or recovered from the illness. Interestingly, the EU have stated that as freedom of movement is a right within the EU, the certificates would not be a requirement for travel.
There doesn't seem to be a common rule amongst airlines either, with international air travel companies displaying differing opinions on the idea of mandatory vaccination. Air New Zealand and Korean Air have stated that they are strongly considering a Covid passport as compulsory before stepping on board, but are yet to confirm it with their government. Whereas budget airlines like RyanAir and EasyJet state that a Covid passport may not be necessary at all to fly to their destination airports throughout Europe.
Although some governments are pushing for an official Covid-19 passport, others, including British MPs, have stated that the idea is "dangerous, discriminatory and counterproductive". So, what are the legal concerns?
Implications and concerns of vaccine passport
There is much debate over whether enforcing proof of vaccination for travel is morally acceptable, and whether it could be against human rights to make it mandatory.
The UK vaccine minister, Nadhim Zahawi, has stated the government isn't planning on introducing vaccine passports to enable people to travel abroad. However, those in specific job roles that may need proof could get it from their GP. Currently, private publicans like pub and restaurant owners are within their rights to introduce their own rules regarding vaccination and entering their establishment. This has caused a lot of controversy, as many believe that it restricts their freedom.
Culture Secretary Oliver Dowden commented that vaccine passports could be used as a "tool in the short term" to reopen theatres and sports stadiums but that we're running the risk of discrimination and unfair policing power.
Let 1st Move International handle the rest
If you're planning to travel or move to a different country, there's going to be a lot on your mind at the moment, so allow 1st Move International to take the sting out of your move. We're on hand to offer you fast, affordable and pain-free international removals and shipping. Get in touch, so you can take a deep breath and return to normal life.