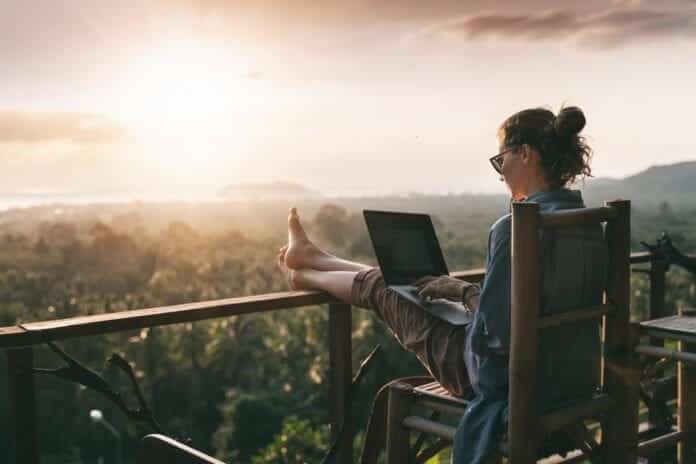 Stretching out your feet while overlooking the sea, laptop in front of you and a fresh OJ to the side—the ideal remote working image. In many cases, this isn't far from the truth. The digital nomad lifestyle has become a popular choice over recent years, and not just for Instagram influencers. With the rise in coworking spaces and people catching the travel bug, it's transforming into one of the most desired work-life ventures.
Before, digital nomads faced some instability and inflexibility, hopping from place to place on travel visas. Now, governments have clocked on and are introducing digital nomad visas.
Let's look at different countries with digital nomad visas for you to consider for your international move.
What is a digital nomad visa?
A digital nomad visa is a visa that allows remote workers to live and work in a country for up to one year. The goal is to encourage long term visitors to the country during a downtrend in travel.
This ingenious idea was coined by the Estonian government when they kicked off the trend in July 2020. They agreed that there was a significant gap in the market as nomads have been forced into the tight, legal gap between 'tourist' and 'worker'. With more overseas talent nourishing the international business ecosystem, the better it will grow.
An idea so great that other countries jumped on the bandwagon.
Barbados
Barbados is one of the top hot spot for tourists with its buzzing Caribbean vibe and glorious weather. Now, more than ever, digital nomads are flocking over thanks to the welcome stamp.
The prime minister of Barbados made a worthy statement recognising the importance of a healthy remote working environment and introducing the Barbados welcome stamp. It allows digital nomads to work, live and enjoy the tropical breeze for up to 12 months in the sunny, Caribbean paradise.
It's a great option for people looking for a bit of sun to brighten their working day without compromising their connection and internet speeds. Bridgeton is the largest city and boasts an average internet speed of 27mbps.
You can find out how to apply for the welcome stamp on the Barbados Government website, or find out how you can embark on your international move to Barbados with the help of 1st Move International.
Costa Rica
Costa Rica is a prime location for digital nomads for that laid-back lifestyle with lapping waves, beautiful beaches, volcanoes, waterfalls, and jungles. If you like the sound of this lifestyle, Costa Rica could be your next remote working stop-off.
Costa Rica has introduced a freelancer visa called the Rentista, which allows foreigners to stay for up to two years in the exotic tropics. As long as you aren't an employee of another country, self-employed workers and freelancers can apply for the Rentista.
You can find out more information on the visa and how to apply on the Costa Rican government website.
Contact us at 1st Move International if you'd like to start your journey of moving to Costa Rica.
Iceland
If you're looking for a 'chilled' lifestyle, it doesn't get much chillier than the gorgeous, picturesque Iceland. With its own long-term visa, it's now possible to grab your laptop and drink in your scenic surroundings in Iceland.
Although Iceland's digital nomad visa lasts only six months, it will give you a taste of what the Icelandic lifestyle is like before you relocate. If you own your own business or work remotely for a company outside of Iceland, you could be eligible to apply.
You can find out all the ins and outs of the process and apply on the Icelandic government website.
Portugal
If you're a digital nomad looking to stick around in one place for a little longer, Portugal could be an excellent option.
Offering both a temporary resident visa (D7 passive income visa) and a residence permit for self-employed workers for one year, you can enjoy the Portuguese lifestyle before deciding whether you want to renew it for up to five years. After five years, you can apply for permanent residency if you can't get enough of Portugal's vibe.
Find the application form on their government website.
Dubai
The place where the streets are paved with gold, where business booms and money's to be made, it's no wonder it's in the top places for travelling digital nomads.
Dubai has just launched its own one-year virtual working program, a digital nomad visa for remote workers. The visa lets you come to Dubai to work while remaining employed in your home country. You won't have to pay Dubai income tax and still get all the benefits of access to telecoms, utilities and schooling.
Life never seemed sweeter working by the beach of the popular desert oasis mega-city, so it's no wonder interested in making an international move to Dubai is growing.
Find your perfect place and ship your belongings
While it's an incredible, worthwhile experience to travel for work, some of us might want to set down some roots. If you find your perfect place that ticks all the boxes and wish to move there for good, contact us at 1st Move International today for all your international removal needs.. 1st Move International is here to make sure your shipping process is straightforward, fast and affordable. For more information, contact us and we'll get you on your way. Or simply ask for a quote on our website.