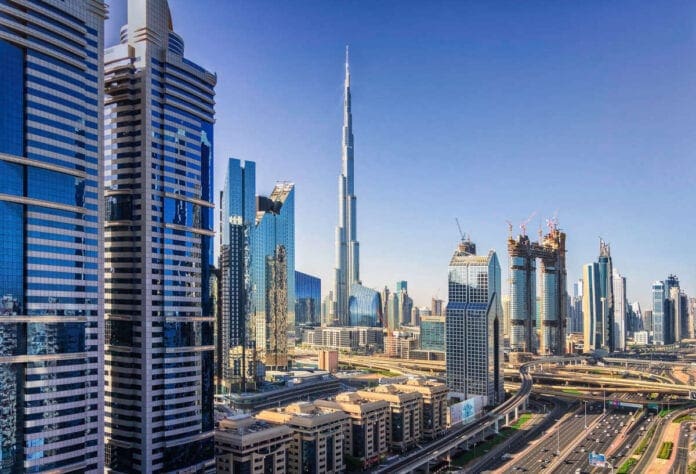 Moving to Dubai is an exciting prospect for aspiring expats from all over the world. The emirate offers sunny weather, a high standard of living, and no income taxes, among other benefits.
With its vibrant expat culture and widely spoken English, Dubai makes an excellent choice for those looking for opportunities overseas. Now, this part of the United Arab Emirates is rolling out a new Dubai residence visa programme, encouraging remote workers to follow their dream to move overseas.
The emirate's new scheme invites remote workers to take advantage of a rare opportunity: gain a Dubai residence permit while working for employers in other countries. Programme participants can access permanent resident benefits without the usual challenges of moving abroad. This news follows a boom in digital work brought on by the Covid-19 pandemic.
If you're interested in this exciting opportunity to move to Dubai, read on to learn more about the initiative. We'll reveal Dubai's reasons for implementing the programme, the benefits participants can access, and the criteria for taking advantage of this opportunity.
The Workforce of the Future
Dubai's effort to attract remote workers aligns with the rapid, pandemic-fuelled shift in our global workforce. Director general of Dubai's Department of Tourism and Commerce Marketing, Helal Almarri, said: "The global pandemic has changed how we live and work. As multinationals and leading start-ups across the world accelerate their rates of digital adoption, the need to be physically present to fulfil professional responsibilities has been redefined."
As the global population collectively reimagined the meaning of a day's work, places like the UAE spotted an opportunity to make their own progressive changes.
Director general of Dubai's Department of Economic Development, Sami Al Qazmi, says Dubai aims to establish itself as a hub for global business. He said: "With its advanced infrastructure, global connectivity and pro-business ecosystem, the virtual working programme gives Dubai a significant opportunity to enhance business practices and maximise growth."
Al Qazmi went on to say: "People continue to prioritise their health, well-being and ability to ensure a positive work-life balance. Dubai is uniquely positioned to offer a safe, dynamic lifestyle opportunity to these digitally savvy workers and their families while they continue to work remotely, whether it is for a couple of months or an entire year."
This initiative is a way for Dubai to align itself with rapid global change, ensuring growth on the world stage as remote workers pivot to future-proof their careers. Remote work offers unprecedented flexibility, so many professionals will be eager to take advantage of this programme's benefits.
Benefits for Participants
Remote workers that relocate to Dubai can now access the same privileges available to all permanent residents. A few of those include phone and internet services, access to public education, and utilities. However, perhaps the biggest draw is the opportunity to take advantage of the UAE's tax-free salaries.
The income you earn while living in Dubai is not subject to tax. This means you will likely enjoy your current salary without worrying about the taxation you face in your home country. Of course, your tax situation will depend on your specific circumstances. Do your research and speak with a tax specialist to get a better idea of how your finances will stack up in the UAE.
Requirements for Programme Participation
If you're ready to make the move to Dubai, you'll want to make sure you meet the criteria for participation. The emirate's cost of living is quite high, so the government wants to ensure your salary will enable a sustainable life in the UAE. There are several other requirements to relocate as a remote worker. To participate in Dubai's new remote worker residency programme, you must meet the following criteria.
A salary of at least $5,000 (£3,800) per month
Health insurance with valid UAE coverage
A passport that does not expire for at least six months
Last month's payslip and three preceding months' bank statements
A valid employment contract or evidence from your current employer, valid for at least one year
For company owners: proof of ownership for at least one year, with an average monthly income of $5,000 (£3,800) per month and three preceding months' bank statements
Programme Cost
To participate in the remote working programme in Dubai, you will also need to pay an annual fee. This fee is currently set at $287 (£219) with an additional processing fee for each participant.
Other Opportunities in Dubai
This remote working initiative is a part of a much broader strategy Dubai has devised to draw in new residents. Last year, Sheikh Mohammed bin Rashid, Vice President and Prime Minister of the UAE and Ruler of Dubai, revealed a 10-year residency opportunity through an exclusive golden card. This allows thousands of professionals and investors to relocate long-term and helps boost the country's international image.
More recently, the UAE government revealed a new five-year visa, allowing expats to retire in Dubai.
To participate in the retirement initiative, you must be over 55 and possess valid UAE health insurance. You must also either earn a monthly income of 20,000 AED (roughly $5,445 or £4,165), have one million AED (around $272,257 or £208,226) in cash savings, or own a property in the emirate of Dubai worth two million AED ($544,514 or £416,453).
If you meet these requirements, you and your spouse can apply for this five-year retirement visa online, with the possibility to renew automatically.
---
The Dubai residence visa for remote workers presents aspiring expats across the globe with a tempting offer. The chance to live in a bustling and booming international city is sure to intrigue professionals from around the world. If you're a remote worker looking for a new opportunity, there is no time like the present to consider a move to sunny Dubai.
1st Move International has offered bespoke packing and international removals services for over 20 years. We also deliver useful information on everything from Dubai residence permits to the pros and cons of moving to Dubai. If you're ready to move abroad and you're looking for a reliable international removals service, reach out to receive a FREE quote today.