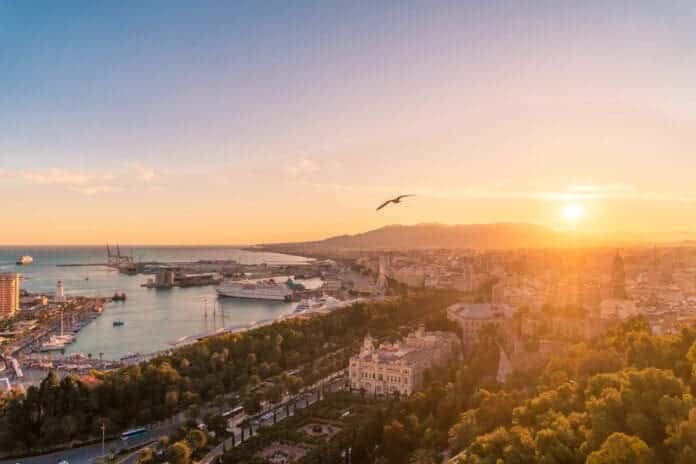 Whilst we don't cover Spain as part of our international removals services, we still thought a guide on moving to Spain would be a great resource for readers on our blog. It is, after all, one of the most popular destinations for British expats – and for good reason.
As one of Europe's sunniest countries, Spain doesn't have to work hard to convince Brits to move south. From the mystical architecture of Andalusia to the awe-inspiring nature of Catalonia, Spain is bursting at the seams with beauty that attracts expats in droves.
With a mild climate, friendly locals, and cheap flights back home to visit family, Spain is a fantastic choice for those looking for a change of scenery.
If you're wondering how to emigrate to Spain as a British expat, read on for answers to your most pressing questions.
There were around 250,000 British expats living in Spain as of 2019 and numbers are on the rise. People are taking notice, with many curious Britons wondering, "what do I need to live in Spain, and what would my life be like there?"
If you're considering a life filled with tapas, flamenco, and sunshine, here are some things you'll want to know before you go.
How to Emigrate to Spain
As the news of Brexit broke across Europe, many Britons were left wondering what it meant for them. Leaving the EU will change a few steps when it comes to emigrating to Spain, but if you follow the post-Brexit guidelines, you'll be able to secure your place in the sun in no time.
Post-Brexit Paperwork
The UK government website has guidance for Britons living in Spain. They go over how to emigrate to Spain or secure your residency if you're already living in the country. After the Brexit transition period ends, you'll need to register as a resident in Spain if you'd like to stay longer than three months. The way you do this will depend on when you're applying and your reason for making the move.
If you arrive in Spain before the first day of 2021 and register as a resident after July 6, 2020, you will receive a residence card called a Tarjeta de Identidad de Extranjero (TIE), or foreign identity card.
Different rules will take effect after the last day of 2020. Keep an eye out for updated information on the paperwork required. The government website will provide updates as more information becomes available.
Lifestyle
The Spanish lifestyle offers fantastic work-life balance, as the population tends to enjoy free time and prioritize moments with family and friends. Once you learn how to emigrate to Spain, you'll enjoy leisurely siestas in the afternoons, the ritual of the evening stroll, and sun that lasts past dinner time. What's not to love?
Transport
The streets of Spain are very walkable, with bigger cities like Madrid, Barcelona, Sevilla, and Valencia offering metros and trams to help you get to far-flung parts of town. Any city you choose will have a bus system, and you'll find comfortable trains to take you out of town. Flights are very cheap in Spain, so returning home for a weekend visit is doable. You'll be more well-connected in a large city than a small village, but the transport in Spain makes travel a breeze from almost anywhere.
Health
You've heard of the Mediterranean diet, comprised of olive oil, fruits and vegetables, and even a nice glass of red wine. Spain embraces these ingredients wholeheartedly, earning them the title of the world's healthiest country in 2019's Bloomberg Healthiest Country Index. With delicious tapas and walkable cities, Spain helps its residents embrace healthy living with ease.
The country offers both public and private health care options and if you contribute to the Spanish social security system, you'll receive free basic healthcare through the public system. Retirees benefit from this arrangement as well and the service is extremely good.
Where to Move
If you've started researching how to emigrate to Spain, you may have a few places in mind for moving to this sunny paradise. Whether you have your eye on coastal Malaga or the buzzing capital of Madrid, you're sure to find a city in Spain that meets your needs.
Bustling Madrid
Madrid is a popular choice when moving to Spain, as it offers incredible parks, neighbourhoods, and nightlife to satisfy every resident. Life in Madrid is exciting, and its location in the middle of the country means travelling to other Spanish cities is easy. If you're looking for a Spanish city where you'll never run out of new foods, events, bars, and sites to explore, Madrid is the destination for you.
Vibrant Barcelona
If you enjoy the active lifestyle of a city, but want a bit of Mediterranean flavour, head to Barcelona. The capital of Catalonia has a big city feel, but its cosy neighbourhoods can teleport you to simpler times. The streets of Barcelona are steeped in art and history, with beautiful Gaudi architecture at every turn. To top it off, Barcelona is situated on the coast, so you can enjoy waterfront walks year-round.
Malaga – A Popular Choice For Britons
If you're wondering how to emigrate to Spain because you hope to spend your days drenched in sunshine, Malaga is the city for you. Tucked into Spain's southern coast of Andalusia, this city offers beautiful coastline, escapes to pristine villages, and all the tapas you can eat. There is a sizable expat population in Malaga, so you'll be able to map new friends and bond over stories of life back home.
Travelling With Pets to Spain
Now, if you're wondering, "what do I need to live in Spain with a pet," you'll want to consult the UK government website. They cover the rules for travelling with a pet to Spain and will help you stay updated with the latest changes to come with new Brexit requirements. Always consult your vet in the UK before considering an international move to Spain with your furry friend, and learn your airline's protocol for travelling with a pet.
At 1st Move International, we offer bespoke packing and removals services from the UK to Spain. We are happy to help as you continue researching how to emigrate to Spain, and give advice on shipping your belongings when the time comes. If you're looking for a reliable international removals service, contact us today for a FREE quote.