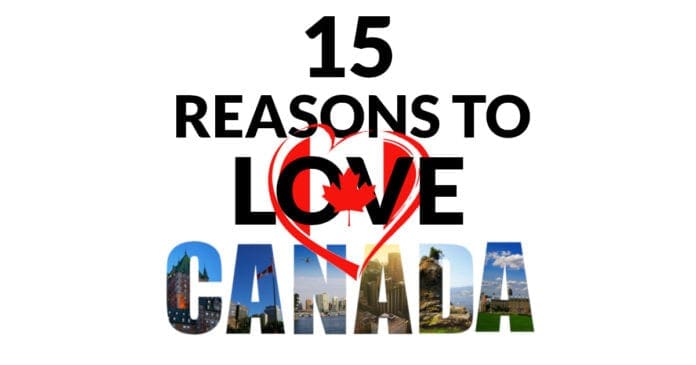 Canada has a goal to attract one million people to live and work in the country by 2020. Judging by feedback from expats, it shouldn't have too much trouble with that objective.
Listed as one of the best countries in the world for expats, it is consistently praised for its accepting and tolerant society and great quality of life. It is also a vast country of dazzling scenery and exciting cities, French and English speakers and snow-swept winters and glorious summers.
If you're considering the big move and still need some convincing that Canada is the right destination for you, read on. Here we list the 15 reasons why you should call the Great White North your new home.
1. Friendly Locals
It seems Canadians live up to their welcoming reputation, with more than four in five expats surveyed for the latest Internations Expat Insider survey describing Canadians as "friendly" – double the global average. In fact, more than three-quarters of those questioned said they fitted into the local culture easily, with most expats saying they had local friends.
2. Quality of Life
Canada ranked 12th out of 189 countries on the 2018 Human Development Index, scoring highly for a whole host of categories, from life expectancy and gross national income, to security and socio-economic development.
With a lower cost of living, a focus on sports and enjoying the outdoors, many expats choose to head to Canada to improve their quality of life – in fact Canada rated number three globally in the latest Quality of Life rankings according to a study by US News & World Report.
3. The Great Outdoors
If your idea of a great lifestyle involves spectacular scenery, hiking trails and biking routes, winters spent flying down ski slopes and summers bathing in crystalline lakes, Canada could be the country for you.
Canadians in general love sport, but that passion isn't just confined to ice hockey, lacrosse and basketball, it also extends way beyond that. Canada is vast and most of the populations lives in cities, which leaves great expanses of wilderness just waiting to be explored. Whether you're kayaking or swimming, skiing or simply strolling through beautiful scenery, the Great Outdoors is just begging to be discovered.
4. Sophisticated Cities
Like a piece of the Old World transported to the new, Montreal is an 18th –century delight with a vibrant arts scene and excellent cuisine. But it is not just this Francophone city that enchants expats. Coastal Vancouver is the country's culinary capital, surrounded by beaches, mountains and beautiful forests, while Toronto is said to be the most multicultural city in the world.
Add in the cowboy charms Calgary and Ottawa's fame as the Silicon Valley of the North and you have a country bursting with variety. So which city are you going to call home?
5. Great Skiing
It had to be addressed at some point. Canada is cold. The second coldest country in the world, actually. But while those long, chilly winters could be cited as a reason not to move to the country, the locals know you can still have fun when the snow is thick on the ground.
From Whistler to Lake Louise, the names of this country's iconic resorts make you want to grab your skis or board and jump a chairlift. Plentiful powder, quiet slopes and great lodgings, you can enjoy plenty of winter escapes while living here.
6. Glorious Summers
After the long winter, the sun comes out across Canada and mountainside are blanketed in colourful wildflowers, alpine lakes glisten in the sunshine, the rugged coastline begins to attract holidaymakers and the sun-kissed vineyards of the Okanagan Valley welcome visitors.
Yes, Canada comes alive in summer, with average temperatures of 25C, and the locals know how to enjoy it to the max. There are festivals and picture-perfect camping spots, rainforest hikes and secluded beaches on empty coastlines, not to mention kayaking along gushing rivers. You won't need much excuse to get out and enjoy the sunshine.
7. Underground Malls
When the winter really bites and the wind chill sends you wanting to scurry indoors, you don't have to shut yourself up at home. In the coldest cities across Canada, you can go out shopping and enjoy dinners and cocktails, all underground. It is the perfect way to tackle the cold.
In Toronto, PATH is a downtown pedestrian walkway offering restaurants, shopping and entertainment, while Montreal has its own Underground City, stretching for 20 miles and incorporating metro stations, plazas, shops and eateries.
8. Wonderful wildlife
One of the many joys of exploring the Great Outdoors while living in Canada is the amazing wildlife you can witness. Try tracking grizzly bears, fly over the tundra and look down to spot polar bears, head out in a boat to see majestic humpback whales as well as the Fin, Minke and the North Atlantic right whale, not to mention dolphins and thousands of amazing seabirds.
The moose is an icon of the country, while the Canadian caribou migration is not to be missed and beavers, wolves, prairie dogs, coyotes and deer all contribute to its rich wildlife offering.
9. Good healthcare
Canada is rightly proud of its state-funded healthcare offering Medicare, which ensures essential medical treatment is free at the point of delivery. Most primary and secondary care is included, with doctor visits and referrals to specialists free of charge.
As a permanent resident, you can enjoy both in-patient and out-patient services as part of Medicare, which is actually seen as a health insurance service, funded by the taxes citizens and residents pay in through income tax, sales tax and things like the purchase of lottery tickets.
10. Diversity
If Toronto is one of the most multiculturally diverse cities in the world, then Vancouver isn't far behind it. Canada prides itself on its diversity and accepts immigrants and refugees seeking a new life as well as giving them the support they need on arrival.
11. Safety and Security
According to the latest Internations survey of expats, 94% ranked peacefulness as a key part of the country's quality of life and Canada also performed incredibly well when it came to safety and security, with low crime rates and particularly low violent crime when compared with its southern neighbour.
12. Family Life
If you want to raise children in Canada, you will be pleased with the conclusions from expats already living in the country. It ranked sixth globally for family life in the HSBC Expat Country Guide, with security and good levels of education all contributing, as well as a focus on sports and outdoors activities. Often weekends are spent escaping to the mountains, lakeside lodges and the coast, anything to connect with nature and shake of the stresses of the big cities.
13. Economics
Canada is one of the world's strongest economies and there are booming industries such as mining and oil and gas in general. As a country, it welcomes foreign workers and positively encourages those who can fill under-represented industries and positions.
Canada also scored particularly well in relation to its entrepreneurship, according to the US News & World Report survey.
14. Visas
As part of its open policy to foreign workers, Canada lists information about all the visas available on its website cic.gc.ca.
Employers looking for foreign workers can do so through the Temporary Foreign Worker Program, while you can also apply through the Federal Skilled Worker Program, which operates on a points-based system based on your academic experiences, language skills etc.
15. Education and Childcare
Canada offers excellent education to all citizens and residents. In fact, according to the Organisation for Economic Co-operation and Development (OECD) Canadian students perform well regardless of socioeconomic status or whether they are First Nations or recent immigrants, as the country has a policy of no student being left behind.
More than 90 per cent of students attend public school and there is a real emphasis on sports and extracurricular activities as well as academic achievement.
That rounds up our list of top reasons expats love living in Canada. If you're thinking of making Canada your new home, we offer an unbeatable international removals service direct from the UK. Get your free quote today.