Moving Costs From The UK
Here we show the average international removals costs for a 3 bedroom home from the UK to 10 major countries.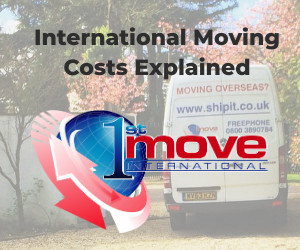 These costs are based on average prices and meant as a guide only. Other costs involved will be the transport costs from your home to the port and time taken to pack and load your goods into the container from your home, both of which we cover below in more detail.
International Moving Costs by Country
The table below shows the port to port shipping costs for an average move abroad for a 3 or 4 bedroom house to 10 of the most popular countries we ship to.
Shipping Costs for Your International Move

Country
Port
3 Bedroom House
4 Bedroom House
Australia
Melbourne
£2,897
£4,998
Sydney
£2,897
£4,998
Adelaide
£2,897
£4,998
Brisbane
£2,897
£4,998
New Zealand
Auckland
£4,900
£8,350
Wellington
£4,750
£8,050
Canada
Montreal
£3,900
£5,850
Toronto
£4,600
£6,550
Vancouver
£5,300
£8,100
USA
Charleston
£4,605
£5,232
Chicago
£4,950
£7,150
Houston
£4,643
£5,232
Los Angeles
£5,468
£6,420
Miami
£3,900
£5,850
New York
£4,758
£5,309
Norfolk
£4,605
£5,232
San Francisco
£5,818
£6,770
South Africa
Cape Town
£1,550
£2,450
Durban
£1,550
£2,450
Cyprus
Limassol
£1,350
£2,100
Dubai, UAE (Jebel Ali)
Jebel Ali
£2,224
£2,857
These international moving costs are based on the actual port to port container shipping costs only and are calculated from the London Gateway port to the overseas destination port in your country. A 3 bedroom house should fit into a 20ft Container and an average 4 bedroom house should fit into a 40ft container.
An average 3 bedroom home will take around 2 days to pack and load with a cost of £1750.00 and a 4 bedroom house will take 2 to 3 days at a cost of £2250.00
Transport costs from your home to the port will vary depending on how far you are from London but average around £260.00. Charges will also be incurred for export and import customs formalities, quarantine inspections where required, insurance and final delivery and unpacking at your home if required. You can get an exact price and get a breakdown of each of these individual costs quickly by simply filling in our quick moving quote form on this page.
International Removals Cost Breakdown
A move overseas involves a wide range of factors which can affect the cost of your move. Whilst we have shown the average costs for a full house move many people decide to ship much smaller amounts of personal effects. Ultimately the cost of your move abroad will be influenced by size of your move, the distance from the receiving depot, or port, and the final destination.
Let's go through an explanation of the costs involved...
Packing Costs
This will involve your mover making sure that everything is packed and ready to load. Robust export packing is required to suit the rigors of international transport.
Packing charges are charged on the amount of packing material required and the time it takes for us to pack. On smaller house moves, or less than a container load, this can vary between £150.00 to £300.00.
With a full 3 bed house move the cost will increase as the mover can take up to 2 days to make sure that everything is packed, a proper inventory is made and the goods are safe to load into the container.
Money saving tip: On larger moves most movers will supply you with packing materials free of charge or give you a discount on your shipping costs if you pack yourself.
Container Shipping Costs
Container shipping costs are always charged on the final volume of your goods once they have been packed. The 2 main shipping methods for an international move overseas are known as "Dedicated Container Services" or "Shared Container Services".
A dedicated container service is used when you need all the space in a 20ft or 40ft container. This is the most expensive option.
The average 3 bedroom home will require sole use of a 20ft container. Smaller house moves, for example a one bedroom apartment, will normally only take up about 25% of a full container. Your personal effects will be consolidated with other shipments so you will be charged a smaller amount based on how much you take.
Money saving tip: If you opt for a consolidated shipment then you can greatly reduce your costs by reducing the volume of your shipment. Our advice is not to ship those large bulky items, wardrobes, double beds etc. You can usually replace these when you arrive at your new home overseas.
Export Paperwork and Customs Formalities
Essential paperwork is required so that your goods can be declared to both UK customs and the overseas customs agents. This paperwork, commonly known as Customs Clearance Formality, is needed to declare your goods to both UK customs on exit and the overseas customs authorities in arrival. Your mover will take care of the UK side and can electronically file your customs entry before your container gets to the UK port.
Before your goods arrive the movers appointed agent will complete these customs declarations on your behalf. There are charges associated with this service which can range between £45.00 to £250.00 depending on the complexity of your shipment and the oversea destination.
Read more: Customs Clearance
Money saving tip: Make contact with the overseas agents as soon as you arrive and complete the customs paperwork in advance of your shipment arriving. Customs delays are the most common reason why storage charges are incurred overseas so get that entry in quick!
International Moving Insurance
Your international removals company does not know the value of your goods. As a mover they will be members of the BAR (British Association of Removers) and will apply their contractual limited liability clause in the event of an insurance claim. This limits them to paying only £40.00 per item in the event of loss or damage.
Good insurance is therefore essential for every move abroad and you are strongly advised to pay for the additional insurance offered by you mover. This should then cover you in the event of loss or damage.
Insurance costs are normally calculated at 4% of the total replacement value of your possessions.
Money saving tip: Moving insurance is an important revenue for your mover, the more you insure, the more they will make. However you do not need to insure everything you take. Always insure those valuables, furniture and expensive laptops and tablets. You can miss out those things which are unlikely to get damaged like plastic toys and soft furnishings.
Storage
Many people need to move out from the UK and move into rented accommodation overseas. They might not need all their furniture until they have fully settled into their new home. Your mover must have adequate storage space to cover for this eventuality and in most cases will offer you extended storage until you are ready to call for your shipment.
Money saving tip: You do not need to use your mover's storage facilities and you might get a better deal shopping around. When your goods are ready to ship your mover can easily collect them from a storage facility near your home.
Destination Charges
Your mover will have appointed agents across the globe. These agents will happily arrange all the necessary customs paperwork and redelivery to your home, wherever you're headed. There are charges involved in this which will be affected by the size of your move and the distance from the port of arrival.
There will also be handling charges at the destination to cover the costs for either removing the container from the ship or removing your goods from the shared container. Costs will also be incurred to redeliver your personal affects to your home address. Normally, your mover will have calculated these and charged them to you as part of your international removals costs.
Money saving tip: On smaller moves where you have decided to share the space inside of a container then you will be given the option to collect these goods from the overseas agent's depot. If you have the transport to do this then you will save the onward delivery costs.
Air Freight Options
Whilst air freight is the most expensive way to ship your goods overseas it can be used for those must have items. With air freight you can have your goods delivered to your door usually within 48 hours of leaving the UK. Laptops, tablets, cameras or personal papers which you may need quickly can always be air freighted to ensure you have them a few days after arrival. Your mover will happily arrange these services on your behalf.
Money saving tip: Your mover will have usually have accounts with DHL or FEDEX but may have to add additional charges to cover their time and staff costs. It is not too difficult these days to go online and book any urgent airfreight packages direct with the main international parcel delivery services.