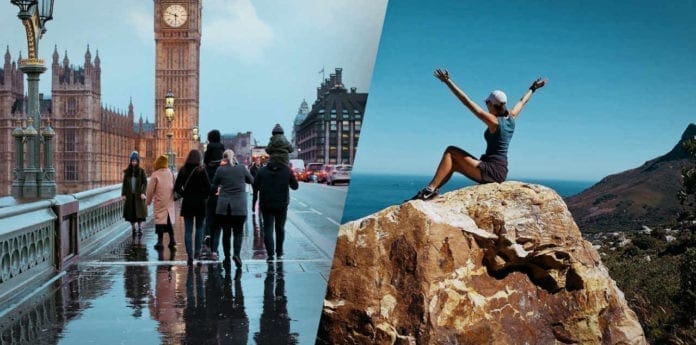 It is certainly a question that many people moving to South Africa ask themselves. After all, the country formed part of the British Empire from 1910 to 1961 and even sent soldiers to fight alongside Britain in both World Wars.
South Africa remains the UK's largest trading partner in Africa and major state structures, such as the legal system are very similar, however in other aspects this fascinating Rainbow Nation couldn't be more different from home, offering the chance to live out an adventure you could never have imagined in the UK.
So what can you expect from life in South Africa?
The Differences
Weather
It is often cited as one of the main reasons Britons want to live abroad and South Africa certainly doesn't disappoint on the climate front. Largely dry and sunny with a lovely temperate climate, those grey British days will soon be a distant memory. Of course, the climate varies across the vast country, with the south-west more Mediterranean, while the plateau in the country's interior more temperate and the north-eastoffering subtropical conditions.
The seasons are opposite to the UK, too, with summer occurring from November to March, when it can be rainier in most of the country, and winter lasting from June to August, when Cape Town experiences more rainfall.
The generally sunny, warm and dry weather makes outdoor living much more likely in South Africa and there is nothing locals like more than getting out into the wild and hosting barbecues (or braais, to the locals) in the garden.
Nature
Another stand-out difference between the two nations is their landscapes and scenery, not to mention the wildlife. South Africa is a country of spectacular, dramatic coastlines, Mediterranean climes creating perfect wine growing conditions, rugged mountains and deep canyons and, of course, vast nature reserves where you can spot a dazzling array of wildlife.
You can spot the Big Five in this glorious African nation – including the African Elephant, Cape buffalo, lion, black rhino, and leopard – and off the coast you can also get up-close to the Marine Big Five, including the whale, shark, seal, penguin and dolphin. It makes for a wonderful experience for any family to have such magnificent creatures practically on their doorstep.
Cost of living
One difference between the UK and South Africa is the cost of living – but it all depends if you are relying on earnings or savings in pounds or not. Often in South Africa prices can fluctuate, with the cost of food, electricity and petrol rising unexpectedly. If you earn in the local currency, you can expect costs to be more similar to home. However, if you are lucky enough to be receiving a UK pension or earning in pounds, you will find prices surprisingly low and will be able to enjoy a higher-quality lifestyle.
Healthcare
South Africa is similar to the UK in that is does offer state-run healthcare, with small fees charged in relation to income and number of dependents. However, it is severely underfunded so it is strongly advised that expats take out private health insurance in order to access high-quality private treatment and hospitals.
Safety
One major difference that should be taken seriously is safety. Crime rates remain very high in South Africa and many expats choose to live in gated communities with security, which is very common in the country. You will need to make some lifestyle changes and keep abreast of local news to ensure they can keep themselves and their possessions safe. But by taking steps to secure your property and car as well as being vigilant all times, you can reduce the chance of becoming a victim.
The similarities
Language
This section can be considered both a similarity and difference between South Africa and the UK. You will be pleased to hear that English is widely spoken, thanks largely to the country's colonial heritage. In fact, South African English is one of the country's official languages, however, it is one of 11, so you can expect that when you travel to some rural areas the locals may speak some of the other official languages instead of English. It is all part of living in the Rainbow Nation.
Sport
Thanks to our shared history, the sporting passions of South Africa and the UK are very similar. Football, rugby and cricket are generally the most popular sports – although these can be divided down ethnic lines sometimes. For example, rugby and cricket were traditionally games played by white South Africans or those of Asian descent, but that is changing.
There is a great focus on sport and being active in South Africa, which is certainly helped by its temperate climate, so get ready to be outdoors a lot more and perhaps consider joining a local team.
Driving
Another hangover from colonial times, South Africans drive on the left-hand side of the road. Buying a car can be expensive in the country, but if you want to drive there are some amazing road trips you can take while living in the country. The Garden Route along the southern coast encompasses spectacular scenery from dramatic cliffs and wide beaches to mountains and lush forests. You can also drive your own car into many wildlife reserves, ensuring you can enjoy a safari without having to follow the crowds.
Architecture
As you wander around the main cities, some of the architecture may appear somewhat familiar. The Victorian and Edwardian style of many houses is of course a throwback to a time when British influence was strong in South Africa, followed by the country becoming part of the British Empire. Of course this is balanced by a rich variety of other architectural styles, from the Dutch colonial influences to Cape Town's Malay Quarter and some truly lavish buildings designed by local architects.
So what can you expect from South Africa?
This exotic country at the tip of the African continent has plenty to delight and intrigue expats, but it also has some nostalgic references to home. It creates a wonderful blend of the different and the familiar and makes for a fascinating cultural experience if you choose to call South Africa home for a while.
If you're thinking of moving, you might find our Guide to South Africa for Expats useful.
And don't forget we offer great international removals services direct from the UK to South Africa.
Have a question? Join our
Facebook group
for help and advice from others who are also leaving the UK!