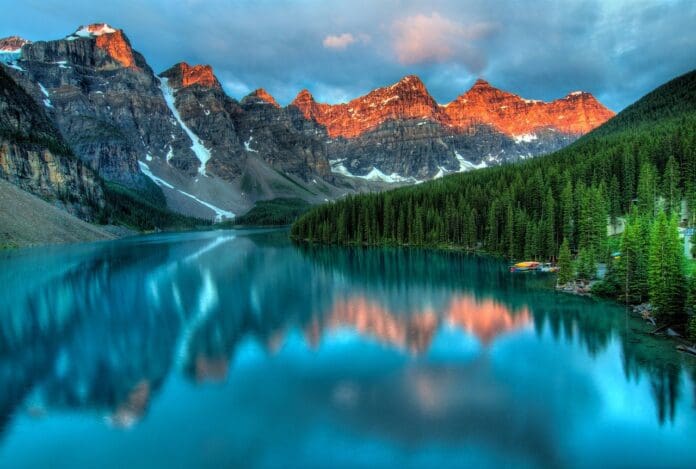 Previously we have covered many topics for anyone thinking of starting a new life in Canada, with a lot of information in our complete guide to moving to Canada and our overview of the types for Visas and immigration rules for Canada covering the types of Visas available and exactly how to get them, however, you may still be wondering exactly how to ship your household goods and personal belongings to Canada, so here we'll cover the import process, paperwork, duties, shipping your car and more.
Shipping Your Personal Household Goods to Canada
To start, you will need to plan carefully and decide how much you are taking with you. Typically, when shipping household goods to Canada you will be charged by the total volume of your shipment, so it's important to consider what you should/shouldn't bring and to also know that your quote will be in line with the estimated volume, based off of the information provided to us. Measure as much as you can, in centimetres, and then include this total measurement when you ask for an international removals quote to Canada.
As well as pricing, you will also need to confirm timings. You will need to factor in when you need to vacate your UK property, the current Canada shipping schedules and when you are likely to arrive in Canada. Make sure that when you are quoted by the international removals company you ask them specifically what sailing you are likely to meet. At 1st Move International, we have weekly services to most destinations including Canada.
Safety and security are also paramount. Ask how your personal belongings will be stored, and how they are packed and loaded into the shipping container. At 1st Move International, we have a unique way and packing personal effects which not only helps them be safe and secure but also minimises handling, giving added protection against COVID.
For more details on this, take a look at our recent blog How Does Palletising Your Personal Belongings Make Moving Overseas Safer?
Export Paperwork for Canada
When you make your booking with 1st Move International, and secure the date that you want your personal belongings collected, we will tell you exactly what we need to arrange the export. We'll need;
A copy of the photo page of your passport.
An inventory of any items that you have packed yourself.
After the shipping line has confirmed the sailing, we will send you a copy of the Bill of Lading which shows all details of your consignment along with the confirmation of the shipping date and contact details for the agent in Canada. This will be "express" issued so you do not need an original to get the release of your goods.
Importing Personal Effects into Canada Free of Duty
You do not need to pay import duty on any goods that are considered personal belongings or household items. These must have been in your possession when you lived overseas before moving to Canada and cannot be sold or otherwise disposed of within 12 months of your arrival into Canada.
Some items that you do bring with you may incur import duty costs, such as items for business use or those that you have bought on your way to Canada as well as items that you have leased or rented (these aren't considered as items that you own)
Any alcohol or tobacco may be dutiable, for more details see the rules regarding these products on the Government of Canada website.
The Import Process for Household Goods into Canada
When you fly into Canada, usually you can check-in using the terminals on arrival, and you do not need to complete the BSF186 & BSF186A forms anymore. You just need to make sure that you check the "Goods to Follow" declaration on screen.
This advises the Canada Border Services Agency (CBSA) that you are expecting unaccompanied personal effects to arrive into Canada. It is imperative that your personal items arrive after you do, as you will need this declaration to be completed before your goods arrive. If your household goods arrive before you do, they will need to be stored at the Customs warehouse and you will incur storage costs. If they remain in the Customs warehouse for more than 40 days, unless you request an extension, they will be treated as unclaimed. After a further 30 days they are subject to disposal and you can no longer claim them.
Once your household goods have arrived, you need to visit your nearest CBSA office when requested by the Customs agent and complete the BSF186 form. Then if they are happy with everything, they will stamp your paperwork and your shipment has cleared Customs!
From there you can instruct your moving company to deliver your shipment to you, or collect it yourself from the port of entry. Success!
Can I Take My Car to Canada?
You are able to take your car, motorbike or other vehicles that you own, with you to Canada. Unlike your personal effects, however, you will need to pay Customs Import Duty and Goods and Service Tax (GST) on the value of your vehicle.
Import Duty for vehicles into Canada is currently 6.1% and GST is 5%.
The value of your vehicle is ascertained by the purchase price, if you have an invoice or bill of sale. If this is not available then the value is decided by the Canadian Black Book, and you can check this yourself on the Canadian Black Book website.
To permanently import your vehicle into Canada, unless it was manufactured for sale in the USA, it will need to be more than 15 years old. Even a US-manufactured car may need modification work before it can be registered for use on Canadian roads, so check with Transport Canada if you aren't sure.
Before shipping, we will need to send your forwarder a copy of the V5 registration document. This is the evidence of the age of your vehicle and will be used by Transport Canada to check that you are able to register for use on Canadian roads.
The experts on car shipping to Canada are 1st Move International's sister company, Autoshippers. Visit their website for more details on shipping cars to Canada and a guide for importing cars to Canada, or give them a call on 0800 389 0784 or +44 117 982 8123.
Moving to Canada with 1st Move International
At 1st Move International, we have been shipping personal effects around the world for our customers for over 25 years. We have a unique packing process that enables us to use commercial freight services, with weekly departures to most destinations, and keeps your household goods safe and secure.
For more details on how we do things a bit differently, take a look at our website that shows how we pack and ship your items, as well as our blog "How Does Palletising Your Personal Belongings Make Moving Overseas Safer?"
If you'd like to ship your furniture and personal effects from the UK to Canada, get in touch with us today, find more about our international removals services to Canada or simply get a quote using the quote form on this page and our friendly team will get back to you shortly with everything you need to know.