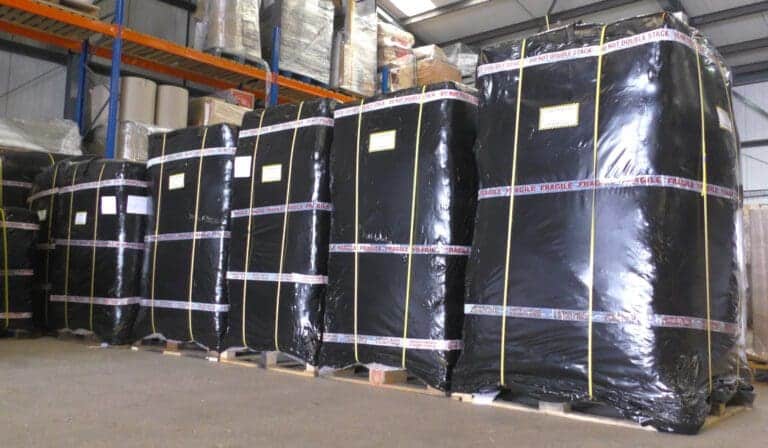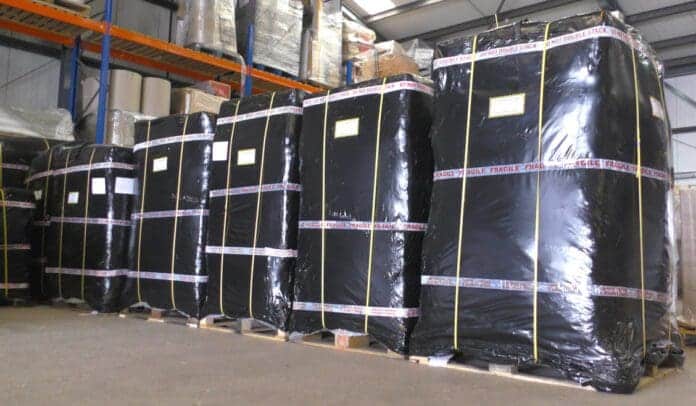 There are many reasons someone might decide to move overseas. It could be joining their family in the USA, finding a job in Dubai or chasing the ideal lifestyle in Australia.
But before you get there, you have so much to do and time always seems to be against you.
One of the most stressful parts of any move, be it domestic or international, is the physical movement of your precious belongings. You can scour the internet looking at the reviews of international removals companies and find yourself worrying over the talk of damages, losses and delays.
This is where 1st Move International and our palletised removals process comes in.
Shipping by "Shared Container"
Before we launch into the reasons why you should seriously consider using a company like 1st Move International, who professionally palletise your personal effects, let's take a look at how most other removals companies transport your household goods.
When you are discussing quotations with international removals companies, you will often hear the term "shared container" being used.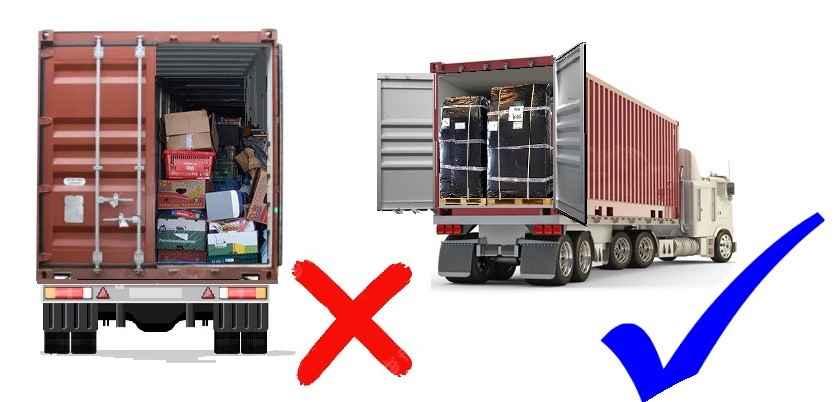 This means that if you aren't moving with enough belongings to fill a full shipping container then you will usually be sharing space with other customer's personal effects.
Your chosen company may or may not "export pack" before loading loose into the container, which generally means that certain items are shipped loose, whether boxed, bubbled-wrapped or not.
When the container is full from front to back, only then it is booked with a commercial shipping line for transport to your country of destination.
Let's look at some of the reasons why this process is far from ideal.
Damages
A dirty word if I ever saw one. You have spent your life filling your home with things that you love, and some of the items may have even been handed down through generations of families. So, the last thing you need is to receive your belongings in your new forever home to find that they are damaged.
During transit overseas, a container vessel is subject to adverse weather conditions and the stresses and strains of the ocean. The movement of the sea will cause the containers to move and, as you can imagine, anything that is stored within them.
With a shared container service, although packed tightly, there is a high likelihood that your loose personal belongings will be moving around inside the container, bumping into other furniture and causing scratches, breakages and other damage.
The 1st Move Way
Now, rather than shipping items loose, let's see how your palletised personal effects look once we have finished our specialist packing.
We never ship anything loose in a container. That is one of the major benefits of a consolidated, palletised shipment.
Firstly your individual items are boxed, furniture is disassembled and wrapped in protective bubble wrap. Your items are then carefully arranged onto a pallet base utilising all available space with even more bubble wrap and protection to keep them in place. This entire pallet is then wrapped with clear stretch-wrap film to bind it all together, a layer of double-walled cardboard sheet and bubble wrap added and then the whole pallet and its contents are fully encased in a heavy duty 125 micron shrink fast bag, specifically designed for 1st Move.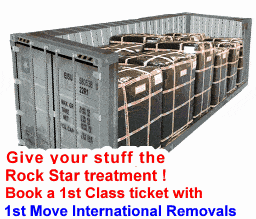 This is then heat-treated using our "shrink fast" procedure to create a finished product that is strong, durable and weather-resistant. So, your items always stay together and are never shipped loose. No matter how rough the journey by sea may be, you can rest assured that your belongings are tightly packed together and protected.
We even, where possible, pack to such a height that nothing, commercial cargo or other personal effects, can be loaded on top.
See the whole step-by-step process (with pictures) here: www.shipit.co.uk/safer-packing.htm
How about that? No wonder our insurance broker loves us!
And so do our customers;
Eleanor, NZ – "Great service, amazing packing of my things onto the pallet….and my items have arrived in great condition to New Zealand."
Peter F, USA – "We had a large pallet of home belongings shipped from London to Florida with NO problems and NOTHING was damaged"
Losses
I'm sure that you can imagine that during the transit of your personal effects shipment there are typically many "handling points".
Once collected from your home, generally, your belongings are then unloaded into a warehouse. From there they are either loaded loose into a container or onto another vehicle to the container loading warehouse (or multiple sites on route!) Once secured in the container, there should be no other loose handling points until the container arrives at the unloading warehouse at your destination.
The process is then reversed, unloaded from the container for transport to your home or to one or more warehouses until it gets loaded onto the final vehicle for delivery.
This "multiple handling" of many different household's personal effects as loose cargo can lead to them being mixed up resulting in delivery to the wrong final destination. Disaster!
A container load of personal effects shipments usually contain customer's belongings over a wide delivery area. To put into perspective, if you are moving to Australia or the USA it could be that the container holding your shipment also services a delivery area over hundreds of miles.
The 1st Move Way
With our palletising process, we collect from you and then keep your shipment separate from our other customer's effects until we pack in our own unique way.
Once packed and wrapped, this pallet remains intact throughout transit until delivery to your door, meaning that it is not opened or unpacked until you receive it. All of your belongings stay together and once packed, individual items / boxes cannot be handled separately.
Without the multiple loose handling and potential mixture of loose loaded belongings in a container, there is much less chance for effects to be lost in transit.
Another reason why we are our insurance broker's favourite customer!
Lee, Canada – "I selected 1st Move because they palletise the shipment, rather than loose load a container. This felt more secure to me and, having received my shipment, excellently packed and with nothing broken I am glad I went with this option."
Kimberley, NZ – "Everything was packed by them really quickly and I loved how everything it sealed to ensure nothing gets lost."
Delays
No one wants to be sitting in an empty house waiting and waiting (and waiting) for their furniture, clothes and other worldly goods to arrive.
So, the last thing that you need is to have a delay in transit.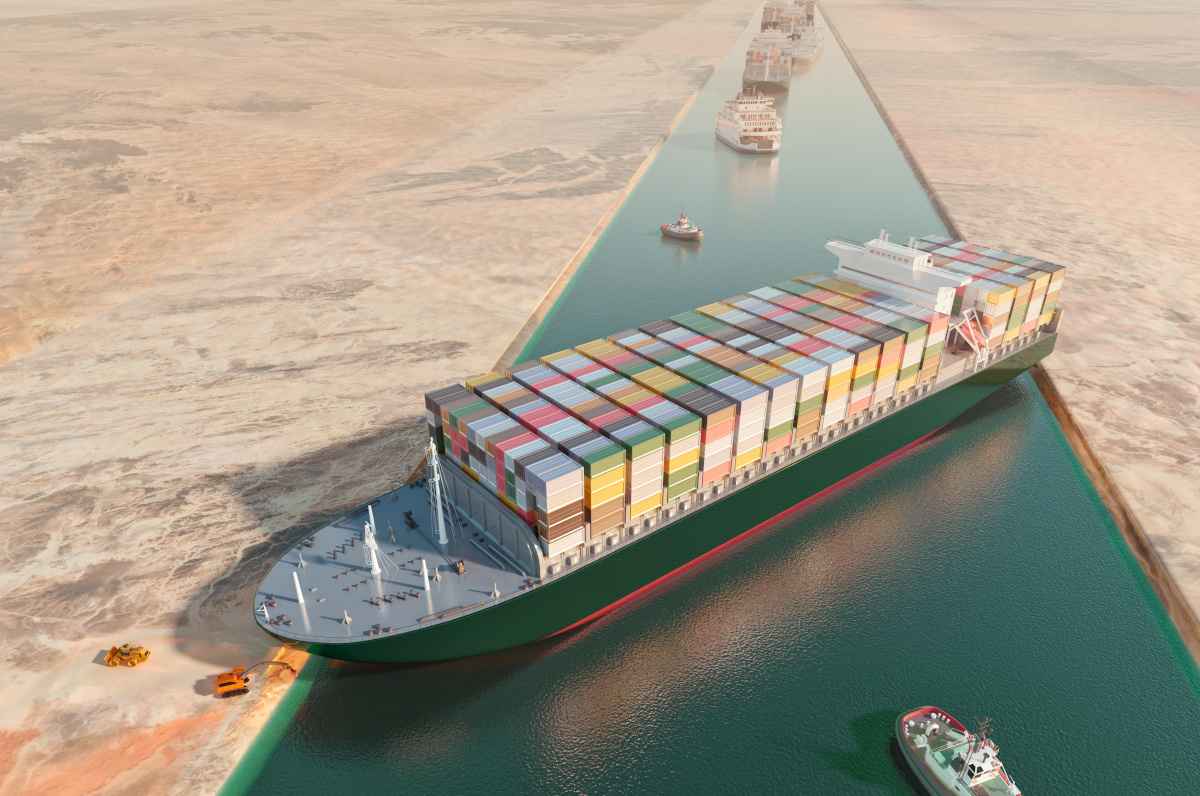 Sometimes delays do happen – there's no sugar-coating that. There are certain things that can affect the sailing schedules of commercial shipping lines, such as weather, strikes, congestion or even a failed 3-point turn in one of the world's busiest shipping canals!
A potential delay in transit is something that we all need to look out for, but the delays we are talking about here are ones that happen even before the shipping line gets their hands on your shipment.
When it comes to "shared container" shipping of personal effects, the key is in the word "shared". Most international removals companies will only book the container to be positioned once they have enough cargo to sufficiently fill it.
Imagine your shipment – a few items of furniture, some clothes and a few boxes – being a total of 3 cubic metres in volume (this is how your quote will be structured). To fill a 40' container, you are looking at around 45-50 cubic metres (67 cubic metres of fresh air!) so your removals company needs 15-16 other shipments of similar size before they will book onto a vessel.
Until they have enough cargo, your belongings will sit in a warehouse waiting. And potentially waiting and waiting and…
Once enough cargo is available, a container is then booked (currently there is a 3-4 week wait for a shipping container, longer for some destinations) and the shipments are loose loaded.
The 1st Move Way
With 1st Move International, we have no need to wait for a full container load before booking your shipment. As we palletise your booking separately, we can use a commercial co-loader, who will take our booking straight away. The commercial co-loaders have enough commercial cargo bookings to load containers regularly (weekly in most cases) and pre-book their containers in advance meaning no long wait for the container to become available.
This means we can give you fixed schedules, weekly departures, and more concrete timelines from collection to packing to sailing to arrival and up to final delivery at your door.
Unbeatable Shrink-Fast Packing
So, here are a few examples of how 1st Move International's unique shrink-fast packing can help alleviate some of the pitfalls that we constantly find on other removals companies review sites. For more information on our packing, please visit our website www.shipit.co.uk/safer-packing.htm or give us a call on 0800 3890784 / +44 (0) 117 982 8123.
We are glad to help. If you would like a quite for your move, fill out the quick quote form found on this page here.
I'll leave you with one last comment from a happy customer, that says it all:
Cosimo, USA – "Awesome is immune to COVID-19… "Even with the inconveniences of COVID-19 shutting down the world, 1st Move International went above and beyond for our overseas move. All of our items were packed, sealed, and delivered without a single break. It is amazing that there was no damage to any of our items taking into consideration that there was an Atlantic crossing, countless warehouse moves, train shipments, and truck deliveries. The only moving company I recommend!"