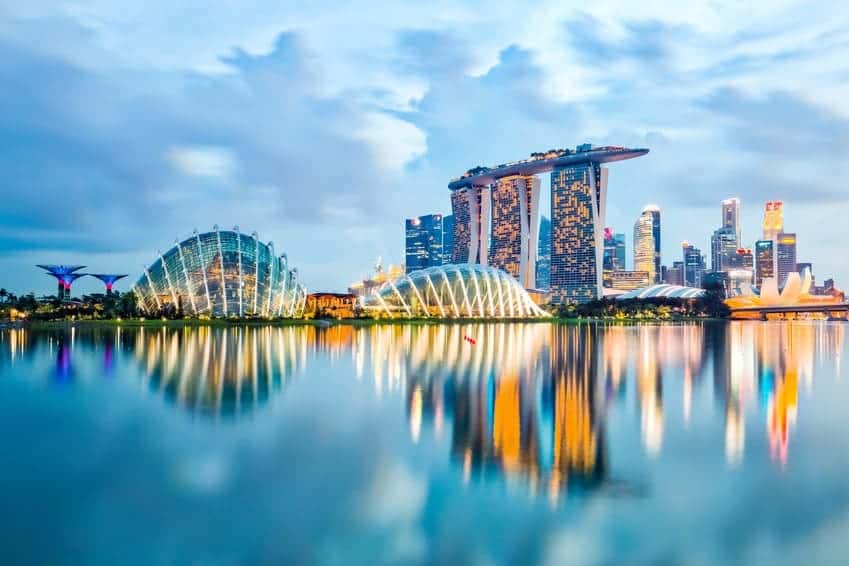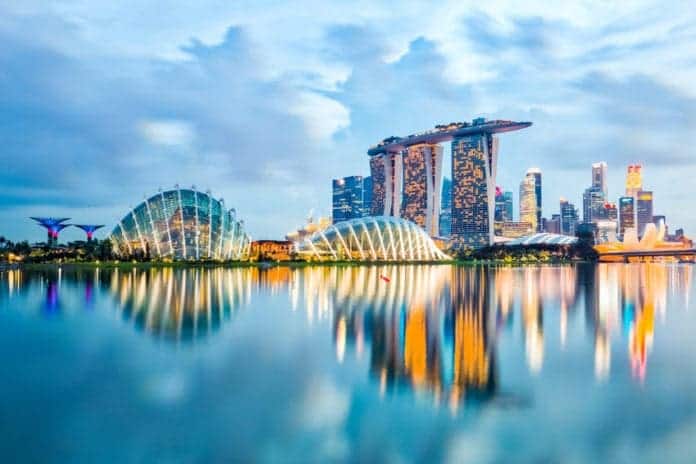 An island nation that is ultra-modern and steeped in tradition, Singapore is a fascinating place to live. It is a melting pot of cultures from ethnic Chinese to Malays and ethnic Indians and manages to combine luxury hotels and shopping malls with authentic night markets serving up delicious street food.
Singapore is also working towards its aim of becoming "a city in a garden", with skyscrapers covered in plant life, green spaces and a focus on sustainability. Add in white-sand beaches and great infrastructure and you can have yourself a very nice expat lifestyle. So if your future plans include moving to Singapore, read on for more details…ore details…
Travelling to Singapore – 2022 Update
The United Kingdom, as of the time of writing, is an active Vaccinated Travel Lane (Air) or VTL, country, so anyone travelling from the UK to Singapore who is fully vaccinated should be able to do so without quarantine. There are other stipulations, including spending the past 14 days in a VTL Country and Covid-19 testing, so please check the current UK Government Foreign Travel Advice for Singapore for details.
Singapore has very strict rules on mask-wearing, scanning in and out of public spaces, quarantine if you test positive for Covid and numbers you can meet with, amongst others. Again, please check on the UK Government advice for Coronavirus in Singapore to ensure you are up to date with the latest rules.
Lifestyle
What is it like to live in Singapore? A city-state made up of one main island and 62 islets, Singapore ranked third under "Quality of Urban Living 2021" in a recent report by InterNations entitled Expat City Ranking 2021, including topping the Safety & Politics Subcategory. Singapore ranked number 5 overall as The Best & Worst Cities for Expats, a great overall result. It is compact – the main island measures just 50km by 27km – with fantastic public transport infrastructure, modern accommodation and a great social scene. You'll certainly find a lot of people living like you, the population of Singapore is 5.6million with 2.16million expats, and English is one of the official languages.
Cost of Living
Of course, there has to be a downside. Singapore can be an expensive place to live, particularly with space at a premium when you're looking to buy or rent a place to live. In fact, you should expect to pay 50-60% more than buying or renting in the United Kingdom. To keep prices down, you may need to look for apartments further away from the business centre and opt for HDBs, which are Singapore state-owned housing.
It's a good thing that public transport works so well, too, as owning a car can be very pricey due to high taxes and insurance as well as heavy customs duties, although the price of petrol is comparable to the UK. Alcohol can also be expensive as it is heavily taxed, so nights out on the town are also costly, although if you are only eating rather than drinking the cost is lower in Singapore than in the United Kingdom.
Working in Singapore
Although some of your living costs in Singapore may be higher if you are moving to Singapore, the average salary, after-tax, is 30% more than in the UK. Singapore has a low rate of unemployment, and although the country has made steps to end its reliance on foreign labour in recent years it remains a multicultural society with many opportunities for expats.
There are many international companies that have operations in Singapore, such as HSBC, AXA, GlaxoSmithKline and Siemens. In a recent talent shortage survey, employers in Singapore said they were struggling to find the right candidates in Operations and Logistics, Sales and Marketing, IT and data and Manufacturing and Production.
Quality of Life
Singapore may be small, but it packs a punch when it comes to culture, history and interesting things to do. You can dine out in Little India, visit temples in Chinatown or head to the beautiful and ultra-cosmopolitan Marina Bay complex. After a day at the beach you can hit the sleek shopping centres, go to a Michelin-star restaurant or soak up the atmosphere at the bustling night markets in the evening. And if you feel like taking a trip, the rest of Asia is on your doorstep and just a low-cost flight away.
Climate
You can expect year-round warmth and high humidity in Singapore, with quite high rainfall. The highs are around 31-32C with lows of about 24C, with two monsoon seasons, one between December and March and the other between June and September and the hottest temperatures from May to July. If you get fed up with the hot weather at any point, you can always nip into the huge, air-conditioned shopping centres to cool off.
Visas
How do you get a visa to live in Singapore? Luckily, there are a whole host of different work visas available for Singapore, they are often referred to as "passes" and generally require you to have a job offer. There are Employment Passes for professionals with a job offer that pays a minimum of $4,500 a month, or S Passes for those defined as mid-level skilled workers, who must have an offer for a job paying a minimum of $2,500 per month.
There are also entrepreneur visas and those for people aged between 18 and 25 who want to work and travel for up to six months, while the Miscellaneous Work Pass will let you work in the country for up to 60 days. The details are carefully laid out on the helpful Ministry of Manpower website.
Unfortunately, there are no retirement visas to Singapore. This is normally only granted after years of working in-country.
Education
Singapore is given high praise for the family lifestyle it delivers. Not only is it listed in seventh place in a global survey of expats when it comes to the availability of childcare and education but for education in particular it ranks second in the world after Finland. The schooling system is excellent and your children will be exposed to so many different cultures thanks to the make-up of the country's population.
As a foreigner in Singapore you will be expected to pay school fees, whether you choose a private international school or a state school. But you can rest assured that the quality will be exceptional at either. Singapore puts a great emphasis on educating its citizens to a high level. This does mean there is an emphasis on exams and academic success, which can be taxing for some children. Due to the colonial British heritage, the system tends to mirror the British schooling structure quite closely (there are even O-Levels and A-Levels) and from primary school onwards, all teaching is done in English.
University
If your children want to progress to university, there are both state-run and private options and they can apply with their A-Level grades. Fees tend to be higher for foreign students at both and private universities are more costly than the six national state-run institutions. There are also polytechnics, which offer three-year courses on everything from engineering and business to nursing and can qualify students to go on to university after if they want to as well as offering a solid qualification if they prefer to then go straight into the working world.
Moving to Singapore
If you've made the decision to move to Singapore, your next step is to look into international removals to Singapore to get your personal belongings, furniture and other household goods safely shipped over from the UK. Here at 1st Move International, we offer unbeatable packing and removals services to Singapore with guaranteed weekly shipping. Simply get a free quote today and we'll send you a full estimate for your move. If you have any questions about the process, don't hesitate to contact us today or give us a call on 0800 389 0784 or +44 117 982 8123.