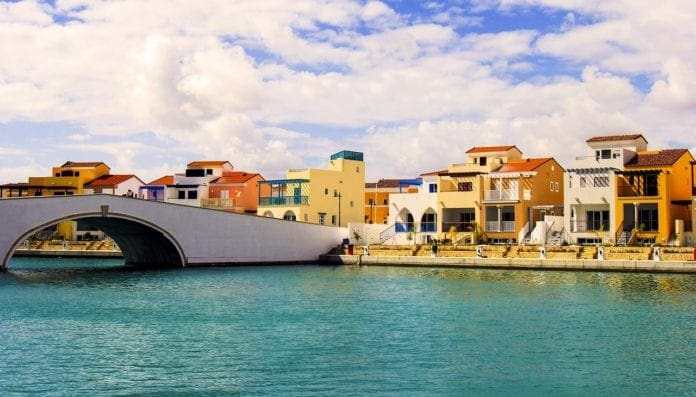 The beautiful Mediterranean island of Cyprus is fast becoming a hotspot for ex-pats from the UK. The perfect climate, relaxed lifestyle and affordable costs of living make the island one of the higher choices for UK nationals when looking to move abroad.
Cyprus – A Brief History
The island of Cyprus stands as a cultural and logistical crossroads between Europe and Asia. The history of the island is fraught with conflict issues with the southwestern corner remaining a strategic airbase to this day.
After becoming independent from Britain in the 1960s, Cyprus was split in two in 1974 with the Turkish Republic taking the northern territory and the Republic of Cyprus taking the south, this remains in place today with a harmonious soft border in place between the two territories.
Why Is Cyprus A Great Place for UK Expats?
English Speakers
Cyprus is a majorly English speaking country making it very easy for English ex-pats to adapt to life in the Mediterranean. The south of the island has more English speakers than you may find in the northern areas, however, as a whole approximately 75% of the nation speak English.
Relaxed Lifestyle
As with most islands in the Mediterranean culture, the pace of life is much slower than in western Europe. Whether it is for a Cypriot national or a British Expat, day-to-day life will be much slower paced and more laid back than you will likely experience elsewhere.
Appealing Climate
Cyprus has one of the best climates in Europe, boasting very limited rainfall and warm temperatures year-round. Average rainfall in the summer months comes at 0mm with temperatures between May and October averaging in excess of 30 degrees celsius.
Winter months also experience very pleasant temperatures with the coldest months of January and February averaging between 16-17 degrees celsius.
While most ex-pats congregate in communities around the coastal areas of the island those moving inland will notice temperatures slightly lower than the stated averages due to the increased altitude of the mountainous regions and vineyards.
Where do British Expats Live in Cyprus?
The majority of British Expats live in the southern region of Cyprus with the hotspots of Paphos and Limassol being the most populated areas by Brits immigrating to the island. According to the latest estimates, there are around 50,000 British nationals currently living in Cyprus.
Despite the UK no longer holding EU member status the island remains a popular destination for both tourists and immigrating Brits. The southwestern areas of Paphos and Limassol are favoured by Brits for their warm year-round climate and social scene with a vast range of bars and restaurants available across both towns.
The Cost of Living in Cyprus
It is generally accepted that the cost of living in Cyprus is cheaper than in the UK and much of central Central Europe, however, many sources disagree on how much cheaper with the rate varying from around 20% up to figures over 50%.
One of the most significant ways Cyprus offers a lower cost of living is through housing.
Do I need a Visa to Move to Cyprus?
Any foreign national wishing to live in Cyprus needs to obtain a residence permit, this allows no-natives to live on the island for longer than a three month period.
Before being granted a residence permit you must also gain an entry permit or visa. This will be different depending on your reason for residency with student and work visas available.
The exception to this is if you were a resident of Cyprus prior to the 1st of January 2021, in which case you will be able to remain. Residents from before this date will have a MEU document which can be exchanged to a new MUKW document agreed as part of the UK withdrawal agreement.
Temporary Visa in Cyprus
More generally known as a tourist or travel visa, these allow limited stay in Cyprus over a period, normally 90 days in any 180 day period, although these can be extended to a year or even 5 years in some circumstances.
Anyone travelling to Cyprus for work on a temporary basis must note that a temporary visa does not automatically grant the holder the ability to work on the island. Prior to travelling to Cyprus, the individual must obtain a work permit and a work visa.
Permanent Visa In Cyprus
Any individual looking to reside in Cyprus on a more permanent basis, longer than 90 days, will require a permanent residence visa. Permanent residence visas are valid for up to 5 years and can be renewed before they expire. There are two main ways to get permanent residence in Cyprus:
Five Years of Residence
Any individual who has held a temporary residence permit for a minimum of five years can be eligible for a permanent residence visa on the following conditions.
Did not leave Cyprus for a period longer than three months over the 5 year period.
Have an open-ended working contract or have a minimum remaining term of 18 months on a current contract.
Purchase Property in Cyprus
The second route to a permanent Cyprus visa is to purchase a property on the island at a value of a minimum of €300,000. This can be known as the "fast-track" option with the process usually taking around 2 months from start to finish.
For this option, there are certain criteria which must be met in order for your application to be successful.
Ability to prove you have purchased the property with funds acquired outside Cyprus
A deposit of €30,000 is to be made to a Cypriot bank account, this money is frozen for a period of three years. After the 36 month period, all monies are made available again.
Have an annual income of at least €30,000, which you receive from sources outside of the island.
If you have dependents moving with you, additional annual income is required to support them. This starts at around €5,000 per annum and can go higher for different types of dependent
Healthcare in Cyprus
Healthcare in Cyprus is a multi-level system which is split between public and privatised healthcare. State-funded and private medical facilities can be found in major cities across the island, although healthcare is thought to be better in the southern regions of the island than in the northern Turkish territory.
The quality and availability of the healthcare facilities in Cyprus count as an additional reason British ex-pats choose the island as a permanent destination.
Public funded healthcare is administered by the Ministry of Health in Cyprus with funds collected through taxes and other social levy funds, much like the UK system. Access to the General Healthcare System (GHS) is available to anyone holding residency status where you will need to have lived on the island a minimum of three months to qualify.
Privatised healthcare packages are often a preference of ex-pats who wish to have the security of more instant access to healthcare. Prices for this are generally considered to be affordable for ex-pats with a number of local providers offering cheaper rates compared with international cover.
Moving Your Belongings to Cyprus
1st Move International are experts in international removals of belongings and personal effects from the UK to the next chapter of your life.
Each week we help individuals and families to move their lives across the world, with international removals to Cyprus a common route for British nationals moving abroad. Our team utilise connections we have established with some of the world's largest shipping lines to offer industry-leading speed and unrivalled packing and protection, ensuring your possessions reach Cyprus damage-free and affordably.
For more information on how 1st Move international can help your move to Cyprus, get a free quote or contact a member of our team who can talk you through the process.
Thinking of moving somewhere else in Europe after Brexit? Check out our living in Europe after Brexit post.