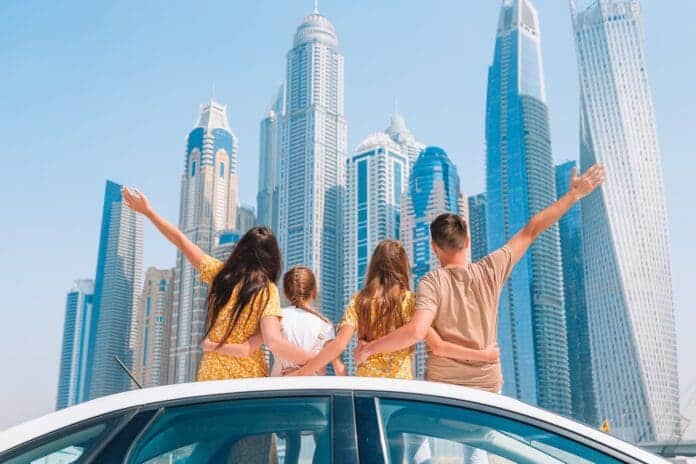 The lure of good job opportunities, great weather and a vibrant social life means that there are many British citizens who are looking to join the approximately 240,000 British expats in Dubai every year. But is it the ideal place for a young family, and an international move a good idea when you have small children to worry about?
We asked one of our recent customers for their Moving Story, and to share their experiences of moving overseas to Dubai with a young family.
Jason's Story – Moving to Dubai
Jason is 40 years-old, married with 2 young pre-school age children. He is originally from South Africa, and moved to the UK in his early 20's. He told us "Back then I was carefree with no wife, no kids and only myself to look after. I arrived at Heathrow Airport, got picked up by my mates and off I went"
This time however, the move was a very different affair, "Fast forward 18 years and this move would be a bit more involved. I'm now married with 2 young kids so I have responsibilities, at the end of the day it's all about the family and making sure they are happy. I wanted it to be an easy transition for all of us"
Why Dubai?
It was Jason's wife finding a new job in Dubai that instigated the move. The company she worked for in the UK has a presence in Dubai and an opportunity came up. But Dubai had been in the couple's sights before. Jason told us "Dubai is a very appealing country, and we had always wanted to visit. In fact, we had planned a family holiday there however Covid arrived and we had to cancel"
There were many positive factors in helping the family to take the "once in a lifetime opportunity", as Jason puts it, "To name a few things, the sunshine, outdoor lifestyle, good schools, low crime rate, accessibility for travel (back to South Africa to see family) along with tax free earnings"
Despite all of the positives, there were still some reservations, "I do like the sunshine" says Jason "but I have heard that the heat during the summer months is intense. I am told however that Dubai is geared up for this, and suppose it's the same as the UK is geared up for the cold and rain!"
"We spent many hours trawling through the internet trying to gain as much information as we could, after all we were moving to a country we had never been to, crazy I know! There is so much information out there and the good things seemed to outweigh the bad, so we decided that we should make the move."
Finding a Place to Live in Dubai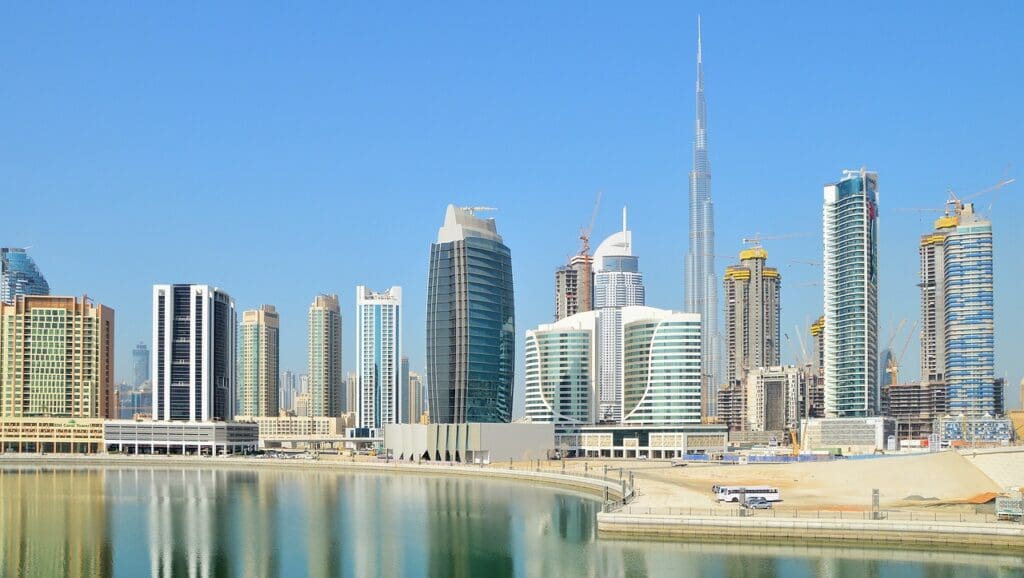 Jason's wife's new job meant that she was able to apply and successfully gain a Visa quite quickly, and this meant that the rest of the family could join her once this was in place. Their research online meant that they were able to find an area of Dubai that they felt suited their needs and budget.
"After we found the area we were looking to move to", continues Jason "the next step was to contact a local estate agent. They were all very busy, so it wasn't an easy process as such, but with a bit of persistence we got through. There are a lot of people in our position looking for housing, and new housing developments are being built all the time so the estate agents are geared up to react quickly once you can get through to them."
An important factor in looking for an area to live was the quality of the local schools. "We had researched a number of schools and picked our top three. After making contact with these schools, we quickly got a feel for the school we felt would best suit our kids, and be in the right area for the school run in the morning and afternoon.".
Moving to Dubai with Young Children
Moving overseas is a difficult transition for anyone, but for children it can be especially difficult. They are leaving behind friends and family that they have known and been comfortable with their whole lives and, usually, children thrive on routine.
Jason tells us that his "kids are still young and pretty easy going, I don't think they fully understood the move until we actually boarded the plane for Dubai" but as much as they knew it wouldn't be easy to uproot the family and move overseas, Jason and his wife "had many a conversation of what happens or that happens. My advice to anyone would be you can't control everything in life and if you get the opportunity to move overseas grab it with both hands"
Moving Furniture and Household Goods to Dubai
When it comes to moving household goods overseas, Jason tried to be strict with the children "we did try and encourage them to pack their favourite toys only, but in the end pretty much most of the toys are coming with us!" There was also the question of what else they would take with them "It wasn't easy choosing what to take, what to sell, what to give away and what to throw away. You will be surprised how quickly a few things turn into a lot of things. We tended to get rid of the larger items and try to stick to items that can be placed in boxes"
Once they had decided what to take with them, there was now the job of finding an international removals company to ship their belongings to Dubai. Jason fired up the laptop to find some likely candidates, "Our next step was to find an international removals company. After looking online, they all seemed to provide the same standard removals service, which is what you would expect. 1st Move International ticked all the boxes, the website was user friendly with detailed information which really helped to understand the shipping process and the services that they offer.
"I submitted a quote enquiry through their website and this was the start of our journey. We received a quotation straight away, and then spoke with the sales team who answered the questions that we had. Once passed over to their operations team the great customer service experience continued and it was a smooth process from start to finish".
Final Thoughts
Although Jason and his family have safely arrived in Dubai, along with their shipment of personal effects and household goods, he does have some advice on how it could have been a better experience for them.
He adds "If I was to undertake a move with my family again, which we may well do so by returning to the UK again, I would prefer to give myself a little more time. Our circumstances, with my wife being offered an opportunity with an open job vacancy with her existing employer, meant we had a short time frame in making the move. We had to make a few snap decisions, and felt rushed in some instances"
Ultimately though, they both feel that this was the best decision for them and their young family, and we wish them all the best in their new home country.
Moving to Dubai with 1st Move International
If you are thinking of moving overseas, take a look on this website and blog, which has lots of information about the most popular places for British expats. Once you know where you are going, and what you are going to take with you, get in contact with our sales team and we can begin the process of shipping your personal household goods overseas.
Our services are unrivalled and, by using our unique shrink-fast packing technique we can offer faster shipping using LCL services rather than a shared groupage container. For more details take a look at How to Ship Furniture Overseas Safely and How Does Palletising Your Personal Belongings Make Moving Overseas Safer?
For an international removals quotation fill out the form on our website, or you can call us on 0800 389 0784 / +44 117 982 8123