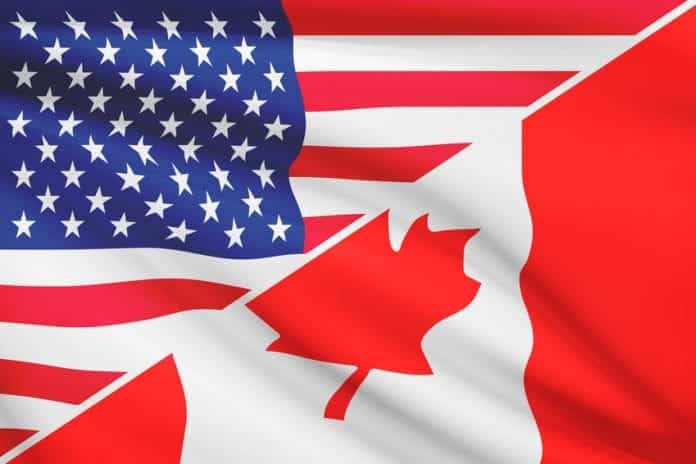 They are the great North American rivals, friendly neighbours who tease each other over everything from hockey to foreign policy. But is one superior to the other? Should you be moving to Canada or the moving to the USA? Which nation would suit you best?
When deciding between moving to the United States or Canada, it's important to consider a variety of factors. One major consideration is visas. While both countries require visas for certain types of immigration, the process and requirements are different.
In the United States, the immigration system is notoriously complex and can be difficult to navigate. Canada, on the other hand, has a more streamlined system that is generally considered more accessible.
Another important factor to consider is lifestyle. Both countries offer diverse and vibrant communities, but there are some key differences. The United States is known for its fast-paced, entrepreneurial spirit, while Canada is known for its laid-back, friendly vibe.
Additionally, Canada offers a strong social safety net and a high standard of living, while the United States is known for its economic opportunities and cultural diversity.
When it comes to education, both countries offer high-quality options. However, there are some differences to consider. In Canada, education is generally more affordable, with lower tuition fees and more generous financial aid. Additionally, Canada has a strong focus on bilingualism and multiculturalism, which can be beneficial for students looking to broaden their horizons.
In the United States, there is a greater emphasis on innovation and research, with many of the world's top universities calling the country home.
Finally, healthcare is a crucial consideration when deciding between the United States and Canada. In the United States, healthcare is largely private and can be very expensive. While there are some government programs to assist those in need, many Americans struggle to afford quality healthcare.
In Canada, healthcare is publicly funded and available to all residents. While there may be longer wait times for certain procedures, overall the healthcare system is highly regarded and provides a good standard of care.
Overall, there are many factors to consider when deciding between the United States and Canada. By taking into account the factors discussed here, you can make an informed decision about which country is the right fit for you. Lets dive into some of these factors in a bit more detail.
How Easy is it to get a Visa in the USA vs Canada?
One great thing both countries have in common is very helpful websites to guide you through the visa process and see if you fit the necessary criteria. The US Department of State has a handy Visa Wizard on its website, while the Canadian government has a specialist immigration and citizenship site outlining different pathways to residency.
Both countries like to attract skilled workers, but employers may need to show the role cannot be filled locally first. Canada works on the Express Entry points-based system, looking at assets such as your experience, English and French fluency and your education. It is also worth keeping in mind that Francophone Quebec has its own separate points-based system with different requirements.
In the USA, they use an employer sponsorship system for speciality occupations. The L-1 visa is used to transfer staff who have already worked for a company for more than a year outside the USA, while the H1-B visa is for companies that require theoretical or technical expertise, but it is capped so there is a strict limit each year which is often reached in April.
Neither country offers a specific retirement visa. If you want to end up in Canada you will need a family member there to sponsor you, while the easiest way to spend significant time in the USA is with the B-2 visa, which lets you live in the country for six months of the year.
Further reading:
What is the Lifestyle Like? Canada vs USA Lifestyle Differences
Once again, there are a lot of similarities between both North American countries, however there are also some significant differences. Canada is often seen as a more open society, more accepting of immigration, with much lower levels of gun crime, it is also a country with two official languages – English and French – and a political system more like that of the UK, after all, the Queen is still head of state.
When it comes to working, Canada's hours and holiday time are more generous and similar to Europe, while the USA tends to offer less holiday days. In fact, according to statistics, Canadian air is less polluted, Canadians live on average two years longer than their southern counterparts and more Canadians own passports to travel the world.
However, life isn't always rosier in the Great White North. It suffers long, cold winters almost across the board, its e-commerce culture is not as developed as in the USA and there is a higher unemployment rate.
Of course, beyond that the countries have many similarities, they both offer spectacular natural beauty and amazing travel opportunities, as well as plenty of adventure sports as well as team sports that differ significantly from those offered in the UK. They each have a strong car culture – in part because they are both vast countries – and of course, both countries are generally welcoming to British expats.
Cost of Living Comparison: USA vs Canada
Living in major cities across Canada and the USA can be quite pricey. Nevertheless, when comparing the costs of living between the two countries, the USA emerges as the more expensive option. Groceries, rents, and restaurant prices are higher in the USA than in Canada.
That being said, clothing in the USA tends to be more affordable than its Canadian counterpart. Additionally, wages in the USA are generally higher than those in Canada. However, it is worth noting that Canada has higher taxation than the USA. Despite this, depending on one's personal circumstances, the USA might still be the cheaper option.
It's essential to factor in all of the expenses before making a decision. For example, healthcare in Canada is publicly funded and is more affordable than in the USA, where healthcare is privatized and can be extremely expensive.
Another expense to consider is education, which is more affordable in Canada than in the USA.
Overall, both countries have their pros and cons when it comes to the cost of living, and it's up to each individual to determine which option best suits their needs and resources.
Further reading:
How Does Healthcare Compared Between the USA and Canada?
When it comes to living in Canada or the USA, there are a lot of factors to consider, but one that should not be overlooked is healthcare.
In the USA, the cost of private healthcare can be exorbitant, which means that having robust health insurance is crucial. It's worth noting that this insurance is often provided by employers, but it's essential to check whether you need supplementary cover.
It's not uncommon for Americans to go into debt because of healthcare costs, which makes it an important factor for expats to consider.
On the other hand, Canada's healthcare system is publicly funded, which means that it's accessible to everyone. The Canadian universal healthcare system, called Medicare, provides low-cost public health insurance to permanent residents. However, it's worth noting that there may be a waiting period before you can access this coverage, and it typically takes about three months for your health insurance card to arrive.
Additionally, it's important to remember that the Canadian healthcare system doesn't cover everything, so some expats may still choose to take out private health insurance. Overall, the healthcare systems in Canada and the USA are quite different, and it's important to consider these differences when deciding where to live.
While the USA's private healthcare system can be expensive, it does offer access to some of the world's best medical facilities and treatment options. On the other hand, Canada's publicly funded healthcare system is more accessible, but there may be some limitations to coverage. Ultimately, it's up to each individual to decide which system is the best fit for their needs.
What about the education systems?
When it comes to the education system in the USA and Canada, the similarities are evident. Both countries follow the same stages, and the majority of pupils are state-educated. However, the lack of a nationwide standard can often lead to differing standards between states and provinces. This means that some students might receive a better education than others depending on their location.
The real difference between the two countries lies in their university systems. In Canada, the education system is more similar to the UK, with substantially lower tuition fees than in the USA. Universities in Canada set their own fees, and even foreign students can expect to pay tuition fees comparable to those charged by universities in the UK. This can be a significant advantage for students who want to study abroad but are concerned about the costs.
On the other hand, the USA has a large number of private universities, including all the prestigious Ivy Leagues universities. However, studying at these universities can be expensive, and students often graduate with substantial debt. Nevertheless, there are plenty of scholarship opportunities available to help keep costs down.
It is worth investigating these options to determine if you can qualify for financial assistance. Despite the differences, both countries offer excellent higher education opportunities. The USA has five universities included in the top ten in the world, and Canada has several universities that are consistently ranked among the best in the world.
Here are the top 20 universities in Canada, according to the 2023 QS World University Rankings:
University of Toronto
McGill University
University of British Columbia
Université de Montréal
University of Alberta
McMaster University
University of Waterloo
Western University
University of Ottawa
Queen's University
Simon Fraser University
University of Calgary
Dalhousie University
University of Saskatchewan
University of Victoria
York University
University of Guelph
Laval University
Memorial University of Newfoundland
Carleton University
Here are the top 20 universities in the United States, according to the 2023 QS World University Rankings:
Massachusetts Institute of Technology (MIT)
Stanford University
Harvard University
California Institute of Technology (Caltech)
University of Chicago
Princeton University
Yale University
Columbia University
University of Pennsylvania
Cornell University
Johns Hopkins University
Duke University
University of California, Berkeley (UCB)
University of California, Los Angeles (UCLA)
Northwestern University
University of Michigan-Ann Arbor
University of California, San Diego (UCSD)
University of Wisconsin-Madison
University of Illinois at Urbana-Champaign
University of Texas at Austin
It's important to note that rankings can vary depending on the methodology and criteria used by different ranking organizations, and that each university has its own unique strengths and areas of expertise.
How about the happiness rating?
According to the latest World Happiness Report, Canada is the eighth happiest country in the world while the USA is in 18th place. However, both countries have dropped in the rating in recent years. Of course, despite the rivalry about which country has the better standard of living, the truth is that both the USA and Canada are exceptional countries for expats, offering exciting opportunities, rich cultures and some amazing travel opportunities as you enjoy your time living abroad. It all makes for a tough decision when choosing where to emigrate to…
Canada in 2023:
United States in 2023:
Further reading:
Did you find this article useful? Like or share this post to let us know!
Did you know, we also provide removals and shipping services from the UK to the USA and Canada? If you're planning on making the move to either country, you can get a FREE quote to safely ship your belongings overseas using the form on our website. Find more information on shipping to the USA or Canada here:
Feel free to contact us for info or simply give us a call on 0800 389 0784 to chat to one of our friendly staff about moving overseas.