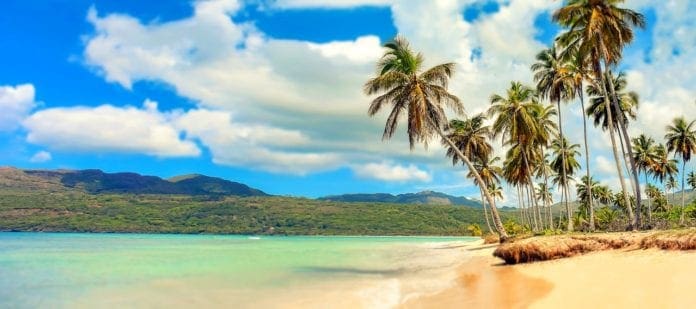 The Dominican Republic is a very popular Caribbean location for expats from many places around the world, including the UK. The country offers expats a relaxing, rich and diverse lifestyle, and it is affordable even on a pensioner's budget. In addition, recent infrastructure improvements have made it easier and safer to live the expat lifestyle here.
The Dominican Republic is the first place that Christopher Columbus and his crew landed in 1493. It is an island with year-round sunshine that features white, sandy beaches surrounded by warm, blue-green waters. In addition to its outstanding beaches, this Caribbean paradise also boasts mountain hideaways and virgin jungles.
The country is a veritable melting pot, with a diverse population and history shaped by Latin, North American, European and Afro-Antillean cultures. The island has much to offer expats, and it has a long history of welcoming newcomers. While the country's official language is Spanish, English is widely spoken here.
It is also one of the most affordable locations in the Caribbean, where expats can retire even if their only retirement fund is a monthly pension check. If you can afford to travel, the Dominican Republic is a convenient base for island-hopping in the Caribbean.
The country makes it easy to become a permanent resident, with a minimum monthly income requirement of only slightly less than £1,200. In addition, permanent residents are legally allowed to work in the country if they desire.
The country's strongly European, sophisticated lifestyle sets it apart from the other Caribbean nations. Santo Domingo is the country's capital city, and it is the first permanent settlement founded by Europeans in the New World. It features some outstanding colonial architecture as well as museums, theatres, sports stadiums and modern shopping options. In addition to the Santo Domingo area, a location that is popular as a retirement location for expats is the coastal town of Las Terrenas.
Las Terrenas: A relaxed, cosmopolitan beach town
Las Terrenas is located 225 km from Santo Domingo on the country's north coast. Known as the St Tropez of the Caribbean, it provides expats with a laid-back beach lifestyle that features year-round warm weather, modern services, a range of dining options from casual to upscale, European sophistication and a very affordable cost of living.
The town has a long history as an expat destination, which is what gives it its European flavour. The French were the first expats to arrive, followed by the Italians. With the influx of expats, the town grew, and that growth led to mobile phone service, high-speed internet, good medical facilities and all the other amenities that make the town a comfortable place for long-term living.
A well-maintained coastal highway and an international airport provide easy access to Las Terrenas, and additional international airports are located in Santiago de Los Caballeros and Santo Domingo, both of which are only three hours away.
High-quality medical care is available at a large clinic and major hospital in town, and emergency services and specialist doctors are also available. Larger hospitals are also located in Santiago de Los Caballeros and Santo Domingo. The hospital in Santo Domingo has an excellent reputation for its cardiac care services.
Regarding the cost of living, a retired couple can live very comfortably on a budget of £1,500 to £2,000 a month. There are plenty of inexpensive vegetables and fruits available at the local markets and imported packaged foods cost about the same on average as in the UK.
It's a great idea to check out the lifestyle experience in Las Terrenas before you make a long-term commitment. It's easy to do this, as rental costs for a two-bedroom condominium begin at about £400 per month.
Moving to The Dominican Republic or elsewhere? Discover our bespoke international removals services and get a free quote for moving your personal belongings from the UK.