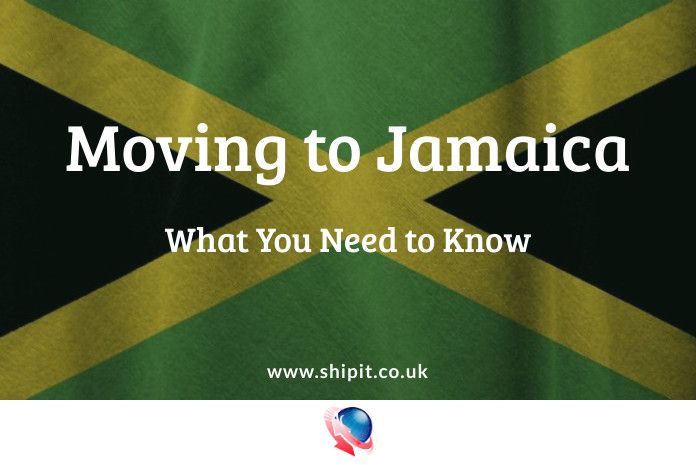 If you're tired of grey skies and busy lives, it might be a good time to think about what rewards are waiting for you abroad. An estimated 5.5 million Britons live outside the UK, many of them chasing sun, sand and a slower pace of life, and there aren't many places better than Jamaica.
The third-largest of the islands in the Greater Antilles and the Caribbean, Jamaica offers colonial architecture, famously delicious food and wonderful weather most of the year. Let's take a look at what living in Jamaica is like, and what you need to know if you're considering moving to Jamaica from the UK.
Some Key Facts
With a population of around three million people spread over 4,000 square miles (11,000 square kilometres) of mountains, jungle, beaches and coral reefs, Jamaica is a natural paradise. A former British colony held until 1962, Jamaica kept English as the official language and uses the Jamaican dollar as currency.
The island has three designated cities, Kingston, Portmore and Montego Bay, and the nation's population is not especially concentrated, with just 55 per cent living in the urban areas.
Safety and Risk
There are high tourist numbers visiting Jamaica from all over the world every year. This means that while petty crimes like theft have risen, more serious crime is being tackled actively by the government. In the capital city, Kingston, the crime rates are higher, and this is a good area to avoid if you are moving to Jamaica from the UK with your family.
It's important to note that although homosexuality isn't illegal in Jamaica, the local culture is not particularly accepting and LGBT violence is not unheard of. The country also has issues with gangs and organised violence related to the drug trade, but this rarely affects the expat areas of the island and living in Jamaica is not normally affected by these types of crime.
Where to Live
For expats moving over with children, one of the key considerations will be the location of good schools. There are plenty of highly-rated international schools on the island, mostly located in the Mandeville, Montego Bay, Kingston and Ocho Rios areas. These are also some of the popular resort locations so expect to see a good amount of tourists there too.
Taking into account safety and access to transport and schools, some of the more rural but still central areas might be the best bet. Many people recommend the Falmouth area (around a 15-minute drive from the coast) for its lower prices and quieter setting.
There are some upmarket options too, and Cherry Gardens is known as one of the best places to live. This is the mansion-sized property area, so beware, living here won't come cheap.
There are plenty of rental options in the cheaper Negril suburb, on the western side of the island. Rental costs here are around £400 per month for a small apartment and average salaries are around £800 a month for a three-bed apartment in a city-centre.
Cost of Living in Jamaica
With 173 Jamaican dollars to one pound sterling, Jamaica is often thought of as a cheap place to live, and this is mostly true. Daily living is certainly cheaper than in the UK or Canada. Most expats say that things like labour and services are inexpensive (building things, taxis, professional services) but that household goods and items which are imported from the USA and other countries are expensive.
If you're buying British and American goods from a Jamaican supermarket, you'll find the cost of living in Jamaica to be high. However, locally made goods are considerably cheaper, and if you can get into the habit of enjoying and buying local products, then life will be much less expensive.
Working, Retiring and Obtaining a Visa for Jamaica
Work opportunities for expats in Jamaica are somewhat limited, as local residents are theoretically given priority for jobs to ensure unemployment does not rise too high. That being said, for specialist positions with complex skills, you are likely to have more luck. Your employer has to apply for a work permit for you, and then you'll need to wait and hope that the Ministry of Labour and Social Security are feeling generous. There are ongoing projects for economic development in the Kingston Harbour area that will increase job opportunities too. You can use your UK driving licence for six months, and then will have to transfer it over to a Jamaican license after that.
Retiring to Jamaica is a little easier, and as long as you have the funds to support yourself, you should be able to successfully apply for the relevant permissions here.
What is Jamaican Life Like?
Many expats living in Jamaica talk about getting used to 'island time'. Coming from the UK, where punctuality and time are sacred concepts, it'll take some getting used to the slower pace of life. The general feeling is that if something is vitally important, then you can probably expect people to be where they say they will be, on time. For any non-emergency event, you'll need to be patient and learn to adopt a more flexible approach to timing.
Music and sport are two pillars of Jamaican culture, and if you like cricket then you will fit right in. This small island nation has produced some of the greatest cricket players in history, and the reggae music that began in Jamaica has spread all over the world.
People are friendly and inclusive, and although crime rates in some areas are high, you aren't likely to feel unsafe. The power and internet grid are not 100 per cent reliable, so expect some power cuts and internet outages every now and then. As the country develops and invests more in infrastructure, this is becoming less and less common.
Wherever you choose to live, work and enjoy the sun, moving to Jamaica will be an exciting adventure of white sand beaches, ocean bliss and relaxed expat living. Shipping to Jamaica can be complicated, so contact 1st Move International to learn more about transporting your belongings.