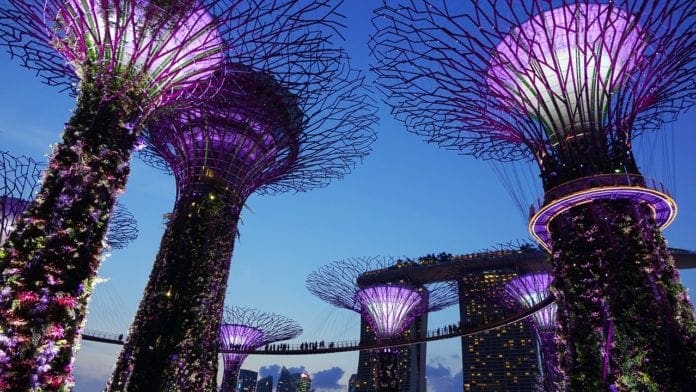 For a small island nation, Singapore certainly punches above its weight.
Not only is it one of the Asian Tiger nations, its advanced economy flying ahead of other larger and longer-established countries (Singapore has only been in existence since 1965). It has a vibrant tech sector, a futuristic capital and offers the best quality of life in Asia, according to resource consultancy, Mercer. In fact, according to the latest HSBC Expat Explorer survey, it is the best place to live in the world.
So what is it that makes this city-state such a favourite with residents? It could be the great schools, amazing public transport or ongoing project to turn it into a green city, or perhaps the accessible healthcare and great job opportunities. Or more likely, a combination of all of these things is what sees Singapore voted one of the best places to live in the world, time and again.
Let's explore exactly why Singapore has earned such a great reputation among expats.
A Cultural Melting Pot
Spend a few days in Singapore and you will discover what a cultural melting pot it is. There are Malays, Chinese and Indians as well as short-term expats from all around the world. You can dine in Chinatown or visit Little India, there are Michelin-starred food stalls and bustling markets selling Persian carpets, but English is the lingua franca, meaning it is always easy to communicate.
The vibrant cultural mix all adds up to an extremely tolerant and unified society, where everyone is welcome and the state has worked hard to foster a strong community spirit. Perhaps that is why expats feel so at home in Singapore. With more than a million expats living in Singapore, there are certainly a lot of clubs and groups to join as well as people to meet who are in a similar situation to you.
Family First
According to the latest Internations Expat Insider survey, Singapore scores highly for family life. It ranked seventh in the world for availability of childcare and education, while the quality of education came second only to Finland and family wellbeing, in general, was fifth in the world.
The great family lifestyle in Singapore is down to various factors. Firstly, the government has included family as one of its five 'shared values', which were created to bring its multicultural nation together. Locals put a strong emphasis on family life and the HSBC survey that named Singapore the number one country for expat living also found that expats branded it one of the best places in the world to raise children thanks to advanced, efficient healthcare, great childcare and high ranking school quality.
Safety and security also play a major role in Singapore's family-friendly reputation. Internations expats ranked it sixth in the word for safety and security with 91 percent praising political stability, 92 percent ranking peacefulness favourably and 98 per cent giving a positive personal safety score.
Job Opportunities
The World Economic Forum positions Singapore's economy as one of the most open in the world as well as placing it second in its ranking of the most competitive economies in the world.
So it is no surprise that it is popular with foreign firms, who in turn bring workers from all around the world. In fact, according to a report by Ernst & Young, Singapore was found to be one of Asia's best investment destinations for foreign firms.
The Port of Singapore secured the country's reputation as a major hub for imports and exports – particularly of electronics and chemicals – but since then the economy has diversified with strong tech and research and development sectors as well as becoming a major banking and finance centre and a leader in the biochemical industry.
All this helps to keep attracting top talent and ensuring wages are high (apparently almost half of Singapore expats earn around £150,000 a year), while expats are also drawn to Singapore's shores by the relatively low personal income tax, capped at 22 per cent for residents.
The Internations Working Abroad Index placed Singapore in fifth place in the economy and job security categories, with 31 per cent of expats in Singapore considered managers, as opposed to neighbouring countries where the majority are teachers and employees.
There is also a strong entrepreneurial culture with nine per cent of expats saying they were entrepreneurs or business owners, significantly higher than in other neighbouring countries.
A Clean, Green City
Back in 1967 former Prime Minister Lee Kuan Yew declared his aim to make Singapore a 'garden city'. The country is still working towards that aim today and has made some exciting, cutting-edge leaps in the right direction. There is excellent urban planning, plenty of landscaped parks and nature reserves, as well as skyscrapers designed as vertical gardens and surprisingly little pollution.
The excellent public transport offering (the sparkling MRT rail system is ever-growing) means there is less traffic congestion, while just outside the city there is a jungle to explore, canopy walks to enjoy and amazing wildlife.
Sleek Modernity
From the glitzy skyscrapers to the glamorous Marina Bay area, Singapore has been impeccably planned. There are huge shopping malls packed with designer stores just as there are hawker centres where you can buy great street food.
Apartment buildings are tall and modern, often featuring concierge service and pools, gyms and even tennis courts. They are expensive but you will want for nothing.
Then there is the fact that the best airport in the world is right on your doorstep. Changi Airport is not just a gleaming example of what travel should be all about, it is also your gateway to exploring the region. Singapore is perfectly located for discovering a whole host of countries from Malaysia and Indonesia to the Philippines, Thailand and Cambodia. Perfect for family holidays.
To Sum Up…
With so much going for it, Singapore has become a favourite among expats from all over the world. Its exciting futuristic plans and strong economy look sure to keep it well ahead of the competition and work opportunities will always attract the ambitious while the family focus will ensure you can move your whole brood there without thinking twice.
For more information on moving to Singapore, check out our guide here. The guide covers important aspects such as Visas, cost of living, education and more.
If you're thinking of making the move to Singapore, or elsewhere, and want to ensure your belongings are handled professionally and with expert care, check out our unbeatable packing and overseas removals services here, or get a free quote!