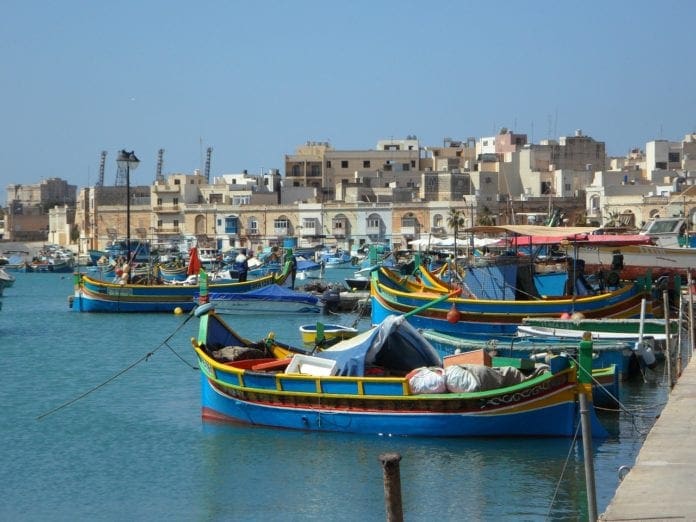 There are few places in the world that evoke such a sense of slow pace of life, relaxation and purity than the Mediterranean. Whether it's the famous long-life giving diet, the beautiful blue waters or easygoing approach to working life, many people wouldn't hesitate to retire to this stretch of sea. Malta sits just 80km south of the southern Italian coast and brings together many different aspects of the Mediterranean lifestyle. Scuba diving, blue waters, great food, exotic scenery, historical landmarks and a friendly population all make Malta a fantastic place for expats to be.
Culturally, Malta shows off the mix and clash of cultures that is quite common in similarly sought-after historically strategic locations. On the island there are Megalithic temples from as far back as 3600 BCE, as well as evidence of Roman, Byzantine, Norman, Aragonese and Napoleonic French occupation from the centuries past. Architecturally Malta is just as mixed as it is culturally, with parts of it clearly from medieval European design, and then other aspects more northern African, and still others reflecting the modern character of the island.
On a practical note, Malta offers affordable living – food, drink and public transport are all amongst the cheapest in Europe although eating out is pricier. The rental market is abundant but competitive, especially in expat areas. Utility costs are cheap as are mobile and internet costs in comparison to the rest of Europe.
As a small country with a small population, most of the employment available to expats is in the finance or gaming industries, local firms tend to favour locals. There are beneficial taxation laws for international companies but be prepared, Malta has a very rigid and slow bureaucratic system.
Driving and Getting Around
With small roads and occasionally backed up traffic, you might be better advised to use public transport to get around the island. You could choose the bus routes to take you around, with both the typical open-top tourist buses or normal commuting buses being fairly cheap, modern, quick and easy to use and understand.
The island is well-connected for transport – a good bus network connects most places. However, more out of the way places have fewer services and, being such a small island, routes can be long and windy and can require more than one connection to reach your destination. In general, Malta's road network has poor infrastructure; roads are very narrow and windy and often in poor condition. This can mean lots of traffic both in and out of rush hour and Malta has the most cars per household in Europe.
Safety and Security
Malta is an extremely safe country to live in, with crime rates historically low compared to the rest of Europe. The main threats are petty crimes, muggings and road accidents. As with any blossoming tourist destination, there has been a rise in pickpocketing and thefts from hotels and similar places. If there are any emergencies then you should be aware where the main hospital is and how to get to it. The Mater Dei Hospital (constructed in 2007) is the largest on the island, located in Misida on the north-eastern coast – the local emergency number is 112 should you need it.
One of the most common safety issues is driving around the small and winding roads of the island, with many accidents happening. Although Malta has the least number of fatalities by population (party due to the low speed limits set both by small road conditions and cautious lawmaking), there are still plenty of drivers and pedestrians hurt every year. Remember to drive on the left like in the UK, and try not to be surprised if you see a horse and cart trundling down the road ahead of you – this is quite a normal sight.
Driving in Malta can take some getting used to and care should be taken. The Maltese are erratic drivers and don't follow basic traffic rules such as stopping at traffic lights and are often seen driving and using their mobiles. Drunk driving is also a problem and is not stamped down upon by the police.
Malta has also become a destination for undocumented migrants from northern and sub-Saharan Africa. While some are refugees, many are economic migrants looking for a way to get them and their families to Europe. The Maltese government faces both pressure from the EU and international criticism for their handling of this ongoing situation. However, this shouldn´t affect expats in terms of safety and security.
Activities
A lot of the visitors that come to Malta take part in activities that have some elements of danger, however, there are lots of ways to ensure that you stay safe, even while having more risky activity days.
Scuba diving is one of the most popular activities on the islands, as the surrounding waters are clear and warm with well-protected marine flora and fauna. Obviously breathing compressed air underwater involves risk, but there are lots of ways to minimize this. Find a reputable company that has great reviews and good safety practices. If you listen to the experts and avoid areas they warn you about, diving can be a perfectly safe sport.
As the main island of Malta is only 316 square kilometres, bikes are a great way of getting around, and many people hire bikes for day trips to see the temples, bays and beaches – just make sure that helmets and any other protective gear is worn. Different routes will be marked for different levels of skill, so be careful not to end up at the top of a difficult route, and if you do, either go down very slowly or walk your bike down the most difficult parts.
Malta offers up to 300 sunny days per year and near-perfect summers, a relaxed way of life and cuisine, language and culture that shows strong links to the many civilisations who have occupied Malta over the centuries, including British, Italian, French and Spanish and Arabic influences.
Conclusion
With English an official language, a warm, Mediterranean welcome and plenty to see and do on the island, not to mention the bureaucratic but internationally-friendly business culture, it is easy to see why so many people choose to call Malta home. It is safe, has an easy-going lifestyle and a great ex-pat community.
If you have your sights set on Malta and want more info on how to move there (or anywhere else) and the costs involved, check out our international removals services here.