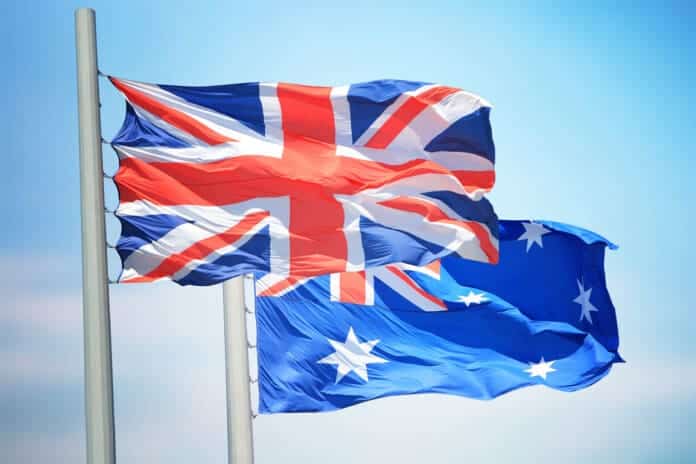 The recently ratified UK-Australia Free Trade Agreement marks a historic milestone in the economic relationship between these two nations. This ground-breaking accord is anticipated to be transformative for the economies of both countries, setting new standards for trade agreements globally.

The comprehensive trade pact is marked by several advantages, offering a wide array of benefits in sectors such as tariff-free trade, digital technology, professional services, and many more.
This piece aims to provide an exhaustive analysis of the key benefits that this monumental trade agreement will bring about, presenting a clear picture of the immense potential it unlocks for businesses, consumers, and professionals alike in the UK and Australia.
We'll also explore the specific sectors and job roles that may benefit from the new terms set out in this agreement, as well as benefits to UK workers who may be looking to move to Australia, and vice versa.
The Main Benefits of The New UK-Australia Free Trade Agreement
What are the main benefits of the new Free Trade Agreement (FTA) between the UK and Australia?
The Elimination of Tariffs
The newly instituted Free Trade Agreement between the UK and Australia champions a tariff-free trading atmosphere for all British goods. In a strategic move, the agreement abolishes tariffs on £4.3bn of exports, making it economically favourable to export celebrated British products such as automobiles, Scotch whisky, and ceramics to Australia. This reduction in trade barriers will significantly benefit industries employing over 3.5 million people in the UK, with regions such as the Midlands and the North of England reaping the benefits of thriving automotive manufacturing sectors.
Boosting Opportunities for Britons Under 35 in Australia
This transnational agreement facilitates easier travel and employment in Australia for Britons and UK working professionals under the age of 35. It fosters promising career and travel prospects for younger generations. Moreover, the agreement enables skilled professionals to seek temporary employment in Australia, while removing the previous obligation for Australian firms to prioritise hiring Australian nationals.
Cost Savings & More Choice for British Households
By scrapping tariffs on popular Australian products like Jacob's Creek wines, Hardys wines, Tim Tams and Vegemite, this agreement is set to widen the range of choices for British consumers. Furthermore, it could save British households as much as £34 million annually. Simultaneously, British manufacturers are expected to profit from more affordable imports of critical parts and ingredients from Australia.
Opportunities for British Tech Companies
The Free Trade Agreement paves the way for remarkable prospects for the UK's burgeoning digital and tech sectors, including those focusing on AI, space exploration, and low emissions technology. It pioneers an 'innovation chapter', which aims to ease data flow between the two countries, reducing costs associated with establishing servers in Australia, whilst maintaining robust personal data protection standards for British consumers.
Better Mobility for UK Professionals in Australia
The agreement brings welcome news to UK professionals looking to extend their horizons to Australia. For instance, UK lawyers can now practice in Australia without having to requalify under Australian law. Furthermore, the deal will promote recognition of UK professional qualifications across numerous sectors, allowing British companies to attract and retain global talent.
Positive Impacts on UK Services Industries
In 2020, the UK's service exports to Australia totalled £5.4 billion, comprising 56 per cent of the UK's total exports to the country. The Free Trade Agreement is set to augment these figures by facilitating greater access to each other's markets, reducing barriers to investment, and providing a considerable uplift to the UK's service sectors.
Reducing Bureaucracy for Entrepreneurs and Small Businesses:
This agreement will cut through red tape and bureaucratic hindrances for over 13,000 UK small businesses currently exporting goods to Australia. By ensuring quicker export times and improved market intelligence, the deal promises to help these businesses grasp new opportunities arising from the agreement.
Expanding Commercial Opportunities
The Free Trade Agreement provides British firms with the opportunity to compete for Australian government contracts worth billions of pounds. This access is unprecedented in any of Australia's free trade agreements, presenting exciting opportunities for UK firms across sectors like transport and financial services.
Bolstering Bilateral Cooperation
Tackling Shared Challenges Australia and the UK, as like-minded democracies, share values such as free enterprise, adherence to the rule of law, and high standards in labour, animal welfare, gender equality, and the environment. The agreement fortifies these shared principles and encourages collaboration on global challenges such as climate change.
Paves the way to Comprehensive and Progressive Agreement for Trans Pacific Partnership (CPTPP)
Australia strongly supports UK membership of CPTPP, which will further open up 11 Pacific markets worth £9 trillion GDP.
CPTPP membership will secure British exports superior access to these growing markets, approximately two thirds of middle-class consumers are expected to be in Asia by 2030.

The UK has already reached an agreement in principle to join the CPTPP. Membership in the CPTPP could bring significant benefits for the country. These include accessing a market of about 500 million consumers, lowering trade barriers for UK exporters, streamlining regulatory issues, and creating investment opportunities.
The CPTPP's focus on digital trade could also benefit the UK's robust tech sector. In addition, membership would give the UK greater influence in shaping global trade rules, allow for diversification of trade relationships beyond Europe.
How the New UK-Australia Free Trade Agreement Impacts UK Workers Looking to Move to Australia
Easing the Pathway for Migration
One of the most significant advantages of this agreement lies in its potential to empower UK workers seeking opportunities in Australia. By lifting age restrictions and creating a more accessible pathway for temporary work, the agreement paves the way for young and skilled British workers to explore career prospects in Australia, thereby fostering cultural exchange and mutual growth.
Recognising UK Professional Qualifications in Australia
The Agreement also puts provisions in place to recognise UK professional qualifications in Australia, a breakthrough in facilitating cross-border mobility. This will not only allow UK professionals to apply their skills in a new market without having to requalify but also stimulate a more dynamic labour market that appreciates and recognises diverse skill sets.
Overcoming Skilled Occupation List Challenges
British businesses operating in pivotal sectors such as travel, engineering, and consulting are now also able to seamlessly dispatch their UK-based staff for assignments in Australia. This development circumvents the need to adhere to Australia's fluctuating skilled occupation list, offering a sense of certainty that British companies had prioritized in their quest to expand service provision in the Australian market.
Changing the Game for Hiring UK Professionals
Australian businesses stand to benefit as well, as they are no longer required to demonstrate the unavailability of local talent before sponsoring visas for UK professionals. This shift represents a significant departure from the previous process, which applied to all Australian companies looking to hire international staff.
Moving to Australia?
If you are a professional looking to take advantage of these benefits and potentially move to Australia for work, find out which careers are set to benefit the most from the new UK-Australia Free Trade Agreement here.
If you are planning your move and wondering how to safely ship your belongings to Australia, here at 1st Move International we offer moving and shipping services to Australia here. Get a free estimate in 24 hours for your move by completing our quick quote form.
Further information:
Minister for Trade and Tourism Australia
UK Government official site
Australia Trade and Investment commission
BBC Alternative view
Sky News Australia