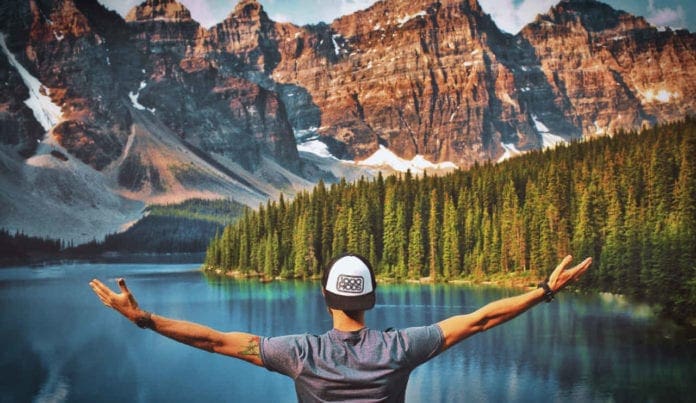 It is famed as the Great White North, one of the friendliest nations in the world and has been voted the number one country in the world for quality of life. So it is no understatement to say that life in Canada for expats can be fantastic.
There are not too many places in the world that offer stunning and wide-open natural landscapes combined with some of the most cultural and modern cities in the world. If you're looking for winter skiing and lakeside summers, amazing train journeys, water sports and camping, you'll love the wilder side of Canada. And its diverse economy and work opportunities, great education system and healthcare mean that life in Canada for expats is pretty positive all-round.
Here are a few of the key points to keep in mind when wondering what to expect if you make the international move to Canada.
The Politest People
In the UK, we take our traditions and customs seriously, and one of them is how to relate to the community around us. Well, in Canada, they go even further, and life in Canada for expats will not be such a huge shift in lifestyle. You'll find that Canadian people are amongst the friendliest and most polite in the world, they are also very welcoming and accepting. Diversity in all its forms can be found happily co-existing in Canada, which makes for a great society.
The High Cost of Living
The open parks, the clean streets and the great medical system in Canada do come at a cost, and that's a relatively high cost of living. A single person should expect to spend around $2,700 (£1,550) a month. Toronto and Vancouver are the most expensive areas in the country. Still, Quebec is the third-cheapest city to live in the North American continent, and Montreal is not far behind, so it's not all high prices and expensive lifestyles.
Great Healthcare Services
Canadian Medicare, as their national medical system is called, is a publicly funded and universally available system, and one of the best in the world. Each of the 13 provinces controls their own system and receives government funding to keep Canadians healthy and active.
Expats with full rights to live in Canada can expect every medical necessity to be covered but will have to pay out of pocket for dental care, prescriptions and most elective procedures.
While the health system is good, many Canadians and British expats in Canada (around 60 per cent, choose to take private health insurance. This offers better and faster options for outpatient prescription drugs, rehabilitation services and access to private hospital rooms.
Extreme Weather
Canadian weather will be a major factor during your time living in Canada as an expat. For many Canadians, the variability and extremes are a joy, making life fun and unique, and every day brings something different.
During the cool spring, from March to May, you can expect quite cold nights, but sunnier and warmer days as the months go on. Summer, from June to August, can reach 30 degrees Celsius at times, but more typically sits between 20-25 degrees Celsius. One thing anyone who has visited Canada in the summer would tell you is to make sure you have some good mosquito repellant.
Autumn and winter take a turn for the cold from September onwards, and temperatures can fall as far as -10 degrees Celsius in many parts of the country. However, that's not a bad thing, as long as you wrap up enough and are prepared for the cold. Winter sports will be your reward, and Canada has a huge selection of mountains, slopes and parks to enjoy in the snow.
A Longer Job Hunt
Living in Canada as an expat means a little bit of a harder journey to employment, especially in the visa department. You can enter the country with a visitor visa, and search for work to get a sponsored work visa. You will have to intend to leave the country before your visitor visa runs out, and shouldn't lie about your intentions when entering the country. You also can't apply for a work visa while in Canada, so living in Canada as an expat and securing a job will mean heading back home, securing the necessary documents and then returning.
The job market is going well, however, and almost 60 per cent of the jobs lost during the Covid-19 pandemic have returned. The most in-demand jobs moving into 2021 are likely to be in sales, driving vehicles and administrative roles in business. There is also a relatively high demand for welders, software developers and project managers.
Tipping Culture
Just like in the US, tipping is expected and sometimes is automatically included in your bill as a service charge. If you are eating out at a restaurant in a larger group (around eight people), you can expect between 15-18 per cent added onto your bill.
If you spend a lot of time in hotels, then you should consider tipping those who look after your room, your car valet or your hotel concierge. Great service can be found all over Canada, but people expect to be rewarded for it too.
Even if you have a bad customer service experience, you should consider if refusing to tip is the right option, as you may be punishing your server for mistakes made by the chef, or a similar situation. Tipping is not mandatory, but low service industry wages make it something of a requirement in Canada, like the US.
Conclusion
Life in Canada for expats can be wonderful, fulfilling and something incredibly exciting and new. The multicultural cities, linguistic variation and stunning natural beauty make for an incredibly mixed lifestyle that gives something to everyone.
Be careful with the colder weather, and make sure that you understand the visa situation clearly before you uproot.
With a supportive government, a rising job market and a welcoming population, living in Canada as an expat might be the best decision you ever make.
If you're looking to make a move to Canada, contact us at 1st Move International and find out how we can help you safely move your belongings to Canada from the UK. We can help you with all your shipping and moving needs, from sourcing the best price to packing up your belongings and helping you with insurance and paperwork. If you want to start a new life in Canada, we'll help get you there.