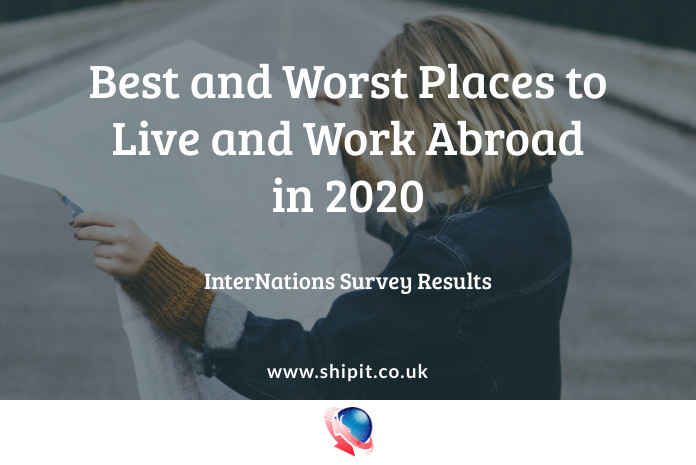 If you could choose to live and work anywhere in the world, where would you settle? Internations recently released their Expat City Ranking 2020 guide, so let's find out where the next location pinned on your map should be!
Would you look for the cheapest city, the best food, the easiest to access or the strongest economy? Let's have a look at some of the best places to live abroad in 2020, as well as some of the worst ones.
The Best Rated Cities of 2020
Taipei – Busy Streets and a Low Cost of Living
Taipei, the capital of Taiwan, took the number one spot on the list for the second year in a row. Life in this Asian metropolis is full of colour and a significant expat population calls the city home. Healthcare and transportation both have very high satisfaction ratings (98 and 94 per cent respectively) and 71 per cent of expats enjoy the affordability of life (compared to 43 per cent globally). Local people are considered very friendly, and 67 per cent of expats are happy with their social life.
Residents love the low cost of living (£115 per month for a room) as well as the exciting and constantly developing street food. If you add in musical garbage trucks and receipt lotteries as well as cheap health insurance, Taipei is a great place to live, work and explore the rest of Asia.
Ho Chi Minh City – Street Food Galore and Motorbike Chaos
Previously known as Saigon, Ho Chi Minh City took the number three spot on the list, principally for its easy access, good housing and low cost of living. Seventy-seven per cent of expats said they were happy with their financial situation (compared to a global average of 57 per cent), and people are reported as being friendly and easy to talk to. Placing third overall for work-life, expats report that 79 per cent of them are happy in their jobs.
There are always some worries about air quality and stifling temperatures at times, but generally, with beaches close by, excellent street food and cheap living, Ho Chi Minh City is well-loved by many expats.
Singapore – Drinks by the River and Plenty of Work
This city-state in South-East Asia is known as an economic powerhouse in the region, and many expats move here for work. Taking the number four spot in the list, Singapore is a modern technological haven with a towering skyline, a pretty river with bars, a thriving food culture and very low crime rates. The Tiong Bahru area is one of the most loved by expats living in Singapore.
Heavy infrastructure and transport investment means getting around within the city is incredibly easy, and expat residents say they feel very safe. The political and economic situation is also very stable.
Montreal – French Culture and Art Aplenty
French-speaking Montreal took the number five spot on the list, with expats saying the career opportunities, multicultural society and relatively affordable housing were significant factors. For housing, 79 per cent said it was easy to find a good place, and 61 per cent were happy with the general cost of living. Those expats moving from warmer climates may find the weather a challenge, with long cold winters and shorter summers.
However, Montreal makes up for it with year-round theatre and art, a passionate food culture and the third-best work-life balance in the world. Canada regularly ranks as one of the best places to live in the world, and with the surrounding natural beauty and friendly people, it's no surprise.
Barcelona – Gaudi Glamour and Beautiful Beaches
This sunny and architecturally exciting city on the Mediterranean coast of Spain is always a favourite amongst expats. Taking the number seven spot on the list, Barcelona is loved for its incredible climate, friendly people and fun lifestyle. Work-life balance is good, although the rising cost of living is starting to impact the fantastic lifestyle to a degree.
More than 70 per cent of expats say they are happy with their social life (one of Spain's strongest points in general) as well as the plethora of art, design, architecture and cuisine that is available wherever you go.
The Worst Rated Cities of 2020
Kuwait City
Ranking 82nd out of 82, Kuwait City sits dead last in the list and is one of the worst to live abroad. Almost 60 per cent of expats reported that locals were unfriendly and unwilling to help (compared with 19 per cent globally), and 57 per cent (compared with 27 per cent globally) were unhappy with their social lives.
For its quality of urban life, Kuwait City ranked 81st, only 'beaten' for awfulness by Lagos in Nigeria. Expats ranked environmental quality, work-life balance and social life amongst the worst in the entire survey.
Rome – Pizza and Tourists
Voted as the worst place to live in Europe, and placing 81st out of 82 on the global list, Rome is all hype with a less-than-rosy reality. Rome placed last for work opportunities for the second year in a row, with 36 per cent of expats unhappy with their job (compared to 19 per cent globally).
The majority of expats do not feel like they have good job security (54 per cent), and only 36 per cent feel they have more money than they need to get by.
Los Angeles
Aside from the near-constant sunshine, Los Angeles ranked very poorly in the list too. Coming in at number 76 out of 82, the chief complaints about Los Angeles were the heavy traffic, the high cost of living and poor work-life balance.
Los Angeles was voted one of the worst cities for transportation (81st place), and expats reported a lack of community, an inability to make friends and long working hours. Expats rated Los Angeles 75th for housing, 76th for job security and 62nd for social life, showing that life here is expensive, stressful and unsociable.
If you're considering a move abroad, a professional moving company like 1st Move International can help to organise and plan the trip. There's nothing worse than arriving at a new destination and having to deal with the stress of finding lost baggage or replacing broken items. Work with a moving company you can trust and make your move easier and stress-free.