Their Home
The contents of an average family in a 3-bedroom house planning a move from London to Vancouver would require a 20ft shipping container, which with fees, would cost around £3000.

But that's the average family and of course, Harry, Meghan and Archie are not the average family. So how much would it cost the couple to move all their possessions, cars and entourage from Frogmore Cottage over to their new lives in Vancouver?
Shipping and moving costs are mostly calculated on the volume of goods shipped plus the insurance costs based on the value of all possessions. Of course, we have had to make a few assumptions, with a little bit of research, as to exactly what the couple own. Having this estimated inventory to hand allowed us to calculate the following moving costs, as though the couple were one of our genuine paying international removals customers.
Although little is known about the contents and furnishings of Frogmore Cottage, we do know that the cottage is a Grade-II listed building, originally made up of five separate housing units and now converted into a 10-bedroom house. The home recently underwent a £2.4 million renovation.
When shipping goods overseas the mover will need to calculate the costs for carefully packing every item and loading them into shipping containers directly from the home. With a whopping ten bedrooms and various other sitting rooms, kitchens, nurseries and outbuildings – plus a supposed yoga studio – the couple would be looking at a minimum of 6 x 40ft containers.
This will include Meghan's extensive wardrobe, which could be worth at least £750,000, and jewellery, said to be worth at least £600,000. It would also include all the personal items of Harry, Meghan and Archie; the professional packing costs will be high, especially when it comes to packing the couple's expensive antiques and the original artwork which was gifted to Harry by the Queen herself.
Once loaded at Frogmore Cottage the shipping containers will then be transported to London Gateway port before being shipped directly to Vancouver. This service runs every week and the transit time to Vancouver would be around twenty-eight days. On arrival in Vancouver, the goods will clear customs and the containers will be transported to their new home. A team of movers will then unpack, remove all the packing materials and place the goods in the new home according to the customer's wishes.
Their Cars
Prince Harry recently took ownership of a new Audi E-Tron 55 – valued at £70,000! But the Prince has been seen to own a couple of other cars too – he drove a 1968 silver/blue Jaguar on his wedding day – valued at around £150,000 – and also currently drives a Range Rover, valued at £70,000. All these cars would need insuring.
As for his security detail? On a recent trip to South Africa, the couple shipped an entire fleet of cars for their security team. This included five Land Rover Discoverys, plus the couple's own Range Rover.
Although palace sources confirmed that these vehicles were provided by Jaguar Land Rover at no cost to the taxpayer, we would assume that would not be the case if the cars were shipped permanently to Canada. Harry and Meghan currently have a six-man security team so we are basing our car shipping costs to Vancouver on having to ship out six Land Rovers along with Prince Harry's own cars, bringing our total number of cars up to nine.
Their Additional Costs
Our research suggests that along with six security officers, the couple also employ a full-time nanny, and at least two other advisors. Assuming each would require a minimum 2-bed accommodation, this would require a total of 3 x 40ft shipping containers.
So, our best estimates show that in total, the Prince, Meghan, Archie and his team will need to ship 9 x 40ft shipping containers and 9 cars, with their total moving cost coming in at £314,641.
The costs are detailed below and we have made some assumptions based on the available information as to the values of furnishings, artwork and personal possessions. This is in order to calculate the additional costs for insuring the whole consignment during the transit from the UK to Canada.
See our quote below: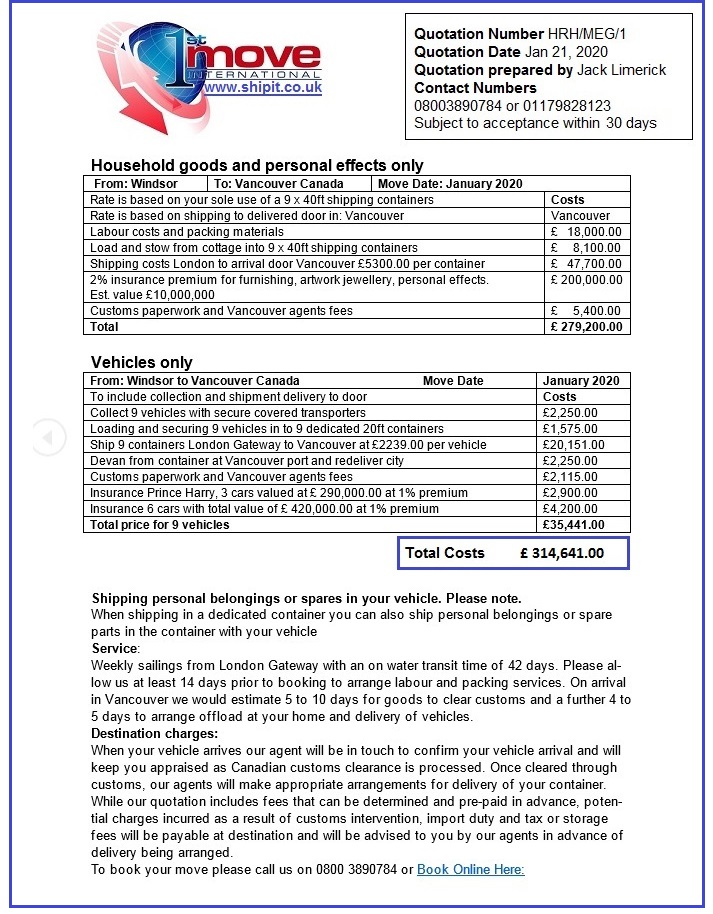 Of course, we still have to get everyone out to Canada too! We would recommend a GulfStream G550, which can carry sixteen passengers and is most suitable for intercontinental flights. At $14,000 per hour, and allowing 12 hours to travel, you'd be looking at a cool £129,000 to get to everyone to Canada. This brings the grand total to £443,641