How We Can Accurately Price Your International Shipping and Moving Costs
Once your goods have undergone our "Shrink-fast" packing system and are carefully packed, wrapped, and secured to your pallet they are now ready for shipping. All our packing is specifically designed for your own personal house move and individually tailored for safe and secure shipping overseas.
Every move is different, so whether you are shipping just a few boxes of personal effects or have larger items to move like wardrobes, furniture, beds or pianos, we have the packing solutions for you.
We will build your pallets to the exact specifications of your overseas move. Below is one of our finished pallets, hand made just for you and about the size of a large fridge/freezer.
This pallet is measured EXACTLY, ensuring you are charged only for what you ship. Your final UK shipping costs are based on the precise final size of your overseas move, and our packing systems ensure clear and accurate billing. With 1st Move you can be assured that you only pay for what you ship and nothing more.
No other mover can make this guarantee, why not ask them how they will work out your final bill!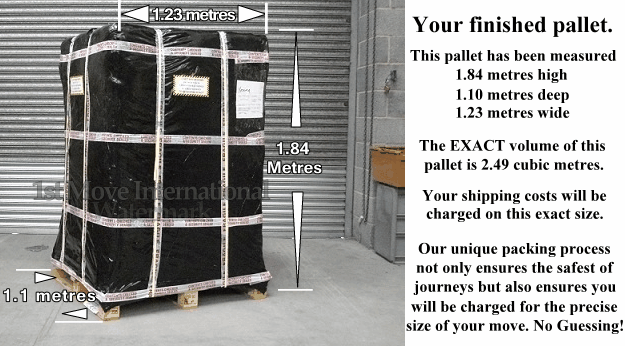 Before your pallets are shipped overseas they are also independently measured, security checked and weighed by the shipping line prior to loading into the container. After all, they also need to check the volume and weight before billing 1st Move.
These measurements, and the total volume, are clearly disclosed on all shipping documents, customs forms and your final invoice. Shipment sizes are also regularly check throughout our supply chain of shipping agents, port and customs authorities.
Our destination agents in your home country are also happy to reconfirm pallet sizes before delivery and you can, of course, measure the pallets when they arrive at your door. Simple.
With the 1st Move Price Guarantee you can be assured of clear and accurate billing and that your final international removal and shipping costs will be calculated on the precise packed volume of your personal effects. No more, no less. No guessing.
For more information on our great range of services visit the 1st Move International Removals home page here.