We don't wait! Why should you? We are not like other international movers. We never hold any shipments trying to find more customers to fill our containers. As professional Freight Forwarders we simply don't need to do that. Our unique packing services are specifically designed to comply with stringent commercial export packing procedures. This means we share containers with the UK's top manufacturing and exporting companies and ship out every week, without fail, just like the experts do.
1st Move offer International Shipping services to over 6400 worldwide destinations with guaranteed weekly sailings direct from the UK. We offer international Shipping to Australia, Shipping to the USA, South Africa, New Zealand, Canada and more. Beautifully packed and shipped with the worlds premier container shipping lines with the fastest shipping times available to your chosen destination.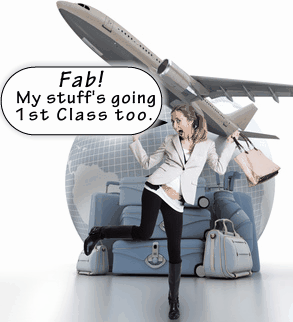 Professional Shipping with No Compromises
Most international movers need to hold your goods in the UK for at least 6 weeks before they have enough customers to fill their container. And they won't ship your goods until they have filled that shipping container. It costs them money. Why not ask your mover exactly when they intend to ship your personal effects. Getting the right answer can sometimes be a challenge.
There is a better way. With 1st Move your goods are packed, palletised, shrink-wrapped, sealed, measured and loaded to the shipping lines own weatherproof steel containers for the ultimate safe journey. Then your household goods are shipped immediately on the next ship.
Call us, and we will give you the our next vessel by name, sailing date and arrival time. Once loaded you can also track your move immediately, 24/7, using our Container Tracking System.
Weekly international shipping from the UK to USA, Australia, New Zealand, Canada, South Africa, Spain, Cyprus, Malta, Dubai, Hong Kong plus 6400 more worldwide destinations with direct shipping from the UK.
Fact: There are over 8 ships scheduled to sail this week from the UK to Australia. Why not catch one with 1st Move's 1st Class Shipping services.
Check out our latest international shipping schedules below. ( Selected destinations only. Please call us if your destination is not shown below)
Plan Your Next Move... with 1st Move. Weekly Shipping Schedules:
Australia - USA - New Zealand - Canada - South Africa - Saudi Arabia - Dubai - Cyprus - India - Malta - Qatar - Singapore
We guarantee that we will not delay your shipment by waiting for more customers to fill our containers. Our mission is to ship your goods on the first suitable sailing from the UK. We do not delay goods unless requested or because of circumstances outside of our control. Occasionally shipping schedules may change without notice due to weather or other outside influences over which we have no control. Customs authorities can also delay shipment if they select your container for inspection. In the event of any delay outside of our control we will keep you advised. However it is extremely rare that a customs inspection or a change to a shipping lines schedule delays any shipment for more than a few days.
Further shipping Information here: International Shipping - Container Shipping Sizes