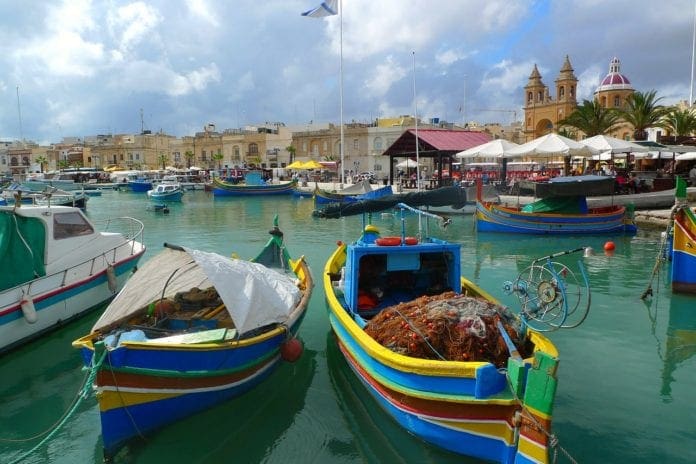 Natural beauty, warm blue waters and a quiet pace of life; moving to Malta sounds like a dream come true for many Britons, but where should you think about living, what's the climate like in winter and what's the situation with visas?
The island nation has historically been strongly connected to the UK, as a part of the British Empire from 1814 to 1964, so plenty of Britons moving to Europe are attracted to this beautiful island and want to know more.
Sitting in the Mediterranean Sea, 80km south of Italy, Malta is the world's tenth smallest country, with a population of just under 500,000. Mainly supported by the tourism industry (1.6 million visitors annually), Malta draws people in as an ideal island holiday destination, as well as a major British expat destination.
Maltese Weather – Sunny Days and Not Much Rain
For anyone considering moving to Malta from the UK, whether to work or retire, the climate is fantastic, with mild winters and hot summers.
Temperatures in December average around 14C, 17C in March and in the mid 30s during the summer months. It rarely rains at all in the hotter months, and only around 600mm annually.
Leave The Doors Open or Lock Up?
Crime in Malta is not particularly common and mostly affects tourists wandering around the most heavily populated sights. Pickpocketing incidents are not unheard of, but when it comes to living in Malta, this type of crime shouldn't affect you too heavily.
Plenty of people moving to Malta from the UK say that crime isn't a big deal, and the FCO suggests vigilance but no causes for concern. In 2018 the crime level dropped seven per cent compared to the previous year, so it looks to be stable or improving.
Where Do Most People Live in Malta?
Life in Malta is concentrated around the few small cities and towns on the island. Valletta is the capital and principal residential zone, with around 400,000 people living there.
If you are planning an international move to Malta from a large city in the UK, be prepared for a slower pace of life and a lot less urgency. Also, be prepared to have a lot of tourists visiting the island during the warmer months. Buying property in Malta is not too difficult either.
Is property in Malta expensive? As a tourist destination, the property market is quite expensive, with a two-bedroom apartment costing around €200,000-300,000.
The areas of Sliema and St Julians have been popular spots for expats moving to Malta, but many are now reporting that these areas are relatively over-crowded and increasingly expensive.
A few popular areas (but less so than the overcrowded areas) are St Paul's Bay, Qawra and Mellieha, all on the northern side of the island. Pembroke and Madliena are also growing, but have kept some of their rural charm too, so would be ideal for Britons moving to Malta to find some more space and peace.
An Unusual Reason to be Careful
As you make your way around your new home island, it's worth being aware of the hunting season. Normally this wouldn't affect anyone not interested in donning camouflage and going out into the wilderness, but in Malta, it could.
Hunting is quite common (especially for small birds), and it can take place in areas close to camping grounds, walkways and other public areas, with little warning. The hunting season is during spring and autumn, and the specific times are released by the government, so keep up to date. The season is roughly September to January.
Commuting as a Resident in Malta
With the increase in tourist numbers, the small and slightly dated Maltese road system is struggling. There are a lot of calls for improvements on the infrastructure, but as it stands, traffic can be bad. If you are looking at commuting to a different part of the island while you live in Malta, think about where you want to live first, and whether hours of traffic will be worth it.
Do I Need to Learn Maltese?
The official languages in Malta are Maltese and English – which is excellent for Britons relocating to Malta, as Maltese can be a difficult language to pick up. However, as with any language, a little time and effort, and sufficient immersion, and anyone can learn it. Fortunately English is spoken almost everywhere as well (88 per cent of residents speak English), so most expats living in Malta will get by just fine.
Paperwork and Visas for Moving to Malta
For British citizens, relocating to Malta will be quite easy, and does not currently require visas for living or working. If you have some cash to burn, citizenship can be purchased for €1 million, but temporary residence can be obtained for free. All it will cost you is time and the patience for a relatively long paperwork process.
Is Malta Expensive?
Prices in Malta are not hugely different from the UK, with most expats living in Malta saying that life is cheaper but not by too much. Getting around the island is cheap with very reasonable public transport costs, and outgoings like rent, food and eating out are all a little cheaper than the UK, but again, not by much.
Education and Schools in Malta
With the strong historical link to the British Empire and the large number of British expats relocating to Malta, education and schools in English are good and there are lots of options. Many have links to well-known international or British schools, so bringing your children to Malta shouldn't cause many issues with their education.
Some Extra Benefits to Malta You Didn't Think About…
Moving to Malta doesn't just bring great weather, cheaper prices and a better lifestyle, it's also very well connected and located. Sitting to the eastern side of Europe, you can be in Rome or Barcelona or Athens in two hours and to the east, you can be in Cairo or Tel Aviv in the same time.
Malta has long been a connecting port island, and has maintained these great connections. It's also an internationally renowned dive location too, so consider strapping on a pair of fins and seeing what's waiting beneath the surface.
If you still need convincing, here are some of the top reasons Malta is so popular among British expats.
If you're planning your move to Malta, we offer international removals services direct from the UK. Get a free quote today.