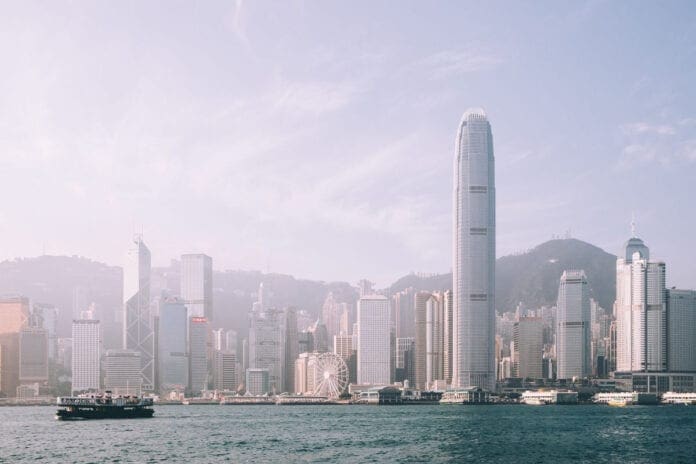 If you love the idea of living in a fast-paced city combining Asian culture and Western freedoms, then Hong Kong might be exactly what you're looking for. As one of the leading global economic centres (behind only London and New York), Hong Kong can claim to have the most liberal economy in the world according to the Index of Economic Freedom. It has held that honour since the index's inception 24 years ago, and banking is a vital part of the system and economy.
For those thinking about making the big move, let's find out which are the best banks, and what you need to know to open a bank account in Hong Kong.
Bank Accounts for Non-Residents
Hong Kong is packed with expats and foreign nationals like any major economic centre, and with such an international outlook, opening a bank account in Hong Kong as a non-resident is quite simple. Whether you are moving to Hong Kong more permanently to work, or just in the busy city for a few weeks and need consistent access to your money, you're in luck. You probably won't be able to access some of the more complex and in-depth accounts, but getting hold of a current account and a debit/credit card to take out Hong Kong Dollars (HKD) will be possible.
For holders of EU, USA or Australian passports, opening an account will be quick and easy. For foreign nationals from other destinations, it may be a slower process, but still achievable within several weeks.
Requirements to Open an Account Online or in Person
You won't need to be a permanent resident to open an account, but you will need a Hong Kong ID card if you plan to stay for more than 180 days. You'll find the application and requirement details here, and after applying, you can expect a 10-day wait for your card to arrive.
Whether you use your passport or Hong Kong ID card, you'll also need to take your proof of address and a valid visa too. If you are working in Hong Kong, then your contract or a letter from your employer will also be required.
If you haven't set-up a bank account in Hong Kong before, then you won't be able to open an account remotely. Strict anti-laundering policies mean that while the economy is very free, the authorities do want to keep track of who is opening bank accounts. However, you may be able to get around this if your home bank has branches in Hong Kong too. Then you are likely to be able to open an account in one of their local branches before you arrive.
Banks and Account Types
The first challenge will be to choose from one of the 250 banking institutions and find the best bank in Hong Kong for foreigners. If your home bank has branches in the city, then simplicity and speed will be on your side. If not, then these are some of the most popular and effective local banking options:
HSBC – the largest bank with great access and loan options
Standard Chartered – the best for air miles and cashback
Citibank – the easiest to work with remotely
Hang Seng – no monthly fees and free foreign currency
Bank of China – best for a connection with Mainland China
HSBC will be one of the most familiar, especially for travellers from the UK. Their Personal Integrated Account comes with a host of advantages, including no minimum balance requirements and 11 separate foreign currency accounts. It's an excellent account to begin with, and only gives more rewards as you save and invest more money.
For those looking for a rewarding and straightforward option, the Standard Chartered Current Account is a no-frills affair. With a low minimum opening balance (1,000 HKD – £98) and a Simply Cash Visa Card account that offers cashback and zero per cent interest on purchases for the first four months, this is a simple and effective option.
If you have a more international outlook, then banking with Citibank might be right for you. Opening a current account will mean access to Citibank ATMs around the world (45,000 in 20 countries), and beginning the process from overseas is easier than with other banks, with appointments arranged for the day you will arrive.
Students moving to Hong Kong will appreciate the Hang Seng Green Account, designed just for you. Payment plans for tuition fees and single-trip travel insurance deals make this ideal for younger bank users. Account-holders can even have a go at trading stocks, with their free, no-fee brokerage accounts.
A final option is the Bank of China; perfect if you are planning on dealing with payments or transfers to Mainland Chinese accounts. They have an extensive ATM network, and their dual-currency credit card offers purchases in Chinese Yuan and HKD, depending on your needs.
Charges
Hong Kong is a city that runs on the movement of money and hosts the highest number of 'ultra-high-net-worth individuals' ($30 million and over) of any city in the world. To that effect, minimum opening deposits for a bank account in Hong Kong are often present with more comprehensive options. Many banks will ask for 10,000 HKD (£980), but this can be avoided with some of the basic current accounts mentioned above.
---
If you're ready for life in this fast-paced, financial powerhouse, then this guide should help you navigate the system and understand how to open a bank account in Hong Kong. The next thing to think about is how you'll get all your belongings over there. Instead of trying to haul a life's worth of luggage across the world, let a professional moving company like 1st Move International help you. They will take all the stress and problems off your hands and get your items door-to-door in record time.